May 22, 2014 -
Jerry Angelo
The importance of OTAs
Now that each of the 32 NFL franchises has pretty much finished building their rosters through both free agency and the draft, it's time to access the talent on the roster and start developing their respective teams for the 2014 season.
This process starts with the off-season program and the team's 10 OTA (Organized Team Activities) sessions that are permitted under league rules. These 10 sessions are monitored, as strict guidelines have been set up by the NFL and NFLPA.
These practices help determine the specific roles for each player and set the tempo for all the new acquisitions, regardless if they are rookies or veterans. The new players get their first taste of what their jobs will be while both meeting and getting a feel for their new coaches and teammates. This is the time of year when players and coaches start coming together as a team to develop chemistry.
Although things move fast with OTAs, there isn't that overhanging cloud of pressure that surfaces during the regular season. Veteran players are more relaxed and begin to get a handle on the new faces, rookies are wide-eyed and coaches are positive, loose and upbeat. The foundation is being laid during this time. If done right, a team will have less transition issues when the season starts, allowing them to focus on mastering their schemes, executing the playbook and teaching the young players the fine details of the NFL game.
However, if OTAs aren't managed correctly, a team will be stumbling around during the early portion of the season trying to figure out what should have been resolved in training camp.
Every year, teams take on a new identity and that personality starts to manifest itself during these OTA sessions.
The more experienced teams will be able to assimilate their newer players more quickly because of the carryover and continuity of experienced players and coaches. The newer teams with first time head coaches will have more work to do teaching and implementing their systems and philosophies. These teams will have a more hurried pace in order to get in as much as possible in the time they are allowed.
The OTA practices start in the classroom with individual position coaches, transition to the practice field with individual position drills and end with the players working against each other during team drills.
There is an inordinate amount of time players spend in the classroom with their coaches. So much so, that the league and players union have to regulate that time as well. Professional football is a very competitive business and everyone must adhere to the same rules and guidelines so that no team abuses its players or has a competitive advantage in any area at any time during the year.
The league and the NFLPA keep a close eye on what each team does with their players. Players have union reps visit facilities and assign a player rep to each team who monitors the organization's activities and makes sure that everything that is supposed to happen happens according to the CBA guidelines.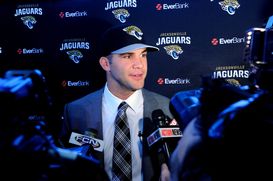 OTAs are especially important for teams with rookie quarterbacks like the Jacksonville Jaguars.
If a player or players thinks that their coaches are exploiting them, they will call the union or go to their rep and have them look into it. There have been a handful of cases where coaches have been in violation of the rules and have been disciplined by cutting short the amount of OTA practices they can have with their players.
The goal of these OTAs is for a team to access its personnel, both old and young. You can't assume your veteran players are the same as their last game. They have to show you each year where they are physically. The old saying, "He's near the wall or he hit it," comes from the assessment of these older players.
The one thing I learned when it comes to evaluating personnel is that you never assume. You watch and measure everyone's performance during these OTAs and on into training camp. Teams can't afford to misevaluate their players. If they do, the franchise's strengths can turn into a weakness in a hurry.
Why is the evaluation of personnel in the off-season so important? Because you want to keep your best and most talented players healthy and also because regardless of how good a team's scheme is, if it is ignorant of its personnel, it will quickly turn into a bad scheme. The players' strengths must fit the profile of the position you're asking him to play or you will expose his weaknesses.
It's critical that each player is evaluated properly because all players are flawed. There are things each player can do well and things each player will struggle with. It's up to the position coaches to make sure they are accentuating a player's strong suits.
Teams don't have to be overly talented to win consistently. The teams that win more than they lose are the ones that know how to utilize the talent they have to their maximum advantage.
The off-season is also a good time to implement the philosophies of both the organization and team. It's important that all the players know both inside and out. Ownership has a vision of what they expect from their players. That perspective should be communicated to the players by management or the owner himself. Players want to know who they are working for and this is a good time to clear that up.
Again, I can't emphasize enough that you never assume a single thing during this evaluation period. Organizations have identities just like teams do. There are several ways to build a franchise, but if you're not all on the same page from top to bottom, none of them will work. It's simple, but true.
This is the perfect time of year to establish protocols and beliefs by making sure that everyone is on the same page and nothing is left to the imagination. The best owners, head coaches and general managers are doing this and doing it consistently well.
When you have new faces on the team, change can be a positive. There is a new energy that can be infused within the organization. People get excited about what's to come and the challenges that lie ahead. The key is making sure that energy is harnessed and pulled in the same direction.
We drafted cornerback Ronde Barber in 1997 when I was in Tampa. By some team's standards, Barber was considered small and slow, as he never measured over 5'10" and ran a forty in the high 4.5s. But Ronde was a ballhawk with great instincts. In a man-to-man scheme he would get eaten up by the faster receivers, but in a zone scheme, as we ran in Tampa, Barber was a perfect fit because our corners were seldom asked to run downfield with receivers without some kind of safety help.
Ronde played 16 seasons in the same system and will go down as the best corner that ever wore a Buccaneer jersey. Our coaches played to his strengths and we saw the best of what he could do and saw it for a long time. That's coaching: Identifying the traits players perform best and putting them in position to be successful.
When the team reports to training camp all the minutia has been spelled out thanks to these OTAs and now it's time to get down to business…and that business is to win football games. So this time of year may not get the same attention as the pre-season or regular season, but it is just as important in laying a winning foundation.
Follow Jerry on Twitter: @RealJerryAngelo
Jerry Angelo was the General Manager of the Chicago Bears from 2001 to 2012. Prior to joining the Bears, Angelo spent 14 years overseeing the Tampa Ba y Buccaneers' scouting department as their Director of Player Personnel. Angelo graduated from Miami University in 1971.