May 17, 2014 -
Jerry Angelo
The key to Johnny Manziel's success
I applaud the fact that the Cleveland Browns drafted Texas A&M quarterback Johnny Manziel. The former Heisman Trophy winner was not only the most hyped player in college football, but he very well could be the answer for this storied Cleveland franchise, which has been unremarkable for more than two decades.
Drafting Manziel sent a thunderbolt through the Rock and Roll Capital of the World. Not since the Cleveland Cavaliers selected LeBron James has the city had something to celebrate like this. Johnny Manziel comes complete with what all great players bring to a broken franchise: Hope.
Cleveland's revolving door at the NFL's marquee position is well documented. The Browns have had more forgetables at quarterback than any other franchise over the last decade. And that's the problem with the Browns: When you talk about their issues, you talk in decades. Which is preciously why selecting Manziel made sense.
Most teams felt that the former Heisman Trophy winner came with too much risk, but with Cleveland, there was no risk. When you're at the bottom, there is no way but up.
However, that's not to say that the Browns don't have real challenges ahead of them, because they most certainly do. Cleveland must be prepared to handle the frenzy from their fans and national media. The franchise has to make sure that their new quarterback is brought along and developed at his pace and not the pace of his fans. Throwing Manziel out there too early will have the Manziel jersey-wearing fans asking, "Why did we draft him?"
In an attempt to safeguard their position, the Browns have banned the national media from attending Cleveland's rookie camp, a suggestion I'm sure was made by new offensive coordinator Kyle Shanahan. Shanahan's experience with Robert Griffin III in Washington is what found him a new home in Cleveland.
Manziel is less prepared to play in a prototype pro-style offense than any other quarterback drafted last week. Therefore, the Browns can't let perception drive his growth. It's not about pleasing the Dawg Pound. If that was the case, they organization could serve free beer on Sundays.
I'm sure the Browns have a solid plan in place, but the key will be to stay with it. By some initial remarks made by owner Jimmy Haslam, I feel the organization is a little nervous about how they are going to handle Johnny. You don't embarrass your top draft pick and potential future star by telling him, "This isn't Hollywood." Manziel isn't stupid. He'll see that the minute he lands at Hopkins International Airport.
Additionally, there's no need to tell your rookie first-rounder that he's the backup quarterback. Every player knows he has to come in and win the job. If they feel they don't, well, you might just have a bust of a prospect on your hands.
As much as I liked what current starter Brian Hoyer did in 2013, let's not overrate the Cleveland native. Hoyer is on his fourth team and is coming off an ACL injury. He fights to keep weight on and you wouldn't acknowledge him as a professional football player by his physique.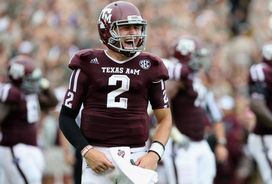 For Manziel to succeed, the Browns will need to bring him along slowly.
The reality of the situation is that this is all about Manziel, but Hoyer will play a critical role in determining the rookie's success. Johnny needs Hoyer more than he may realize. Hoyer is Manziel's lifeline and he's going to provide Johnny Hollywood the time necessary to learn a new system. Manziel has never been out of Texas and nobody will liken the city of Cleveland to anything in the Lone Star State. Manziel will have to acclimate to his new surroundings and Hoyer's the guy who can help.
While the Browns are adamant that there will be an open competition, at the moment, Brian Hoyer is the team's starter. This is the right approach, but not because we want to know which quarterback is better. The reality is that by naming Hoyer the starter, Cleveland is doing whatever it can to give Manziel as much time as possible to learn and prepare.
I'm of the belief that all rookie quarterbacks should sit for one year. There are too many rookie busts at the position, partly because there is simply too much to learn on and off the field to digest things in just a few months' time.
Hoyer has a purpose and it's one that can help turn this franchise around, but it's not just his play that's going to aid in changing the culture in Cleveland. Hoyer's mentoring and ability to both stay healthy and play good football for the Browns under their new head coach and offensive coordinator are the key factors to a rise up the standings for Cleveland. Hoyer has the burden of making sure that the development of Manziel goes a smoothly as possible.
In addition, the Browns have to win with Hoyer in order to bide time for Manziel. A sluggish start to the 2014 campaign will force the Browns' hand into putting their golden boy on the field to perform his magic. But to do so prematurely comes with grave risk.
For Manziel to succeed, the rookie should be mirroring Hoyer as if he's his bodyguard. Without Hoyer, Manziel will once again have to run his own interference, but this time it will come against opponents who are more physically and instinctively trained to track their prey.
What's this offense going to look like? It can't be a fair competition because the quarterbacks have nothing in common. One quarterback is going to feel more comfortable than the other and that's a fact. And I think that guy is going to be Hoyer.
Hoyer is the one who will adapt more quickly to a pro-style offense, as Shanahan has coached more guys who looked like Hoyer than Manziel. Seldom did RG3 look at home on the football field in Washington.
What I don't like and would be concerned about if I were earning my living working for the Browns would be the recent quote from ex-Redskins quarterback Rex Grossman. Grossman emphasized that Shanahan wants his quarterbacks following the script in every way imaginable, which is why I believe Cleveland made a play for current Washington backup Kirk Cousins. Manziel doesn't play a "script following" style.
Coaching and developing Manziel will be Shanahan's greatest challenge. He no longer has his father or Gary Kubiak with which to kick around thoughts and ideas. It's on Shanahan to grow Manziel into stardom. Anything less will have Cleveland's fans clamoring for his head and asking how the Browns thought they could win with a midget at the position. That's reality and reality is the opposite of perception.
Follow Jerry on Twitter: @RealJerryAngelo
Jerry Angelo was the General Manager of the Chicago Bears from 2001 to 2012. Prior to joining the Bears, Angelo spent 14 years overseeing the Tampa Bay Buccaneers' scouting department as their Director of Player Personnel. Angelo graduated from Miami University in 1971.