August 03, 2012 -
Joel Corry
The Long and short of it
Chris Long signed a four-year, $48.2 million contract extension with the St. Louis Rams when the team opened training camp earlier this week. Long's extension averages $12.05 million per year, which makes him the NFL's sixth-highest paid defensive end (by average yearly salary) behind only Mario Williams, Julius Peppers, Charles Johnson, Jared Allen and Trent Cole.
Overall, Long's deal contains $36.76 million in guarantees. $33.2 million of the guarantees are new because $3.56 million of the $10.31 million base salary he was scheduled to make under his rookie contract, which remains unchanged in his new deal and is now fully guaranteed, was already guaranteed. Long's $13.25 million 2013 base salary is fully guaranteed and his $13.2 million 2014 base salary is injury guaranteed, but becomes fully guaranteed if he is on the Rams' roster five days after this season's Super Bowl.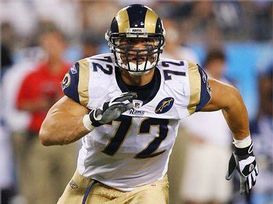 Long is coming off a career-high 13-sack season.
Long is getting $36.76 million over the first three years of the deal. He makes $10 million and $11.75 million in 2015 and 2016 respectively, with $2 million of the salary in each year as a third day of the League Year roster bonus.
Long's $33.2 million in new guarantees compares favorably with some of the other lucrative defensive end deals signed since the lockout ended. Johnson has $32 million in guarantees in the six-year, $76 million contract ($46 million in the first three years) he signed last year with the Carolina Panthers. Calais Campbell, who was franchised by the Arizona Cardinals, has $31 million in guarantees in the five-year, $55 million deal ($36 million in the first three years) he inked back in May.
The basic structure of Long's contract is similar to the structure of Peyton Manning's contract because it contains guarantees instead of signing and option bonuses. Thus, Long's yearly salary cap numbers and yearly salaries in the extension years (2013-2016) are equal. However, Long's guarantees contain offsets while Manning's guarantees do not. The offset clauses in his contract mean that if the Rams cut him and he signs with another team, they can recoup Long's guaranteed salary from his contract with his new team.
Long is in a worse position financially with the offsets than if he had gotten a signing or option bonus.
For example, if Long was released after the 2013 season from a deal that had $33.2 million in signing and option bonuses with the same $36.76 million over the first three years (with a $2.145 million unguaranteed 2014 salary) and signed a new deal with another club containing $13.2 million of compensation in 2014, this money would be his in addition to the $34.615 million he made in 2012 and 2013. Under this scenario with Long's actual contract, the offsets would allow the Rams to recoup the $13.2 million salary they guaranteed him in 2014 from his $13.2 million 2014 compensation in his new contract.
Long makes $11.055 million more with the signing or option bonus structure than with guarantees that have offsets in this scenario. Consequently, it is vital that a player's contract (especially a lucrative one) does not contain offsets when he opts for guarantees and doesn't receive a signing or option bonus.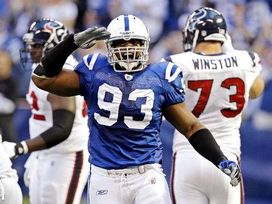 Only Dwight Freeney has a higher cap number this season than Long.
It is somewhat surprising that the Rams didn't structure Long's extension with a signing bonus, since they aren't getting any cap relief this season with his deal. Long's $18,557,500 2012 cap number is the second highest 2012 cap number in NFL behind Dwight Freeney's $19.035 million cap number, so they had the ability to create significant cap room this season depending upon how big of a signing bonus Long received. Any additional 2012 cap room should have been welcomed by the Rams, since teams can carry over unused cap room from one season to the following season and they have $121,648,321 in salary counting towards next year's cap when it's expected to remain relatively flat (approximately $121 million).
The Rams were smart to get Long's new deal done before the start of the season. With Long having such a high 2012 cap number, it would have been extremely difficult for them to franchise him after the season. Long's franchise number for next year would have been $22.269 million, which is 120% of his current cap number. If Long had gotten off to a great start this year where he was on pace to duplicate or exceed the 13 sacks he had in 2011 and sustained his production throughout the season, he would have had a tremendous amount of leverage with the Rams during their negotiations.
In order to keep him off the open market, the Rams would have been paying him a premium where he may have become one of the NFL's highest paid non-quarterbacks.
Follow me on Twitter: @corryjoel
Joel Corry is a former sports agent who helped found Premier Sports & Entertainment, a sports management firm that represents professional athletes and coaches. Prior to his tenure at Premier, Joel worked for Management Plus Enterprises, which represented Shaquille O'Neal, Hakeem Olajuwon and Ronnie Lott. You can email Joel at jccorry@gmail.com