July 10, 2013 -
Joel Corry
The looming franchise player negotiating deadline
The July 15 deadline for franchise players signing long-term deals should force negotiations to pick up this week. After the 4 pm eastern deadline passes, players with franchise tags are prohibited from signing long-term deals until the end of the regular season.
None of this year's franchise players have signed long-term deals. Ray Rice and Matt Forte signed long-term deals last year as the deadline approached. Drew Brees came to terms with the New Orleans Saints on a five-year, $100 million contract that made him the NFL's highest paid player three days before the deadline. However, there may not be as many last minute agreements this year.
Teams were more judicious with franchise tags this offseason. Just eight teams used the franchise tag after a record 21 teams placed the designation on players in 2012.
A new trend emerged among franchised players. Five of the eight players tagged this offseason signed their franchise tenders within the first ten days free agency. Only two franchised players signed tenders that quickly in 2012. The fear of teams rescinding tenders in a tepid free agent market may have been the impetus for this year's quick signings since franchise tenders become fully guaranteed when signed. These fears were unfounded because only two franchise players, Leroy Hill (2009) and Corey Simon (2005), have had franchise tags rescinded in the last 10 years. Ryan Clady and Jairus Byrd are the only remaining unsigned franchise players among this year's group.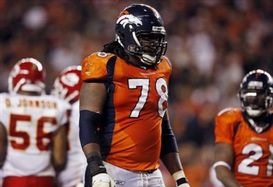 Clady surrendered just one sack in 16 starts last season.
Clady seems most likely to sign a long-term deal. The Denver Broncos placed a $9.828 million franchise tag on Clady after he turned down a five-year, $50 million contract offer from before the 2012 season because he wanted a deal comparable to Joe Thomas' contract. Thomas signed a seven-year, $80.5 million contract extension (with $37 million in guarantees and $3.5 million in Pro Bowl escalators) with the Cleveland Browns in 2011.
Mike Klis of the Denver Post reported that the Broncos gave Clady a new offer greater than the deal he rejected last year once negotiations resumed this week. Clady will likely make the case that he deserves to be paid more than Thomas after a 2012 season in which he only gave up one sack and earned first team All-Pro honors while Thomas was second team All-Pro.
Byrd could have the most interesting situation of the franchise players. According to Buffalo's WGR Sports Radio 550, Byrd and the Buffalo Bills are $2 million per year apart in contract talks. Dashon Goldson helped define the top of the safety market when he signed a five-year, $41.25 million contract (including $22 million guaranteed) with the Tampa Bay Buccaneers at the start of free agency. The deal makes Goldson the NFL's second highest paid safety on a veteran contract (by average yearly salary). Goldson's deal could be an important salary benchmark for Byrd.
Contrary to popular belief, Byrd will not be restricted to playing for just his $6.916 million franchise tender with the Bills this season after the deadline passes. The two-time Pro Bowler can only play for the Bills on a one-year deal, but will still be allowed to negotiate his one-year salary and other conditions relating to his franchise player status. Theoretically, Byrd could sign for a larger or smaller salary than his tender although neither has happened with a franchise player. It's extremely unlikely that the Bills would be willing to set a franchise player precedent around the NFL by giving Byrd an increased one-year salary.
Byrd could insist on a clause that prevents the Bills from making him a franchise or transition player after this season (i.e.; a prohibition clause). The precedent issue doesn't exist with the prohibition clause. Nate Clements received such a clause in 2006 when he was franchised by the Bills.
Albert Haynesworth was the last franchise player to receive a prohibition clause when the Tennessee Titans franchised him in 2008. Unlike Clements, Haynesworth's prohibition clause had conditions. It was triggered by Haynesworth making the Pro Bowl, having at least 60% defensive playtime, having 53% defensive playtime and the Titans winning at least 10 games or the Titans ranking in the top five in total defense.
There is speculation that Byrd won't report to Buffalo's training camp on July 27 if a long-term deal isn't reached. Cliff Avril and Dwayne Bowe missed part of their respective camps with the Detroit Lions and Kansas City Chiefs last year as unsigned franchise players. Their missing camp was viewed as a protest for not getting long-term deals where they took advantage of their teams' inability to fine them $30,000 for each missed day since they weren't under contract. If Byrd is absent when the Bills open camp, hopefully, it will be related to a legitimate negotiating purpose unlike Avril and Bowe. No franchise player has missed regular season games because of a contract dispute since the 2006 Collective Bargaining Agreement implemented the July multi-year deal deadline. Dunta Robinson came the closest when he signed his tender four days before the Houston Texans' regular season opener.
Here's a brief look at the other six players that received franchise tags.
Branden Albert (OT)-Kansas City Chiefs: Albert was the subject of trade talks prior to the NFL draft. The talks fell apart because the Miami Dolphins were unwilling to give the Chiefs a 2013 second round pick for Albert. The Dolphins were reportedly ready to meet Albert's contract demands. He has been seeking a contract similar to the six-year contract extension averaging $8.9 million per year (with $22,081,500 in guarantees) Pro Bowl left tackle Duane Brown signed with the Houston Texans right before the start of the 2012 season. If the Chiefs aren't comfortable meeting Albert's demands, it might be difficult for him to compromise knowing that he could have gotten the money he wanted elsewhere. Albert will make $9.828 million this year absent a long-term deal. The Chiefs could franchise Albert for a second time next year at $11,793,600 if necessary.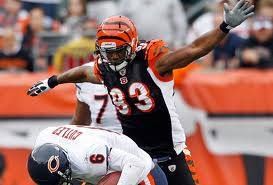 Johnson amassed a career-high 11.5 sacks with the Bengals last season.
Michael Johnson (DE)-Cincinnati Bengals: The Bengals seem content to let Johnson, who had a career high 11.5 sacks in 2012, play under his $11.175 million franchise tag. Pass rushers are usually paid a premium in free agency but that wasn't the case this year. Paul Kruger's five-year, $40.5 million deal (including $20 million guaranteed) with the Cleveland Browns set the market. Johnson will be an unrestricted free agent in 2014 if the Bengals do not sign Pro Bowl defensive tackle Geno Atkins, who is entering the final year of his four-year rookie deal, to a contract extension before next March's franchise tag deadline.
Anthony Spencer (DE)-Dallas Cowboys: Spencer will play under a franchise tag for a second straight year since the Cowboys and Spencer recently decided another one-year deal was for the best. The second franchise tag at $10,627,200 was a questionable move given that the Cowboys are changing from a 3-4 defense to a 4-3 defense which requires Spencer to move from outside linebacker to defensive end, a position he hasn't played in the NFL. In hindsight, it would have been better for the Cowboys to let Spencer become a free agent considering Dallas restructured multiple contracts in order to be salary cap compliant when the 2013 league year started on March 12. He will not get franchised for a third time next year. Spencer's franchise number in 2014 will be the greater of the highest franchise number at any position, which is typically quarterback ($14.896 million this year), or 144% of his 2013 salary, $15,303,168.
Henry Melton (DT)-Chicago Bears: The Bears reportedly opened contract negotiations for a new deal with Melton during the 2012 season. There hasn't been much progress in the negotiations. The Bears could use the cap room that a long-term deal would bring by lowering the 2012 Pro Bowler's cap number from his $8.45 million tender since they are only $1.638 million under the cap. Melton's representatives have probably made the four-year, $37.965 million contract extension Tommie Harris, Melton's predecessor, signed in 2008 a topic in the contract discussions.</p>
Randy Starks (DT)-Miami Dolphins: The Dolphins haven't engaged in negotiations with defensive tackle Randy Starks since he signed his $8.45 million franchise tender in March. He missed Miami's voluntary offseason activities in protest of receiving the franchise tag. Starks wants a long-term deal but won't complain if he doesn't get one. Since the Dolphins have over $17.5 million of cap room, Starks' tender isn't a problem. The Dolphins should be used to carrying a large defensive tackle franchise tag number. Paul Soliai played under his $12.476 million tender in 2011 before signing a two-year, $11.5 million deal last year.
Pat McAfee (P)-Indianapolis Colts: McAfee signed his $2.977 million tender in early April. Punters usually aren't the recipients of franchise tags, as McAfee is just the fourth punter ever franchised. Steve Weatherford signed a five-year, $12.5 million deal (including $3.25 million guaranteed) with the New York Giants last year as the team's franchise player.
Follow me on Twitter: @corryjoel
Joel Corry is a former sports agent who helped found Premier Sports & Entertainment, a sports management firm that represents professional athletes and coaches. Prior to his tenure at Premier, Joel worked for Management Plus Enterprises, which represented Shaquille O'Neal, Hakeem Olajuwon and Ronnie Lott. You can email Joel at jccorry@gmail.com.