January 25, 2011 -
National Football Post
The meaning of football in Green Bay
My roommate Andy awoke at 8 a.m. — and in a house full of college-aged men, that might as well have been 4:30 in the morning.
It was the Sunday of the NFC Championship Game, kickoff six hours away. My eight-week old puppy woke me up at 7:30 that morning, as she does every day. That was my excuse for being up. But I wasn't sure of Andy's until he turned the corner and said, "Game day!" with a wide smile.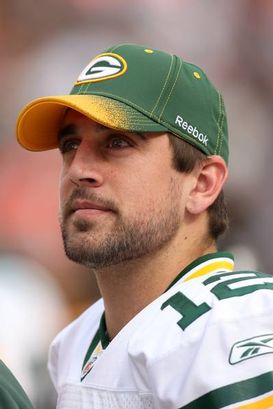 ICONAaron Rodgers will lead the Packers into Super Bowl XLV against the Steelers
He had his green No. 12 Aaron Rodgers jersey on, Packers' slippers adorning his feet. This is the same outfit he wore the previous 18 game days. And on this Sunday, Green Bay's winding road to the Super Bowl would reach its crescendo with a 21-14 win over the hated Bears, giving perhaps the NFL's most-passionate fan base another chance to win the greatest championship in sports.
I don't much care who wins the Packers' matchup with the Steelers, but it's hard to cheer against Green Bay's fans.
In football's ever-expanding marketplace — over 50 million people watched both championship games Sunday and the state of California is pining for a fourth NFL team — Green Bay's small-market, community-owned venture is still thriving. Green Bay is a town of just over 100,000, but so many more people than that love this team.
On Thanksgiving day, I happened to be in Green Bay for a turkey dinner with my girlfriend's family. We took a detour off US-41 to Lambeau Field, where one of the NFL's most historic venues popped up out of nowhere, amidst a sea of residential neighborhoods.
I had often wondered why so many fans clung to the Packers through a 4-12 year in 2005, the Brett Favre Saga 1.0, an 8-8 season in 2006, the Brett Favre Saga 2.0, and a 6-10 campaign in 2008. The Brewers and the Bucks couldn't have been that bad.
I cannot relate to this kind of fandom. The scars from my Chiefs' 10-wins-over-three-seasons debacle still run so deep that Kansas City couldn't sellout a home playoff game.
When we made the right turn off US-41, I started to understand why the Packers mattered so much to so many people, why over 80,000 people are on the waitlist for season tickets, and why Andy would wake up at 8 a.m. on game day — still half-asleep from the night before.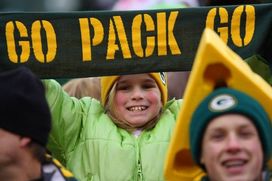 ICONPackers fans start enjoying the Lambeau Field atmosphere at a young age.
We passed a Kmart and Chuck E Cheese's literally blocks away from the stadium. There was a house right across the street from Lambeau. (How'd you like to order pizza to that house? Delivery guy: "What's your address." Pizza orderer: "Don't worry about it; I live next door to Lambeau.")
This all felt so normal — almost like a college campus. A franchise, a team, a stadium literally embedded in the community. This just doesn't happen anymore — not in the world of billion-dollar stadiums, where downtown backdrops and 200-foot jumbotrons rule the day.
After driving by Lambeau, I was introduced to my girlfriend's grandmother for the first time at Thanksgiving dinner. A Wisconsin native, she only wanted to talk about was the Packers. She was impressed that I drafted Rodgers on my fantasy team, and was worried Green Bay would miss the playoffs. My grandmother couldn't pick Chiefs' quarterback Matt Cassel out of a three-person lineup.
Yes, football matters a little more in these parts. It just does.
Scott Miller is a senior at The University of Iowa and a contributor to the National Football Post. Follow him on Twitter: @stmillr.
Want to work in the NFL? Click here to sign up for the NFP's Chalk Talk session at the Combine in Indianapolis on February 25.