February 12, 2011 -
National Football Post
The meaning of the No. 1 recruit
On Monday, Jadeveon Clowney will sign with one of the two schools that are reportedly still in the running for this year's No. 1 recruit. He will likely line up two hats on national television — Clemson and South Carolina — and go through the "Which will I pick?" routine.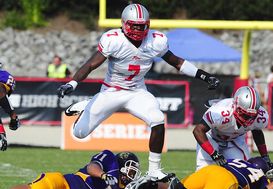 Jadeveon Clowney will sign his letter of intent Monday
Yes, Valentine's Day will be Clowney's day, and he'll soak up the spotlight like any other high school senior would. Clowney has earned that much. I mean, have you seen his high school highlight tape? He looks like Adrian Peterson playing defensive end. Rivals' scouts compared him to Houston Texans' defensive end and former No. 1 overall pick Mario Williams, which sounds a little more accurate than my dissection.
Regardless, Clowney will make one Southern fan base very happy, as the most talent-rich sector of the college-football map will add what promises to be another star.
But signing the No. 1 recruit isn't necessarily an ode to winning a national championship.
A few weeks ago, ESPN The Magazine caught up with the last 25 top recruits in the country, using ranking from SuperPrep magazine (1986-2005) and ESPN's Scouts Inc. (2006-Present). It was an astonishing look at where these prospects were, what they became, and how they got there.
One question that wasn't answered? Collegiate team success. Only six of the 25 prospects went onto win national championships at their schools.
Ricky Watters (Notre Dame, RB/WR): Watters led the Fighting Irish in receiving his sophomore year, as Lou Holtz's squad went on to win the 1988 national championship after beating West Virginia in the Fiesta Bowl.
Marquette Smith (Florida State, RB): Before transferring to Central Florida, Smith carried the ball 62 times for 297 yards and two touchdowns for the Seminoles in 1993, helping to give Bobby Bowden his first national championship at Florida State.
Chris Weinke (Florida State, QB): Weinke was the top recruit in 1990, before foregoing a scholarship offer from the Seminoles to play professional baseball for six years. He returned to Tallahassee in 1997 and won a national championship three seasons later. He went on to win the Heisman Trophy in 2000.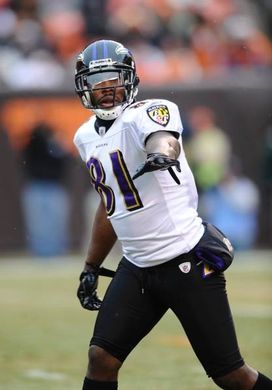 ICONAnquan Boldin won a national championship before going to the NFL.
Anquan Boldin (Florida State, WR): A true freshman, Boldin was a rarely-targeted wideout on Weinke's 1999 Florida State team. He caught 12 balls for 115 yards and two touchdowns that season.
D.J. Williams (Miami, LB): Williams got the start at weakside linebacker for the Hurricanes as a sophomore. He finished seventh on the team with 43 tackles, and won a championship ring in 2001 after beating Nebraska.
Vince Young (Texas, QB): Perhaps the prolific college player on this list, Young compiled over 4,000 total yards and 38 total touchdowns in his junior season. His touchdown scamper late against USC in the Rose Bowl solidified the Longhorns' 2005 national championship crown.
A few observations:
1. Boy, Bobby Bowden can recruit — and he can turn blue-chip talent into national titles. Three of his four No. 1 recruits left school with a ring in hand. (Myron Role was the only one who didn't.) Weinke was perhaps his best coaching project. Bowden needed only three seasons to win a national championship with the quarterback who had spent six years engrossed in professional baseball.
2. This isn't basketball, where one player, one recruit can be the difference between a national title run and a missed tournament appearance. (Think: Derrick Rose and Memphis in the 2007-08 season.) Basketball recruits will always mean more to their teams' immediate success than football prospects.
3. You could easily make the case that only four of these six played significant roles during their teams' national title runs — Watters, Weinke, Williams, and Young. What does this mean? Even if you sign the No. 1 recruit and win the national championship, there's still a chance you won that national championship without much help from your former blue-chip recruit.
4. Only five of the 25 were originally recruited as defensive players — Ronald Powell, Da'Quan Bowers, D.J. Williams, Myron Rolle, and Ted Ginn Jr. (who went on to play wide receiver at Ohio State). And only one of those players (Williams) ever won a national championship. This makes Clowney's next few seasons even more intriguing.
Certainly, Jadeveon Clowney is the best high school football player in the country. Fans of Clemson and South Carolina should watch his live television announcement. They should be happy if he signs with their school.
But they shouldn't confuse that signature with a guarantee for future national titles, because, as history has shown, that's not always the case.
Scott Miller is a senior at The University of Iowa and a contributor to the National Football Post. Follow him on Twitter: @stmillr.
Want to work in the NFL? Click here to sign up for the NFP's Chalk Talk session at the Combine in Indianapolis on February 25th.