November 08, 2012 -
Joel Corry
The most underpaid players in the NFL
The NFL pay structure isn't a perfect system where performance matches compensation. This is particularly true of draft choices because their salaries are dictated by draft position.
Here's a look at some of the NFL's most underpaid players. In order to be considered, a player must be eligible to renegotiate his contract under the NFL's collective bargaining agreement. Players drafted during the last two seasons, like J.J. Watt and Randall Cobb, have been excluded because they won't be able to sign new deals until the end of the third year of their rookie contracts.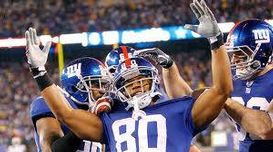 Cruz has been one of the NFL's top receivers over the last two years.
Victor Cruz (WR)-New York Giants: Cruz came out of nowhere to catch 82 passes for 1,536 yards with 9 touchdowns last season. He's proving that his breakout year wasn't a fluke by following it up with another All-Pro caliber season. Cruz—who made $770,000 in his first two NFL seasons—is the NFL's biggest bargain with a $540,000 salary this year. The 2010 undrafted free agent recently indicated that his agent and the Giants had agreed upon the structure for a new contract. The Giants have all of the leverage because they can give him a first round restricted free agent tender, which is expected to be $2.879 million, after the season if they can't agree on compensation. Expect the Giants to take advantage of their leverage and Cruz's meager career earnings in order to keep his new contract more line with Antonio Brown's deal ($41.96 million, 5-year extension, $8.5 million guaranteed) than Vincent Jackson's deal ($55,555,555, 5 years, $26 million guaranteed).
Geno Atkins (DT)-Cincinnati Bengals: After leading the NFL's defensive tackles (along with Tommy Kelly) with 7.5 sacks last year, the 2010 fourth round pick's 7 sacks at the halfway point of the season put Atkins on pace for the most sacks by a defensive tackle since La'Roi Glover notched 17 sacks in 2000. Atkins, who could become the best 3-technique defensive tackle since Warren Sapp, is in the third year of a four-year rookie contract that pays him $540,000 this year and $1.408 million next year. Defensive tackles that can consistently put pressure on quarterbacks are rare commodities which are normally paid near the top of the interior defensive lineman market. Atkins' next contract should exceed $10 million per year and could approach Haloti Ngata's deal ($61 million, 5 years, $35 million guaranteed).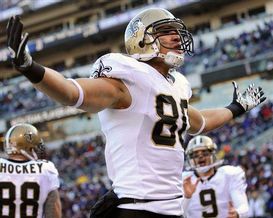 The former Hurricane basketball player has quickly become one of Drew Brees' favorite targets.
Jimmy Graham (TE)-New Orleans Saints: The former Miami Hurricane power forward earned second team All-Pro honors in 2011 after having one of the most prolific tight end seasons in NFL history (99 receptions, 1,310 receiving yards and 11 touchdowns). Graham has been slowed by an ankle injury this year but is still playing at a Pro Bowl level. The 2010 third round pick is under contract through the 2013 season on a four-year deal averaging $613,785 per year (including a $665,140 signing bonus). Graham will attempt to supplant Rob Gronkowski ($54 million, 6-year extension, $18.17 million in guarantees) as the NFL's highest paid tight end on his next deal.
Navorro Bowman (ILB)-San Francisco 49ers: It's debatable whether Bowman, who was a 2010 third-round pick, or perennial All-Pro Patrick Willis is San Francisco's best defensive player. They were both named first team All-Pro last season and form the NFL's best inside linebacker tandem. Bowman's four-year rookie deal worth $2,492,298 (including a $702,248 signing bonus) expires after the 2013 season. The 49ers gave Willis a five-year, $50 million contract extension (with $29 million in guarantees) after his third NFL season. In order for San Francisco to retain Bowman long term, they will probably have to exceed Willis' deal, especially since it was signed two years ago.
Brandon Browner (CB)-Seattle Seahawks: Browner made his NFL return in 2011 after spending five seasons in the Canadian Football League with the Calgary Stampeders where he was a three-time all-star. In his first season with the Seahawks, he was named as a Pro Bowl alternate. At 6-4 and 221 pounds, he is one of the only cornerbacks that can physically match-up with the NFL's bigger wide receivers, such as Calvin Johnson and Brandon Marshall. Browner, who spent his 2005 rookie season on the Denver Broncos' injured reserve list, signed a three-year deal averaging $415,000 per year when he came back to the NFL. Because of his rare cornerback size, Browner could probably command $10 million per year in the open market on a deal similar to the ones signed by Brandon Carr ($50.1 million, 5 years, $26.5 million guaranteed) and Cortland Finnegan ($50 million, 5 years, $27 million guaranteed) as free agents in March. However, he will not become an unrestricted free agent until he is 29-years-old if he plays out his contract.
Sebastian Vollmer (OT)-New England Patriots: Vollmer has only given up one sack in eight games this season. If the 2009 fourth-round pick continues his strong play, he should contend for All-Pro honors and earn his first trip to the Pro Bowl. Vollmer was limited to six games last season because of back and foot problems after being named second team All-Pro in 2010. He is making $675,000 this season in the final year of his four-year rookie contract. Given that upper echelon offensive tackles typically make more than upper echelon offensive guards, teammate Logan Mankins' deal ($8.5 million per year, $30 million in guarantees, $30.5 million over the first three years), which makes him the NFL's second highest paid guard, should serve as the floor for Vollmer's new contract. The Patriots also have the option using their franchise tag on Vollmer, which is projected to be $9.278 million for offensive linemen.
Jairus Byrd (FS)-Buffalo Bills: Byrd is the lone bright spot on the NFL's 31st-ranked defense. He was named AFC Defensive Player of the Week for Week 6 after intercepting two passes in Buffalo's 19-16 victory over the Arizona Cardinals. The 2009 second-round pick's four-year rookie contract, which pays him $640,000 this year, ends after the season. He is a prime candidate to receive Buffalo's franchise tag (projected at $6.478 million for safeties) but Eric Weddle's five-year, $40 million contract (with $19 million guaranteed and $25 million in the first three years) signed in 2011 with the San Diego Chargers could be an important data point for Byrd.
Philip Wheeler (OLB)-Oakland Raiders: After signing a one-year deal worth $1 million (with $400,000 guaranteed and $750,000 in playtime incentives), Wheeler has quickly become the leader of Oakland's defense. It would be a surprise if the Raiders didn't try to re-sign him after the season to a deal comparable to the ones signed by Quincy Black with the Tampa Bay Buccaneers ($29 million, 5 years, $11.5 million guaranteed) and Clint Sessions with the Jacksonville Jaguars ($27.5 million, 5 years, $11.5 million guaranteed, $450,000 in incentives each year).
Alex Boone (OG)-San Francisco 49ers: Boone has been a major surprise in his first season starting at right guard. The 2009 undrafted free agent has quickly develop ed into one of the NFL's most promising young guards after making the switch from offensive tackle during the offseason. Unfortunately for Boone, it will be awhile before he can capitalize financially on his Pro Bowl caliber play. He signed a four-year contract extension late last season averaging $1.635 million per year (with $2.64 million in guarantees and up to $2.1 million in escalators) that keeps him under contract through the 2015 season.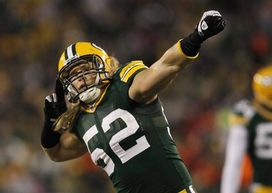 Matthews is in line for a monster payday in the near future.
Clay Matthews (OLB)-Green Bay Packers: After posting a career low six sacks in 2011, Matthews has had a terrific first half of the season with nine sacks. The 2010 Sporting News NFL Defensive Player of the Year should eclipse his career high of 13.5 sacks if he can quickly rebound from a hamstring injury that's expected to keep him out for at least a couple of games. Matthews is in the fourth year of a five-year rookie contract averaging $2,122,500 per year (with $7.105 million guaranteed). He is making $800,000 this season and $1,492,500 next season. There has been speculation that the Packers will approach Matthews about a new deal before he enters his contract year. Matthews will become one of the NFL's highest paid 3-4 pass rushing linebackers on his next contract. The six-year contract extension DeMarcus Ware signed with the Dallas Cowboys in 2009 averaging $13 million per year (with $40 million in guarantees) makes him the NFL's highest paid 3-4 linebacker.
Others: Percy Harvin (WR)-Minnesota Vikings, Sean Lee (ILB)-Dallas Cowboys, Henry Melton (DT)-Chicago Bears, Tim Jennings-(CB)-Chicago Bears, Aaron Rodgers (QB)-Green Bay Packers
Follow me on Twitter: @corryjoel
Joel Corry is a former sports agent who helped found Premier Sports & Entertainment, a sports management firm that represents professional athletes and coaches. Prior to his tenure at Premier, Joel worked for Management Plus Enterprises, which represented Shaquille O'Neal, Hakeem Olajuwon and Ronnie Lott. You can email Joel at jccorry@gmail.com