November 13, 2014 -
Joel Corry
The NFL's most underpaid players
Salary doesn't always match production in the NFL's system of compensating players. This is especially true with draft choices because their pay is dictated by draft position. Here's a look at some of the NFL's most underpaid players.
A player had to be eligible to renegotiate his contract under the NFL's collective bargaining agreement in order to be considered. Players drafted during the last three seasons, like Andrew Luck, Luke Kuechly and Russell Wilson, have been excluded because they won't be able to sign new deals until the end of the third year of their rookie contracts. Overall contract packages of players were evaluated in addition to 2014 compensation.
Justin Houston (OLB)-Kansas City Chiefs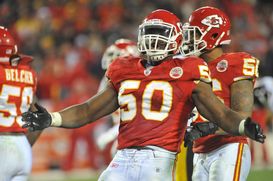 Houston is headed for the franchise tag if he can't come to terms with the Chiefs.
Houston is in hot pursuit of Michael Strahan's single-season record of 22.5 sacks with an NFL leading 12 sacks through nine games. The 2011 third-round pick is in the final year of a four-year rookie contract paying him $1.406 million this season. Signing Houston to a long-term deal is a priority for the Chiefs, but the two sides have been far apart when engaging in contract discussions, according to multiple reports. Houston won't hit the open market because the Chiefs will put a franchise tag on him if a new deal isn't in place before the designation deadline in early March. The linebacker number will be approximately $13.25 million in 2015 if there is a salary cap increase similar to this year's 8.13 percent ($144 million salary cap).
Replacing Clay Matthews, whose five-year contract extension with the Green Bay Packers averages $13.2 million per year, as the NFL's highest-paid linebacker is almost a given. Supplanting J.J. Watt, who signed a six-year, $100 million contract extension (includes $51,876,385 in guarantees) with the Houston Texans during the preseason, is an entirely different matter. The last time the highest-paid linebacker made more than the highest-paid defensive end was in 2009 when the Dallas Cowboys signed DeMarcus Ware to a six-year, $78 million extension during the middle of the season.
Tom Brady (QB)-New England Patriots
The big hometown discount Brady took in a 2013 contract renegotiation that freed up $8 million in 2013 salary cap room for the Patriots hasn't become a trend among superstar players. Depending upon how it's characterized, Brady signed a five-year, $57 million deal or a three-year, $27 million contract extension. Brady received $33 million, which was fully guaranteed, in the first two years of the new deal ($30 million of the guarantee was in the form of a signing bonus) instead of the $30 million he was scheduled to make in the remaining two years of his contract. Since Brady wasn't in danger of being released before the expiration of his contract, he didn't receive much in return for the three new contract years. The final three years of Brady's pact (2015 through 2017) for $24 million becomes fully guaranteed if he is on New England's roster for the final game of this regular season. If Brady had opted for a deal at his market value, the average of the new contract years would have placed him among the NFL's highest-paid players by topping the $20 million per year mark.
Demaryius Thomas (WR)-Denver Broncos
Thomas has rebounded from an extremely slow start in Denver's first three games. He's on pace for 1,781 receiving yards, which would tie Marvin Harrison for the third-best single-season total in NFL history. The 22nd overall pick in the 2010 NFL draft should also join Marvin Harrison and Jerry Rice as the only wide receivers to ever have three consecutive seasons with at least 90 catches, 1,400 receiving yards and 10 touchdown receptions. Thomas is in the final year of a five-year, $12,155,500 rookie contract (with $9,351,750 guaranteed and worth a maximum of $15,505,500). According to Mike Klis of the Denver Post, there is an offer on the table that would make Thomas the NFL's third-highest-paid wide receiver. The offer is above Percy Harvin's $12,843,500 new money average per year and below the Calvin Johnson/Larry Fitzgerald deals averaging slightly more than $16 million per year that contain more than $45 million in guarantees.
Dez Bryant (WR)-Dallas Cowboys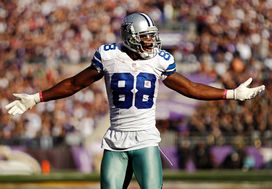 Bryant is looking to become one of the highest-paid receivers in NFL history.
Bryant is on track for his third straight season with at least 90 receptions, 1,200 receiving yards and 12 touchdown receptions. As the 24th overall pick in the 2010 NFL draft, he signed a five-year, $11,810,500 deal (with $8.625 million guaranteed). His salary is $2.03 million this year, the final year of his rookie contract. Bryant ended contract negotiations at the start of the regular season when the Cowboys weren't willing to make him one of the NFL's top paid wide receivers because of off-the-field concerns. According to NFL Media's Ian Rapoport, Dallas' best offer was $114 million for 10 years with $20 million in guarantees, of which $5 million was a signing bonus. The offer averaged $10 million per year over the first six years.
Muhammad Wilkerson (DE)-New York Jets
Wilkerson was snubbed for the Pro Bowl in 2013 despite having 10.5 sacks while anchoring the NFL's top defense, according to Football Outsiders' defensive efficiency ratings. He is Pro Football Focus' (PFF) number two rated 3-4 defensive end this season behind 2012 NFL Defensive Player of the Year J.J. Watt.
The 30th overall pick in the 2011 NFL draft is in the fourth year of a five-year, $13.844 million rookie contract (includes $6.969 million 2015 option year). The Jets wasted an opportunity to lock up Wilkerson long term at a more affordable rate with some of the $19.89 million in salary cap room they had prior to the Percy Harvin trade. The days of signing Wilkerson in the Calais Campbell neighborhood ($11 million per year/$31 million in guarantees) are over thanks to the changing market conditions for elite defensive linemen with Watt, Robert Quinn and Gerald McCoy's recent deals averaging $16,666,667 per year, $14,253,724 per year and $13.6 million per year, respectively.
Brian Hoyer (QB)-Cleveland Browns
Hoyer beating out Johnny Manziel, the 22nd overall pick in this year's NFL draft, in a preseason battle for the quarterback job was somewhat surprising. The journeyman is more entrenched as Cleveland's signal-caller after guiding the team to first place in the AFC North with a 6-3 record. The Browns seem content to let Hoyer, who is in the final year of a two-year deal with a base value of $1.965 million, play out his contract. There haven't been any contract discussions with Hoyer since the spring when he was offered a backup money contract extension. Hoyer will likely be the cream of a weak free agent quarterback crop if the Browns let him test the open market. A quarterback-needy team could be willing to offer him a long-term deal in excess of $10,038,883, the average salary for a starting quarterback this year.
Julius Thomas (TE)-Denver Broncos
The 2011 fourth-round pick is duplicating the success he had in his 2013 breakout campaign of 65 catches for 788 yards with 13 touchdowns. Thomas has blossomed into arguably the NFL's most dangerou s red zone threat, as his 12 touchdown catches lead the NFL. The former Portland State power forward rejected an offer averaging between $7.5 million and $8.5 million per year that would have made him the NFL's third-highest-paid tight end according to Mike Klis of the Denver Post. Instead, Thomas is making $645,000 in the final year of his four-year, $2.424 million rookie contact.
DeMarco Murray (RB)-Dallas Cowboys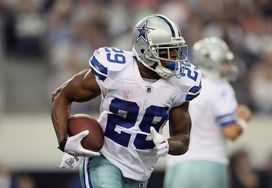 Murray is making a serious push at 2,000 rushing yards.
Murray is in the final year of his four-year rookie contract averaging $743,360 per year. The 2011 third-round pick started the season with eight straight games of 100 or more rushing yards to break Jim Brown's 56-year-old NFL record of six consecutive games to start a season. Murray is just off the pace to become the eighth running back in NFL history to rush for 2,000 yards in a season. At his current rate, he will gain 1,973 yards on 390 carries.
Murray's terrific start to the season prompted the Cowboys to reportedly offer him a four-year extension worth more than the top running back deals signed during free agency ($4 million per year). It is unlikely Murray will capitalize on his success as much as he could at other positions because of the recent devaluing of running backs. Under a more favorable running back economic climate, Murray would be justified in seeking a four or five-year extension, averaging in excess of $10 million per year and containing $20 million in guarantees, which is line with the average of the top five veteran running back deals, with the type of season he is having.
Chris Harris (CB)-Denver Broncos
Harris has had a remarkable recovery from the torn ACL he suffered against the San Diego Chargers in last season's AFC divisional playoff round. He is PFF's top ranked cornerback in 2014. According to PFF, quarterbacks are completing 51.1 percent of passes (26 completions in 51 attempts) for a 44.0 passing rating when targeting him.
The Denver Post's Mike Klis reported before Week 10's contest against the Oakland Raiders that the Broncos have initiated discussions with Harris, who is playing under a $2.187 million restricted free agent tender, for a new deal. It might require a contract consistent with the top of this year's free agent cornerback market, which ranged from Brent Grimes' four-year deal with the Miami Dolphins averaging $8 million per year to the $9.75 million per year Sam Shields received from the Green Bay Packers, in order for Harris to remain in Denver.
DeAndre Levy (OLB)-Detroit Lions
Levy led all NFL linebackers with six interceptions in 2013. He has arguably been the best player on the NFL's top defensive unit in points allowed (15.8 points per game) and total defense (283.4 yards per game). Levy is in the second year of a three-year, $9.75 million deal. Every-down linebackers who don't consistently pressure the quarterback aren't compensated at the same level as those who do. Jerod Mayo is the NFL's highest-paid outside linebacker that isn't a pass rusher with the five-year, $48.5 million contract extension (includes $27 million in guarantees) he received from the New England Patriots towards the end of the 2011 season.
Others: Randall Cobb (WR)-Green Bay Packers, Tashaun Gipson (S)-Cleveland Browns, Rolando McClain (MLB)-Dallas Cowboys, Pernell McPhee (OLB)-Baltimore Ravens, Justin Forsett (RB)-Baltimore Ravens
Follow me on Twitter: @corryjoel
Joel Corry is a former sports agent who helped found Premier Sports & Entertainment, a sports management firm that represents professional athletes and coaches. Prior to his tenure at Premier, Joel worked for Management Plus Enterprises, which represented Shaquille O'Neal, Hakeem Olajuwon and Ronnie Lott. You can email Joel at jccorry@gmail.com.