March 11, 2014 -
Jerry Angelo
The offseason blueprint
With free agency ready to unfold, there are certain observations to keep in mind.
After the season ends, the usual protocol for teams is to have extensive meetings with the pro personnel staff and assistant coaches. These meetings entail an evaluation of every player on the team.
In these meetings, everything about each player will be discussed.
1. A grade will be given to each player based on his performance for the season
2. We would talk about his fit within the scheme
3. We would go over his durability and medical records
Questions would be asked, such as:
1. Can we win with this player?
2. Is he someone we want to re-sign or extend?
3. What is his two-year plan for us?
4. Is he one of our core players (meaning a player who is critical to our success)?
In summary, these meetings would accomplish several elements:
1. The value each player had with the team, now and going forward
2. We would determine our team needs (players we had to replace)
3. We would determine our team wants (players we could live with, but would like to upgrade or create some type of competition for going into camp)
4. Determine if there were any players that needed special attention during the offseason from a medical perspective
With all of this in place, we could now outline and pinpoint what our cap model was going to look like for free agency while considering extensions for our own players. The whole idea was to evaluate and plan for the immediate and short-term future.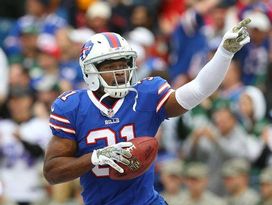 Free agent safety Jairus Byrd is without question a 'first wave' player.
We called the first phase of free agency the 'first wave.' The first wave includes the players teams will covet and pay top dollar to acquire. There will be little recruiting and courting with these soon-to-be multi-millionaires. They will be signed shortly after free agency official begins. This first wave will run approximately several weeks.
The 'second wave' starts approximately two to three weeks after the commencement of free agency. The second wave is determined after the all the big money has been spent on the first wave players. Once that market ends, the second market begins.
Unlike the first wave, this market will take some time to unfold. There will be more recruiting for these players because there won't be a big disparity in the contracts offered. Teams will pressure these players to sign or they will go to another option. These players have value, but teams won't be held hostage by them. Front offices accomplish a key goal by signing these players before the draft: They fill a need, which provides more latitude to operate when it comes time to draft.
There are always teams that do next to nothing until the first wave has ended because they feel the second wave of players offers much better value. This is a good tactic and can work well because you're getting more value for your money while still addressing your needs.
When I was in Chicago, we got some terrific values in the secondary marketplace. Thomas Jones, Tim Jennings, Rubin Brown, Fred Miller and Roberto Garza were just a few acquisitions signed during the second wave of free agency who played prominent roles on our team.
The third and final wave takes place following the draft. What teams didn't accomplish during the first two waves and the draft, they will now look to address during this phase. These players won't be household names or popular in the jersey sales department, but they address concerns and create good competition going into camp.
Teams will have a good sense of the players included in this final wave due to what transpires during the draft. 'Bubble' players due to age and/or expensive contracts are often released if their team finds a replacement via the draft. This is not an uncommon post-draft practice. It will create a small, but new market for players. When teams go into free agency or the draft with a feeling of desperation, it usually works against them.
As you can see, there is a strategy to this entire process. Teams will go into free agency with as many as three plans to accomplish their goals. The key is to be patient and not become a hostage to any position or player, unless he is truly special.
Follow Jerry on Twitter: @RealJerryAngelo
Jerry Angelo was the General Manager of the Chicago Bears from 2001 to 2012. Prior to joining the Bears, Angelo spent 14 years overseeing the Tampa Bay Buccaneers' scouting department as their Director of Player Personnel. Angelo graduated from Miami University in 1971.