December 28, 2013 -
Joel Corry
The Pro Bowl snub team
Changes in the Pro Bowl format to unconferenced teams should have made all-star snubs less likely. However, despite the changes, there are plenty of deserving players who weren't invited to Hawaii for this year's end-of-season extravaganza. Here's my team of players snubbed for the Pro Bowl.
Offense
QB-Nick Foles, Philadelphia Eagles
RB-Knowshon Moreno, Denver Broncos
FB-Anthony Sherman, Kansas City Chiefs
WR-Alshon Jeffery, Chicago Bears
WR-Jordy Nelson, Green Bay Packers
TE-Tony Gonzalez, Atlanta Falcons
T-Jordan Gross, Carolina Panthers
T-Andrew Whitworth, Cincinnati Bengals
G-Josh Sitton, Green Bay Packers
G-Evan Mathis, Philadelphia Eagles
C-Jason Kelce, Philadelphia Eagles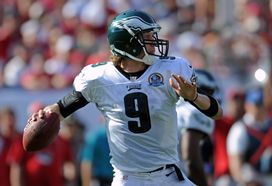 US PRESSWIREFoles has a chance to lead the Eagles into the postseason Sunday night at Dallas.
Foles, who began the season as Michael Vick's backup, leads the NFL with a 118.8 passer rating and is second in percentage of passes intercepted. He's thrown 25 touchdown passes and only two interceptions. The Eagles have a 7-2 record with Foles as the starter. Moreno topped the 1,000 rushing yard mark for the first time in career and picked up another 507 yards in receiving while scoring 12 touchdowns. Jeffery was passed over in favor of teammate Brandon Marshall even though he leads the Bears with 1,341 receiving yards (sixth in the NFL) on 86 receptions (tied for eighth in the NFL). Nelson has 1,153 receiving yards despite Aaron Rodgers missing seven games. He was on pace for over 1,400 yards and 14 touchdown catches before Rodgers was injured. Mathis, who is Pro Football Focus' top ranked guard, headlines the offensive line.
Defense
DE-Muhammad Wilkerson, New York Jets
DE-Calais Campbell, Arizona Cardinals
DT-Jurell Casey, Tennessee Titans
DT-Marcell Dareus, Buffalo Bills
OLB-Lavonte David, Tampa Bay Buccaneers
OLB-Thomas Davis, Carolina Panthers
ILB-Karlos Dansby, Arizona Cardinals
ILB-Kiko Alonso, Buffalo Bills
CB-Dominique Rodgers-Cromartie, Denver Broncos
CB-Keenan Lewis, New Orleans Saints
FS-Devin McCourty, New England Patriots
SS-T.J. Ward, Cleveland Browns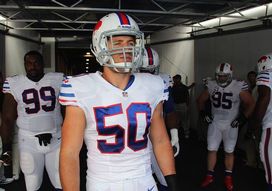 Alonso is headed for Defensive Rookie of the Year honors.
Wilkerson has 10.5 sacks while anchoring the NFL's top defense according to Football Outsiders' defensive efficiency ratings. Casey leads NFL interior defensive linemen with 10.5 sacks and has 54 quarterbacks pressures (combined sacks, hurries and hits). 4-3 outside linebackers, David and Davis, were overlooked for 3-4 outside linebackers that generate sacks. Dansby is having a career year. He is third in the NFL in solo tackles with 109 and tied for seventh with 18 passes defensed. He leads NFL inside linebackers with 6.5 sacks and is tied for first at the position with four interceptions. Two of his interceptions have been returned for touchdowns. Alonso, a leading candidate for Defensive Rookie of the Year, can take solace in 2012 Defensive Rookie of the Year Luke Kuechly not being selected to the Pro Bowl at inside linebacker either in his debut season. Lewis has helped transform the Saints into the NFL's number two pass defense after ranking 31st in 2012.
Specialists
K-Nick Folk, New York Jets
P-Thomas Morstead, New Orleans Saints
PR-Cordarrelle Patterson, Minnesota Vikings
ST-Jeremy Lane, Seattle Seahawks
Folk has converted 93.9 percent of his field goal attempts (31 of 33), which is tied for second in the NFL, with three game-winning kicks. Patterson's Pro Bowl chances were hurt by the NFL eliminating kickoffs from the game. The NFC Special Teams Player of the Month for September doesn't return punts, but his 33.6 yard kickoff return average leads the NFL by a wide margin.
Follow me on Twitter: @corryjoel
Joel Corry is a former sports agent who helped found Premier Sports & Entertainment, a sports management firm that represents professional athletes and coaches. Prior to his tenure at Premier, Joel worked for Management Plus Enterprises, which represented Shaquille O'Neal, Hakeem Olajuwon and Ronnie Lott. You can email Joel at jccorry@gmail.com.