March 12, 2012 -
Joel Corry
The quarterback carousel
The quarterback carousel has begun to turn with the Redskins trading up to acquire the No. 2 pick in order to select Baylor signal-caller Robert Griffin III. Peyton Manning could be the next piece of the quarterback puzzle to fall into place. Here's a look at the QB landscape and what could shake down once Manning finds a new home.
Arizona Cardinals: Signing Manning would be an admission that acquiring Kevin Kolb was a mistake. Kolb has a $7 million roster bonus that's payable on the fifth day of the league year (March 17th). The Cardinals would attempt to trade Kolb before releasing him, but it's unlikely that any team would want to take on the remaining $50.108 million (over five years) of his contract. Instead of having $10.5 million count on the cap this season with Kolb on the roster, there would be $8 million in "dead money" on the cap because of his release. The Cardinals could lessen the obligation to $2 million this season with $6 million counting on next's year cap if they designate him as a post-June 1 release.
Cleveland Browns: The Browns are the biggest losers in the Redskins/Rams trade, as their two first-round picks should definitely have given them an advantage in trade talks with Washington. Drafting Texas A&M quarterback Ryan Tannehill with the fourth pick would be a reach and they may not be able to get him with the 22nd pick. Trading up in the first round with their second pick could be an option. Another option would be to pursue Matt Flynn. The Miami Dolphins could be their chief completion for him if they don't get Manning. With the type of season he had, Kolb would be a cheaper veteran alternative to Flynn if Manning signs with the Cardinals. Browns general manger Tom Heckert has familiarity with Kolb because he was the Philadelphia Eagles general manager when they drafted the former Houston Cougar.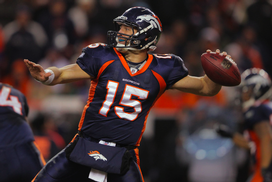 If Manning lands in Denver, what happens to Tim Tebow?
Denver Broncos: What becomes of Tim Tebow if the Broncos win the Manning sweepstakes? Instead of getting stuck behind a future Hall of Fame quarterback, it wouldn't be surprising for Tebow—who is entering the third year of a five-year rookie contract—to quietly request a trade if the Broncos didn't actively shop him on their own. It's hard to speculate on his trade value because he's such an unconventional quarterback but Shahid Khan, the Jacksonville Jaguars new owner, has stated that he would have drafted Tebow after trading down in the first round if he had owned the team during the 2010 NFL Draft. Tebow's salary cap number for the Broncos would jump to $4,708,125 from $3,141,875 with a trade. $6,277,500 of 2012-2014 guaranteed base salaries advanced to him in 2011 were treated as a signing bonus under the cap and the future years pro-ration would accelerate into their 2012 cap.
Kansas City Chiefs: It appears as if Manning hasn't reciprocated the interest the Chiefs have shown him. Thus, signing Manning may be a long shot. Although Matt Cassel has been inconsistent in his three years as the Chiefs starting quarterback, there aren't 32 quarterbacks better than him. The Chiefs shouldn't have a problem finding a suitor for Cassel if Manning is on board. With $22.5 million left on his contract over the next three seasons, Cassel would be a reasonably priced starter. The Chiefs would get a little bit of cap relief because the $6.025 million of dead money for Cassel with the trade is less than his current $7.575 million cap number.
Miami Dolphins: Manning is the Dolphins top free agent priority. As long as they feel like they have a shot at him, every other quarterback is on the backburner. Flynn might already have a new home before they can turn to Plan B if Manning drags his feet on selecting a new team. If the Dolphins don't get Manning, they may have to decide whether Flynn or Tannehill is the preferred option. Dolphins offensive coordinator Mike Sherman—who was Texas A&M's head coach last season—has been touting Tannehill, his former quarterback. The Dolphins pick eighth in the first round, but that may be a little high to take him.
Seattle Seahawks: Tarvaris Jackson is in a contract year but hasn't displayed enough to warrant a contract extension. The Seahawks would like to set up a meeting with Manning but haven't been able to do so. Seahawks general manager John Schneider knows Flynn well because he used to be a Green Bay Packers front office executive. Tannehill could also be a possibility with the twelfth pick. Since the Seahawks don't have any cap issues, Jackson's $4 million salary (the same as Vince Young's in 2011) and $4.75 million cap number would be manageable if he's a backup.
Joel Corry is a former sports agent who helped found Premier Sports & Entertainment, a sports management firm that represents professional athletes and coaches. Prior to his tenure at Premier, Joel worked for Management Plus Enterprises, which represented Shaquille O'Neal, Hakeem Olajuwon and Ronnie Lott. You can email Joel at jccorry@gmail.com