June 15, 2013 -
Joel Corry
The realistic value of Charles Woodson's deal
Charles Woodson recently signed an incentive laden one-year deal worth up to $4.3 million in a reunion with the Oakland Raiders, who selected the 36-year-old fourth overall in the 1998 NFL draft. The base value of Woodson's contract is $1.8 million. The deal has a $700,000 signing bonus, a $100,000 workout bonus and a $1 million base salary.
Woodson has $2.5 million in not likely to be earned incentives (NLTBEs) based on playtime, interceptions and individual honors. The real issue is whether his NLTBEs are realistically achievable.
Any 2013 incentives with higher thresholds than Woodson's 2012 individual statistical achievements are classified as NLTBE. Since the 2009 NFL Defensive Player of the Year missed nine games last season with a broken right collarbone, intercepted one pass and had 42.92% playtime, he has modest triggers for NLTBEs.
Woodson's playtime incentives are worth up to $1.5 million. They begin at 43% defensive playtime with Woodson receiving $300,000. He gets another $300,000 for 50%. The next threshold is 60%, which is also for $300,000. The remaining three playtime levels are at 70%, 80% and 90%, which are each worth $200,000.
The 1997 Heisman Trophy winner can earn a maximum of $600,000 with his interception incentives. He gets $200,000 with four interceptions. Each additional interception (ending after eight interceptions) is worth an additional $100,000.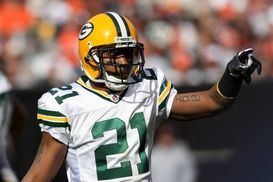 ICONWoodson appeared in just seven games with the Packers last season, recording his lowest interception total (1) since 2005.
Woodson has $400,000 in honors incentives. He earns $200,000 for making the Pro Bowl. Woodson must be named on the original ballot and participate in the game unless he's been medically excused to earn the incentive. Participating as a replacement player doesn't qualify. There's also $200,000 for being named NFL Defensive Player of the Year.
It's conceivable that Woodson can earn the entire $1.5 million of playtime bonuses in his incentive package. Woodson was quickly named starting free safety after signing with the Raiders. Before suffering a broken collarbone last year, Woodson had topped 90% playtime in each of the previous four seasons. Reaching 80% playtime seems more likely considering that the average playtime for starting safeties in 2012 was 81.51%. There has been some speculation that the Raiders will monitor the 36-year-old's playtime in an effort to keep him fresh, but Ronde Barber had 99.35% playtime as a 37-year-old free safety last year with the Tampa Bay Buccaneers.
Projecting interceptions can be tricky. Ed Reed, who leads all active players in career interceptions, has followed up his two nine interception seasons with one and three interception years. The lowest threshold, four interceptions, will not be easy for Woodson to reach. Only 12 safeties had at least four interceptions last year. 11 and 10 safeties reached the mark during the 2010 and 2011 seasons.
Woodson shouldn't count on earning either of his honors incentives. Only three safeties from each conference are named to the Pro Bowl. Woodson faces stiff competition from Eric Berry, Jairus Byrd, Reshad Jones, Troy Polamalu, Ed Reed and Eric Weddle. Playing for a rebuilding team will likely hinder Woodson's Defensive Player of the Year chances if he has a remarkable season. Jason Taylor (2006) is the only player to win the award in the last ten years while playing on a losing team. Winning six games would be considered a respectable season by the Raiders in most circles.
Woodson should realistically earn $1.3 million of the playtime incentives contained in his $2.5 million incentive package if he stays healthy. His total 2013 compensation should be $3.1 million, which is $550,00 more than the maximum former Oakland safety Michael Huff can earn in the first year of his three-year, $6 million contract (worth up to $7.2 million through base salary escalators and incentives) with the Baltimore Ravens.
Follow me on Twitter: @corryjoel
Joel Corry is a former sports agent who helped found Premier Sports & Entertainment, a sports management firm that represents professional athletes and coaches. Prior to his tenure at Premier, Joel worked for Management Plus Enterprises, which represented Shaquille O'Neal, Hakeem Olajuwon and Ronnie Lott. You can email Joel at jccorry@gmail.com.