February 11, 2014 -
Erik Oehler
The red flag report: Austin Seferian-Jenkins
The red flag report will sort out the truth from the rumors in the sea of draft coverage and make an unbiased evaluation of the risk, if any.
Austin Seferian-Jenkins - TE - Washington
The flag: DUI arrest
What we know: On March 9th, 2013, when he was 20 years old, Seferin-Jenkins was cited for driving under the influence in the University District in Seattle after his car was found in a drainage ditch in the south end of Ravenna Park. He hit his head on the windshield and was found with a bloody face. (SOURCE)
His blood alcohol level was .18 (SOURCE)
Seferian-Jenkins knows he was drinking at a party with friends before crashing his vehicle, but he doesn't remember much about the arrest. (SOURCE)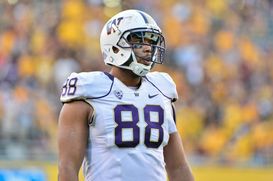 Seferian-Jenkins from the October 19th game at Arizona State.
On July 15th, at his pre-trial hearing, he changed his plea from not guilty to guilty, and issued the following statement:
"On March 9, 2013, I fell well short of what is expected of me as a student athlete and a citizen of this community. I want everyone to know how sorry I am for the disappointment and embarrassment that I have caused. I especially want to apologize to my teammates, my coaches and particularly my family. I also want to apologize to the entire University of Washington family for not living up to my expectations. I hope that everyone can learn from my mistake so that they do not commit the same lapse in judgment that I committed this past March. I was always raised to be a man of my word, and I promised everyone shortly after this incident that I would accept responsibility for my actions. Today, I kept my word and will accept my punishment because I deserve it. I also want everyone to know that I will continue to learn from this mistake and will attempt to educate others to the dangers of drinking and driving. I understand that I am very fortunate that no one else was injured by my terrible lapse in judgment. To all my supporters, thank you for standing by me, but please learn from my mistake and never, ever drink and drive. I plan to move on from this, and continue to work hard to earn your respect back. Again, I am deeply sorry for my actions and I hope that at some point, you can all forgive me." (SOURCE)
He served one day in jail in July of 2013, and was suspended for the home opener against Boise State. (SOURCE)
Speculation: The initial reporting was responsible for the most part, if not, lenient on the Seferian-Jenkins. There were a few accounts that incorrectly speculated he may not have been the driver of the vehicle.
Almost every news account stated that his blood alcohol level was .18, "nearly twice the legal limit." It would be twice the legal limit if he were 21 years old (the limit is .08). He was 20 at the time. Washington law states that a minor driver may be charged with a DUI with an alcohol level of .02. He was, in effect, more than nine times the legal limit. (SOURCE)
The biggest misinformation I could find, though, was in the wording of articles and scouting reports since the arrest. Too often, I saw it reported, "He has had trouble with off the field issues in the past" or a similar variation. Unless there is another transgression I'm unaware of, this is a disingenuous way to phrase an isolated incident. Even NFL.com was guilty of this.
What others say: On May 6th, coach Steve Sarkisian said "To Austin's credit, he's done everything we could have asked and beyond. He's done a nice job in school, in the community, he's done all the counseling we've asked him to do. To his credit, he's stayed ahead of this thing. One of the keys for me was, was (the incident) truly indicative of a young man's character, or was it truly a mistake? It was a mistake. He's a good individual." (SOURCE)
Falcons' cornerback Desmond Trufant, Seferian-Jenkins' teammate in 2011 and 2012 said: "He made a mistake, but he's a young kid in college. Certain things go on and sometimes you get caught up. Unfortunately, it was him, but he is definitely a good kid. I can say that for him." (SOURCE)
What he says: His first, and most candid discussion of the incident was in December 2013 speaking to Ballard High School.
Very few athletes come off as genuinely contrite as ASJ does in that clip. And every other interview I've seen or read has had a similar tone. I have no reason to doubt his sincerity. There isn't a negative feeling anywhere in his twitter account either.
Risk: 2/10 (VERY LOW) - Based on the isolated nature of the incident, and his actions since, it wouldn't be reasonable to get overly concerned about drafting Seferian-Jenkins. Some NFL players with college DUI convictions become problems like Justin B lackmon (2010), who repeated the offense in 2012, and had two subsequent violations of the league's substance abuse policy in 2013. Others like Kiko Alonso (2010) and Michael Floyd (2011) manage to turn things around and become steals for the NFL teams that take a chance on them. Every player is different. His on the field talent and very positive attitude should make it very easy to convince any team that does their homework on him to draft him high.
Follow me on Twitter @erikoehler