January 24, 2013 -
Joel Corry
The Revis roller coaster continues
According to CBS Sports NFL Insider Jason LaConfora, New York Jets owner Woody Johnson is interested in trading Darrelle Revis because he isn't confident in signing the star cornerback to a contract extension. At the press conference to introduce John Idzik as general manager, Johnson said he didn't know where that information came from but didn't deny the report. Regardless, Idzik is inheriting a salary cap mess. The Jets are currently $22.95 million over the expected $121 million 2013 cap while having nine starters headed towards free agency.
Revis, who tore the anterior crucriate ligament in his left knee against the Miami Dolphins during the third game of the season, held out for 36 days in 2010 before signing a seven-year contract extension which voids to four years. His renegotiated contract is considered as a four-year, $46 million deal since the last three years (2014-2016) void provided that he hasn't withheld his services during those first four contract years and he is on New York's roster one day after the 2013 season's Super Bowl. Revis will become an unrestricted free agent at that time because his contract contains a clause that prohibits a franchise tag from being used on him.
Revis is scheduled to make $6 million in 2013. In addition to his $3 million base salary, Revis has a $1 million fifth day of the league year (March 16th) roster bonus, a $1 million training camp reporting bonus and a $1 million offseason workout bonus. His 2013 salary cap number is $9 million.
The franchise tag prohibition gives Revis quite a bit of leverage. He stated at the end of the regular season that he would like to retire with the Jets. If Revis is angered by the trade rumors, he effectively has a no-trade clause. He can dissuade teams from trading for him by announcing that he isn't interested in discussing a new contract with anybody because he plans on testing the free agent market after the 2013 season.
Assuming Revis won't take that stance, the March 16 payment date of his roster bonus creates a sense of urgency. Revis and the Jets could agree to push back the roster bonus date in order to create more time to work out a trade. Such a contract maneuver isn't commonplace, but Brett Favre and the Green Bay Packers moved the payment date of his $3 million roster bonus four times in 2006 while he was contemplating retirement.
Trading Revis tprior to June 2 will have negative cap consequences for the Jets. Revis' 2013 cap charge will increase from $9 million to $12 million because of $9 million in option bonus proration accelerating into the cap from the 2014-2016 voidable years of his contract.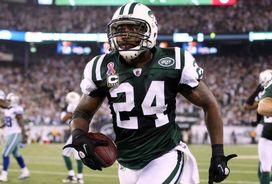 Is Darrelle Revis headed for a new city?
The Jets could probably get a first-round pick, at a minimum, for Revis if he were healthy. There is no guarantee that Revis will make the same type of remarkable recovery as Adrian Peterson, who narrowly missed breaking Eric Dickerson's single season rushing record. At the other end of the spectrum is Terrell Thomas. The New York Giants cornerback tore his right ACL in the 2011 preseason. He tore it again in training camp this year. Since Revis' recovery is an unknown variable, his knee injury should depress his trade value.
DeAngelo Hall was acquired by the Oakland Raiders from the Atlanta Falcons in 2008 for a 2008 second-round pick and a 2009 fifth-round pick. This trade could be an indication of the type of compensation the Jets will get for an injured Revis, except there could be conditions to increase the trade compensation depending on how much or how well he plays next season.
Any team interested in trading for Revis will want to sign the cornerback to a new contract especially since they can't franchise him. It was expected that he would demand a contract similar to Mario Williams' deal with the Buffalo Bills. Williams became the highest paid defensive player in NFL history with the six-year, $96 million contract ($50 million in guarantees, $53 million in the first three years and an additional $4 million in not likely to be earned incentives) he signed as a free agent last March. Given that Revis has taken a hardline approach with the Jets in nearly every instance, his salary expectations probably haven't changed because of the injury.
Most teams will be reluctant to pay Revis at the top of the defensive market without knowing whether he is still a shutdown cornerback. Even without the ACL injury, Revis' contract situation was going to be challenging because the top of the cornerback market has been fairly stagnant over the last couple of years. Nnamdi Asomugha couldn't reach the average yearly salary of his previous contract with the Raiders (two years averaging $14.296 million per year) when he signed a five-year, $60 million contract ($25 million fully guaranteed, $36 million in the first three years) with the Philadelphia Eagles in 2011. No one else has been able to eclipse Revis' current deal. Consequently, there may not be a huge trade market for him.
An extension for Revis could be structured similar to the five-year, $90 million contract Peyton Manning signed with the Indianapolis Colts in 2011. Manning's deal became a one-year $23.4 million deal because he didn't recover from his neck injury before the Colts had to pay him a $28 million option bonus (by the fourth day before the end of the 2011 league year) that triggered the remaining four years of his contract. In Revis' case, his 2013 compensation would stay the same with the option bonus payable before his contract voided. The bonus payment would eliminate the voiding mechanism, adjusting the $3 million salary in each of the voidable years while adding one or two new contract years. If the payment wasn't made, the voiding mechanism would remain intact where Revis would be no worse off than if he was under his current contract because he would still become a free agent after the 2013 season.
The Jets can probably get the best value for Revis by waiting until the preseason to trade him after he demonstrates that he has recovered from his knee injury. This type of patience would require the Jets to pay Revis the $3 million in bonuses due before training camp started but would create room under the 2013 cap. His cap charge would drop from $9 million to $6 million. There would be a $9 million cap charge for him in 2014 because of the proration from those voidable years. After seeing Revis perform in game conditions, a team might feel more comfortable meeting his pre-injury salary expectations.
However, the Jets may not be willing to endure an entire offseason where Revis' situation is a potential distraction.
Follow me on Twitter: @corryjoel
Joel Corry is a former sports agent who helped found Premier Sports & Entertainment, a sports management firm that represents professional athletes and coaches. Prior to his tenure at Premier, Joel worked for Management Plus Enterprises, which represented Shaquille O'Neal, Hakeem Olajuwon and Ronnie Lott. You can email Joel at jccorry@gmail.com