March 23, 2014 -
Jerry Angelo
The right systems for Manziel and Clowney
Two of the more intriguing prospects in this year's draft class are Texas A&M quarterback Johnny Manziel and South Carolina defensive end Jadeveon Clowney. Both are household names without having taken a single snap in the National Football League. That's quite a PR accomplishment, given that both are also underclassmen.
To find success at the professional ranks, the key for both players comes down to one word: coaching.
Though Manziel and Clowney play different positions, they both fall within the same unique circumstances. They need special coaching. It's not an easy task to find the right coaches for players such as Manziel and Clowney, just as it's no easier or harder to find a special player. I contend that the great players need as much coaching as any other player. The difference is that when the player gets and accepts the coaching, he makes the coach look great. Both the player and coach need each other to reach their potential.
In regards to Manziel, it's about building an anti-pro offense, similar to what the Heisman Trophy winner operated while in college. NFL offensive coordinators have been very reluctant to deviate from their pro style offenses. They would rather take a less talented and decorated player, who fits the NFL prototype, than adjust or create a scheme for a more talented non-conventional type.
The type of coach Manziel needs may be better served without an NFL background. The former Aggie needs a coach who designs his attack by spreading defenses out, which includes utilizing wide-line splits and employing three or four receivers on every down. A blocking tight end and fullback would be extinct in this scheme.
The offensive linemen would be linear, relying more on their footwork and speed rather than raw strength and power. They need to be able to get downfield to pick off defenders in space when the offense goes to their quick screens and draws. When Manziel's number is called through the headset, the basketball-like linemen need to run his interference.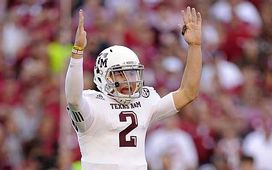 US PRESSWIREJohnny Manziel will go as far as his coaching and system allows him.
The ideal running back for this offense would look like Darren Sproles or a college-like Percy Harvin. He has to hit the hole in full stride and at full speed. He would also be a threat as a receiver. The outside receivers would be tall, easy to find and possess the ability to win all one-on-one contests vertically.
This style of offense would be quick-hitting and up-tempo. It would feature multiple packages and everyone who measures less than six feet would be a threat after the catch. The offense and its play-calling would be as unique as the quarterback himself. The beauty of this offense is that the team's second and third quarterbacks would be similar versions of the starter who could be acquired in the later rounds of the draft or as college free agents.
As for Clowney, there should be no problems finding his fit in any even front (4-3) defense at either end position.
Clowney's defensive coordinator will enjoy creating mismatches that will exploit slow-footed, beefed-up offensive linemen. He will have to be accounted for by offensive coordinators if they want to successfully throw the ball downfield.
Remember, Clowney's length and speed are rare. The more an offensive lineman has to retreat, the more space Clowney has to work with. He is almost unblockable when creating that kind of space between himself and his opponent. The key is finding a coach who can push the right buttons in order to get this guy to play as if he loved football and not himself. The South Carolina product would discover quickly excuses are for losers and won't be tolerated.
Clowney is going to go through a transition at the next level. He will not dominate on talent alone, as he did in college. He's going to have to learn to play hard in every game, not just the big ones. The coach that tutors Clowney will have to be as tough on him as any of his opponents. If he isn't, Clowney will always be talked about as a guy who never lived up to his potential.
Both players have high ceilings and invisible floors. The variance will be determined by their coaches.
Follow Jerry on Twitter: @RealJerryAngelo
Jerry Angelo was the General Manager of the Chicago Bears from 2001 to 2012. Prior to joining the Bears, Angelo spent 14 years overseeing the Tampa Bay Buccaneers' scouting department as their Director of Player Personnel. Angelo graduated from Miami University in 1971.