June 27, 2013 -
Joel Corry
The salary cap implications of Hernandez's release
The New England Patriots promptly released tight end Aaron Hernandez after he was arrested for Odin Lloyd's murder. The timing of Hernandez's release suggests that the Patriots are more concerned about the franchise's image than financial considerations and salary cap implications.
Hernandez signed a five-year, $37.5 million contract extension (worth up to a maximum of $40 million through Pro Bowl incentives) last August with two years remaining on his four-year rookie contract. The extension contained $16 million in guarantees, including a $12.5 million signing bonus. Hernandez's signing bonus was split into three payments. $6 million was paid when he signed the deal. $3.25 million was paid in March. $3.25 million is payable next year on March 31. Hernandez's $540,000 2012 base salary, $1.323 million 2013 base salary, $1.137 million of his $1.2 million 2014 base salary and $500,000 2014 workout bonus were also guaranteed.
Hernandez was scheduled to count $4.073 million on New England's cap this year. His cap number consisted of a $1.323 million base salary, $2.5 million of signing bonus proration from his extension, $50,000 of signing bonus proration from his 2010 rookie contract, an $82,000 workout bonus, and a $118,000 regular season roster bonus.
Hernandez is subject to waivers until 4 p.m. eastern time on Thursday since he has less than four years of service. Theoretically, another team could claim the former Florida Gator, but it's extremely unlikely given the circumstances.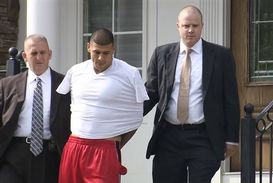 The Patriots dumped Hernandez less than two hours after the tight end was arrested for murder.
The 2011 Collective Bargaining Agreement (CBA) allows players and teams to negotiate circumstances (also known as defaults) where contract guarantees void. The voiding mechanisms depend on a team's conventions and the player's leverage. Most NFL contracts contain provisions that void guarantees if a player refuses or fails to report, practice or play, or is suspended, usually for violating the NFL's personal conduct, substance abuse or performance enhancing drug policies. Some deals contain a catch-all provision with guarantees voiding for any breach of the contract outside of the customary defaults. Some teams structure contracts so the guarantees void automatically upon a default, while other teams have a discretionary voiding right with a default.
Hernandez's contract doesn't contain any language that can void his base salary guarantees, but that isn't the case with his 2014 workout bonus. In addition to the typical circumstances, any action that materially undermines the public's respect for the team, players, ownership, coaches, management, operations, or polices can void the workout bonus if the team chooses to do so. It would be surprising if the Patriots didn't elect to void the workout bonus guarantee prior to releasing Hernandez. The omission of the materially undermining language from the base salary guarantee provisions is significant because guarantees in future contract years accelerate into a team's current cap when a player is released.
Hernandez's 2013 cap number increases from $4.073 million to $5.092 million because his $1.137 million 2014 base salary guarantee accelerates into New England's cap this year. His $118,000 roster bonus is removed from the equation since it wasn't guaranteed. The Patriots are able to absorb the cap increase since they have $8.25 million of cap space.
New England will have a $7.5 million cap charge in 2014 relating to Hernandez. The acceleration of the remaining signing bonus proration in Hernandez's contract (from his 2014 through 2016 contract years) is delayed until next year because he was released after June 1.
It appears as if the Patriots have compromised their ability to recover money from Hernandez by releasing him so quickly after his arrest. Signing bonuses can be forfeited and recouped under the CBA when a player breaches his contract. Typically, a breach occurs when a player is suspended or withholds his services from a team once training camp starts. The CBA also includes incarceration as a breach. The Patriots should have at least waited until Hernandez missed training camp practices or preseason games before releasing him if recouping money is a primary concern. Although Hernandez's actions clearly violate the NFL's Personal Conduct Policy, it remains to be seen whether any such suspension while Hernandez isn't under contract can be beneficial to New England.
The Patriots owe Hernandez $5.792 million. $1.405 million is due this year. Hernandez's $82,000 bonus is payable on August 1 and his $1.323 million base salary is payable in equal installments during the upcoming regular season. The remaining $4.387 million ($3.25 million signing bonus installment and $1.137 million 2014 base salary) is due next year.
The Patriots could withhold Hernandez's payments regardless of whether they believe they are entitled to recoup money from him. Hernandez would be required to file an action under the CBA in order to collect the money. It would be up to the System Arbitrator to resolve the dispute.
Follow me on Twitter: @corryjoel
Joel Corry is a former sports agent who helped found Premier Sports & Entertainment, a sports management firm that represents professional athletes and coaches. Prior to his tenure at Premier, Joel worked for Management Plus Enterprises, which represented Shaquille O'Neal, Hakeem Olajuwon and Ronnie Lott. You can email Joel at jccorry@gmail.com.