October 18, 2014 -
Joel Corry
The salary cap implications of the Percy Harvin trade
The Seattle Seahawks traded wide receiver Percy Harvin to the New York Jets for a 2015 conditional draft pick on Friday in a surprising move. The draft pick is reportedly a sixth-round selection that could be as high as a fourth-round pick depending upon Harvin's performance.
Harvin fills a void at wide receiver by giving the Jets another much-needed playmaker on offense. According to Manish Mehta of the New York Daily News, wide receiver David Nelson is being released by the Jets to make room for Harvin on the 53-man roster. The Seahawks quickly cut ties with Harvin after acquiring him in a 2013 trade from the Minnesota Vikings for a 2013 first-round pick (25th overall), 2013 seventh-round pick and a 2014 third-round pick because of difficulty integrating him into their offense and off-the field/locker room concerns.
Harvin received a six-year, $67 million contract with $25.5 million in guarantees from the Seahawks as a part of the trade. The guarantees consisted of a $12 million signing bonus, a fully guaranteed $2.5 million base salary in 2013 and an injury guaranteed $11 million base salary in 2014 that became fully guaranteed on the fifth day of the 2014 waiver period (February 7).
Seattle's salary cap charge for Harvin this year drops from $13.4 million to $6,929,412 ($4,529,412 in base salary and $2.4 million in signing bonus proration) since they are no longer responsible for Harvin's fully guaranteed $11 million salary for the remaining 10 weeks of the regular season. Seattle's current cap room rises from $2.06 million to approximately $8 million (assumes a player making close to his minimum salary replaces Harvin on the roster). The Seahawks will have a $7.2 million cap charge (or dead money) next year for Harvin from the 2015, 2016 and 2017 proration of his signing bonus. The net effect is an increase of $5.7 million in 2015 cap room, as Harvin's 2015 cap number was $12.9 million.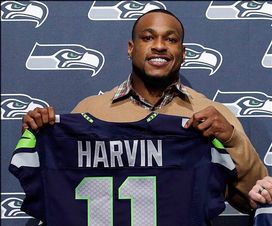 Harvin appeared in a grand total of eight games for the Seahawks after being acquired via trade in 2013.
Seattle's experiment with Harvin was a costly endeavor. Harvin, who missed most of the 2013 season with a hip injury, made $19,029,412 for playing six regular season and two playoff games during his tenure with the Seahawks. The decision to trade for and pay Harvin likely hindered Seattle's ability to re-sign Golden Tate, the team's leading receiver in 2013. Tate signed a five-year, $31 million contract (includes $13.25 million in guarantees) with the Detroit Lions in free agency. The $18 million in the first three years of Tate's deal is approximately $1 million less than the Seahawks paid Harvin.
Harvin's $6,470,588 salary (10/17th of $11 million) for the rest of the season was easily absorbed because the Jets had the NFL's second-most cap room at $19.89 million prior to the transaction. The Jets have $13.8 million of cap room this year after the trade. 11 other teams had enough cap room this year to trade for Harvin. Among those teams, only the Cleveland Browns ($19.183 million), Jacksonville Jaguars ($23.202 million), New England Patriots ($9.838 million) and Oakland Raiders ($9.146 million) have enough of a need at wide receiver to have considered him. The Jets still have the NFL's second-lowest payroll for 2014, but go over the $100 million mark with the deal.
Harvin is a low risk acquisition cap wise because the $41.5 million in the remaining four years of his contract doesn't contain any guarantees. This gives the Jets the ability to cut Harvin after the season without any adverse cap consequences or the leverage to ask him to take a pay cut if he isn't performing like a $10 million per year wide receiver.
Both teams should be in great shape cap wise in 2015. The cap will be $144 million in 2015 if it has a similar percentage increase as this year (8.13 percent). The Jets have $97.072 million in 2015 cap obligations after the trade with 40 players under contract while the top 51 cap numbers count towards the cap during the offseason. Considering teams can carry over their unused cap room from one year to the next, the Jets should have over $50 million in cap room heading into 2015 free agency.
The Seahawks have $105.2 million in 2015 cap commitments with 40 players under contract after factoring in Harvin's dead money. The team could have in excess of $40 million in cap space when the 2015 league year starts next March. Expect some portion of Seattle's cap room to be used on a blockbuster contract extension for Russell Wilson, which could make him the NFL's highest paid player. The extra cap room from the Harvin trade might also make it easier for the Seahawks to keep Marshawn Lynch in the final year of his contract at his $8.5 million cap number.
Follow me on Twitter: @corryjoel
Joel Corry is a former sports agent who helped found Premier Sports & Entertainment, a sports management firm that represents professional athletes and coaches. Prior to his tenure at Premier, Joel worked for Management Plus Enterprises, which represented Shaquille O'Neal, Hakeem Olajuwon and Ronnie Lott. You can email Joel at jccorry@gmail.com.