March 07, 2014 -
Joel Corry
The three-day window opens Saturday
NFL teams are allowed to negotiate with the agents of prospective unrestricted free agents during a three-day period which runs from March 8 at 12:00pm eastern time until 3:59:59pm eastern time on March 11. During this three-day window, prospective unrestricted free agents can't visit teams or have direct contact with team employees, except those from their current clubs. A player's ability to re-sign with his current club isn't affected by the rule. Teams also can't set up visits with prospective unrestricted free agents until the start of the 2014 league year at 4:00pm eastern time on March 11.
The rule does not apply to unsigned players receiving restricted free agent, franchise (Nick Folk, Jimmy Graham, Brian Orakpo) or transition tenders (Alex Mack). Players who don't have an agent, like Jon Beason, are also prohibited from having discussions with teams during this legalized tampering period. Players can't sign contracts with new teams until the new league begins.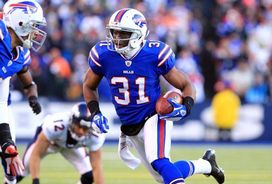 Former Bills safety Jairus Byrd is sure to draw plenty of interest this weekend.
The three-day negotiating period was initially approved in October 2012 at the Fall Owners Meetings after being recommended by the NFL's Competition Committee. The rule is designed to curb the customary tampering that commences when NFL teams meet with agents about their impending free agent clients at the NFL's annual Combine held in Indianapolis during late February. The rule has had a chilling effect, with fewer meetings taking place at the Combine since its implementation. Part of the decrease may also be attributed to there being more lag time between the Combine and the start of free agency under the 2011 Collective Bargaining Agreement. There are now more than two weeks between the events instead of just a couple of days.
The NFL's legalized tampering window operates differently than the NBA's ten-day signing moratorium period at the start of their free agency. In the NBA, there is a flurry of activity where agreements in principle between players and teams are usually publicly announced during their moratorium. To clear up confusion about the process, the NFL warned teams last year that agreeing in principle to a deal before the beginning of the new league year could produce a tampering investigation.
Maybe it was just a coincidence due to the slow growth of the salary cap, but the free agent market was softer last year that it was in 2012 before there was an approved negotiating window. Some agents alleged collusion among teams last year, which is extremely difficult to prove, because of the downturn in free agency.
Teams benefitted from the negotiating period because they weren't operating in a vacuum as much when trying to gauge a player's market value. They had time to adjust if initially miscalculating the market. With the salary cap unexpectedly increasing by 8.13 percent from $123 million to $133 million and each team being required to spend a minimum of 89 percent of the cap in cash during a four-year period of 2013 to 2016, there should be a more robust free agency market this winter.
Follow me on Twitter: @corryjoel
Joel Corry is a former sports agent who helped found Premier Sports & Entertainment, a sports management firm that represents professional athletes and coaches. Prior to his tenure at Premier, Joel worked for Management Plus Enterprises, which represented Shaquille O'Neal, Hakeem Olajuwon and Ronnie Lott. You can email Joel at jccorry@gmail.com.