April 02, 2013 -
Joel Corry
Tony Romo's riches
Tony Romo signed a six-year, $108 million contract extension on March 29 to become the highest paid player in Dallas Cowboys history. Romo's extension averages $18 million per year, which makes him the NFL's fourth highest paid player (by average yearly salary) behind only Joe Flacco ($20.6 million), Drew Brees ($20 million) and Peyton Manning ($19.2 million).
The deal contains $55 million in guarantees, including a $25 million signing bonus. Romo's $1.5 million 2013 base salary and $13.5 million 2014 base salary are fully guaranteed. $15 million of his $17 million 2015 base salary is guaranteed for injury. $7.5 million becomes fully guaranteed on the third day of the 2014 league year (mid-March 2014). The remaining $7.5 million of the injury guaranteed $15 million is fully guaranteed on the third day of the 2015 league year (mid-March 2015). He has unguaranteed $8.5 million, $14 million, $19.5 million and $20.5 million base salaries in his 2016, 2017, 2018 and 2019 contract years.
Romo's $55 million is the fourth largest amount of guaranteed money ever received in an NFL contract. He only trails Drew Brees ($60.5 million), Peyton Manning ($58 million) and Tom Brady ($57 million) in guaranteed money. $11.5 million of Romo's guarantee is his own money because his 2013 base salary in his prior contract was $11.5 million.
Romo receives $57 million in the first three years of his new deal. He also ranks fourth in this metric with Flacco ($62 million), Brees ($61 million) and Manning ($58 million) having more money in their first three contract years.
Romo had tremendous leverage in his negotiations with the Cowboys. He was scheduled to become an unrestricted free agent after the 2013 season. When Romo restructured his contract in 2011, three easily voidable contract years covering the 2014 though 2016 seasons were added to help with the cap. Those years would not have voided until the two week period teams have to designate a franchise player, which ends in early March, was over. There would have been an $8.181 million cap charge during 2014 if Romo's contract voided. The Cowboys also do not have another quarterback on the roster capable of successfully replacing Romo. Backup Kyle Orton won six of his last 27 starts in Denver before he was benched for Tim Tebow in 2011.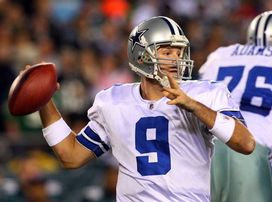 Romo will make $57 million during the first three years of his new deal.
Dallas only had $51,005 of cap room before Romo's new deal. The contract gives the Cowboys $5 million of much needed cap relief immediately by lowering Romo's 2013 cap number from his $16,818,835 to $11,818,835. Addressing Romo's contract situation should have been one of the Cowboys' first offseason moves considering the severe cap problems they've been facing. Dallas restructured multiple contracts in order to be compliant with the cap on March 12 when the 2013 league year started. Better timing with Romo's deal could have given the Cowboys more flexibility regarding restructuring contracts and the option to enter the free agent market sooner. Dallas was the next to last team to sign a player in free agency.
The Cowboys' cap issues practically ensure that Romo's contract will be restructured after the 2013 season. Dallas already has $145.9 million of cap obligations in 2014 while his $21.773 million 2014 cap number is the NFL's highest next year. Romo is also a likely candidate to restructure again in 2015 because his $25.273 million cap number ranks right behind Brees' league leading $26.4 million 2015 cap number. Romo's 2016 cap number, which is currently $15.135 million, could be as high as $20.75 million depending upon how much of his 2014 and 2015 base salaries are converted into a signing bonus for cap purposes if he restructures his contract. The contract restructures should ensure that Romo is secure for the first four years of his contract because the cap charges associated with releasing him should be greater than his actual 2016 cap number.
Romo's contract could become an important data point in discussions with the Detroit Lions regarding a new deal for Matthew Stafford. Both players are represented by the powerful Creative Artists Agency. It is expected that CAA will attempt to leverage Romo's deal into a better contract for Stafford where they insist that his $18 million average yearly salary and $55 million in guarantees are Stafford's floor. CAA successfully employed this tactic in 2007 when Romo's six-year, $67.5 million contract extension (with $28.5 million guaranteed) was slightly better than the deal Marc Bulger, another CAA client, signed (six-years, $65.5 million extension with $23.55 million guaranteed) a couple of months earlier. Stafford can afford to be patient because he is scheduled to make $12.5 million and $11 million during the 2013 and 2014 seasons after earning over $50.5 million during his four-year NFL career.
The expectations on Romo significantly increase after receiving one of the NFL's richest contracts. He has a chance to change his legacy (1-6 record in elimination games and a 1-3 record in the playoffs) by turning the Cowboys into a Super Bowl contender. Otherwise, Romo will be remembered as one of the most overpaid players of his era who didn't deliver when the stakes were raised.
Follow me on Twitter: @corryjoel
Joel Corry is a former sports agent who helped found Premier Sports & Entertainment, a sports management firm that represents professional athletes and coaches. Prior to his tenure at Premier, Joel worked for Management Plus Enterprises, which represented Shaquille O'Neal, Hakeem Olajuwon and Ronnie Lott. You can email Joel at jccorry@gmail.com