November 29, 2013 -
Joel Corry
Top 10 dead money deals
A salary cap charge for a player who is no longer on a team's roster is commonly referred to as dead money. It is a result of signing bonuses, option bonuses and certain roster bonuses being prorated or spread out evenly over the life of a contract (for a maximum of five years) under the salary cap.
When a player is released or traded, the remaining amounts of proration in a contract accelerate into his team's current salary cap. For example, if a player signs a five-year contract with a $10 million signing bonus, $2 million of his signing bonus counts towards the salary cap for each year of his contract. If he is released after the second year of his contract, the $4 million of signing bonus proration from the last two years of the contract automatically accelerates into the club's current cap, which results in $6 million of dead money.
There are two major exceptions to this general rule. Only the current year's proration counts towards the cap with players released or traded after June 1. The proration from the remaining contract years doesn't accelerate until the next year. A team can also release two players each year prior to June 1st who will be treated under the cap as if they were released after June 1. This is known as a "Post-June 1 designation."
Here's a look at the players responsible for the largest amounts of dead money in 2013. Termination pay is being treated separately from dead money since it is a collectively bargained for right available one time during a player's career. Thus, Josh Freeman does not make the list despite collecting $8.43 million from the Tampa Bay Buccaneers this season.
1. Richard Seymour (DT)-Oakland Raiders: $13.714 Million
Seymour's $13.714 million cap charge is a result of two contract restructurings where three voidable years were added to his two-year, $30 million contract to create over $16.5 million of cap room in 2011 and 2012. Once Seymour's contract voided in early February, the proration from the additional years accelerated into the 2013 cap.
2. Darrelle Revis (CB)-New York Jets: $13 Million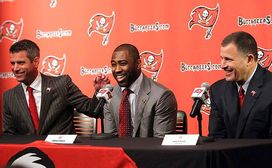 Losing Revis cost the Jets a Pro Bowl cornerback as well as $13 million in 2013 dead money.
Revis counts $13 million on the Jets' cap primarily because $9 million in option bonus proration from the 2014-2016 voidable years of his 2010 renegotiated contract accelerated to this year after his pre-draft trade to the Tampa Bay Buccaneers. Revis' cap charge includes his $1 million fifth day of the league year (March 16) roster bonus. The Jets paid the roster bonus as a part of the trade even though Revis was required to fully participate in offseason mini-camps and training camp to earn it. Revis also received a six-year, $96 million contract from Tampa Bay that doesn't contain any guaranteed money to complete the deal.
3. Carson Palmer (QB)-Oakland Raiders: $9.34 Million
Raiders general manager Reggie McKenzie's preference was for Palmer to take a $3 million pay cut to lower his $15.335 million cap number and $13 million salary. When Palmer refused, he was traded to the Arizona Cardinals with a 2013 seventh-round pick for a 2013 sixth-round pick and a conditional 2014 seventh-round pick (if Palmer starts at least 13 games this season). Palmer accepted a bigger paycut than the Raiders proposed by re-working his contract in the trade. He now has a two-year, $16 million deal (worth up to $20 million through salary escalators and incentives) with an $8 million salary this year.
4. Laurent Robinson (WR)-Jacksonville Jaguars: $8.4 Million
The Jacksonville Jaguars released Robinson one year after signing him to a five-year, $32.5 million contract with $13.6 million in guarantees. A series of concussions limited Robinson to seven games in 2012. Robinson was one of several veteran players released in March as new general manager David Caldwell embarked on a rebuilding project. His contract contained a $2 million fully guaranteed 2013 roster bonus and a $2.6 million 2013 base salary guaranteed for injury which would have become fully guaranteed on April 5. Robinson filed a grievance against the Jaguars for his base salary because he still hadn't recovered from the concussions when the additional guarantees would have vested. $1.04 million of Robinson's base salary is counting on Jacksonville's cap in addition to his dead money until the grievance is resolved.
5. Rolando McClain (LB)-Oakland Raiders: $7.26 Million
McClain was the final first-round pick of Al Davis' illustrious NFL career. The eighth overall selection in the 2010 NFL draft is part of a roster purge that has created over $50 million in dead money for the Raiders this year. McClain's two-game suspension for conduct detrimental to the team in 2012 voided the remaining $3.635 million of 2013 and 2014 base salary guarantees in his contract, which made it easier for the Raiders to cut him. If the guarantees had remained intact, Oakland's cap charge for McClain would have been $10.895 million upon release with his $2.1 million 2014 guaranteed base salary accelerating into this year's salary cap. He also would have collected an additional $3.635 million from the Raiders. McClain quickly caught on with the Baltimore Ravens after Oakland let him go, but abruptly retired a month later.
6. Robert Meachem (WR)-San Diego Chargers: $6,880,075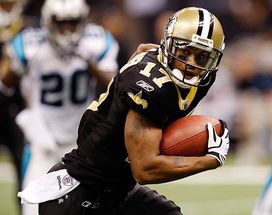 Meachem started just three games in San Diego before getting cut and returning to New Orleans.
The Chargers inked Meachem to a four-year, $25.5 million deal (with $14 million guaranteed) at the start of the 2012 free agent signing period as a much cheaper alternative to re-signing Vincent Jackson. Meachem caught only 14 passes for 207 yards in 2012. He didn't survive the final cut in San Diego this year despite having a fully guaranteed $5 million base salary. Meachem returned to the New Orleans Saints, who drafted him in the first round in 2007, on a one-year, $715,000 deal. Since Meachem's guarantee has an offset, the Chargers are recouping the $715,000 from the Saints and get a cap credit in 2014 for those payments.
7. Eugene Monroe (OT)-Jacksonville Jaguars: $6,598,236
Monroe was acquired by the Baltimore Ravens in the fifth week of the season for 2014 fourth and fifth round picks. Because of Baltimore's tight salary cap and the NFL's prohibition of including cash in player trades, Jacksonville converted all of Monroe's $3.8 million base salary except for his $715,000 league minimum salary into a signing bonus in order to facilitate the deal. Baltimore's cap charge for Monroe is only $546,765 or his prorated minimum salary for 13 weeks. The Jaguars also deleted Monroe's 2014 contract year, which was scheduled to void after this season, in the salary conversion. Instead of Jack sonville having a 2014 cap charge of $1,397,500 for Monroe from option bonus proration, the deletion accelerated this cap charge into Jacksonville's 2013 cap.
8. Tommy Kelly (DT)-Oakland Raiders: $6,324,270
The Raiders raised eyebrows in 2008 by signing Tommy Kelly to a seven-year, $50.125 million contract (with $17.5 million in guarantees) while he was recovering from a torn ACL in his right knee. At the time, it was the richest deal in NFL history for a defensive tackle. The Raiders got a much better return on their investment with Kelly than expected. He played five seasons in Oakland under the deal without taking a paycut and led NFL defensive tackles (along with Geno Atkins) with 7.5 sacks in 2011.
9. Kevin Kolb (QB)-Arizona Cardinals: $6 Million
The Cardinals pulled the plug on the two-year Kevin Kolb experiment instead of paying his $2 million fifth day of the league year (March 16) roster bonus. Kolb was scheduled to make $11.5 million this year. The Cardinals acquired Kolb in a 2011 trade with the Philadelphia Eagles for cornerback Dominique Rodgers-Cromartie and a 2012 second-round pick. The veteran quarterback then signed a six-year, $63.5 million contract (with $20 million in guarantees) as a part of the trade. Kolb was plagued by injuries that limited him to 15 games during his tenure in Arizona.
10. Quintin Mikell (S)-St. Louis Rams: $6 Million
Mikell was released after playing two seasons of his four-year, $27 million contract because the Rams wanted to get younger at safety. Mikell was 32-years-old at the time of his release. The $3 million in cap space created by Mikell's departure helped the Rams sign tight end Jared Cook and offensive tackle Jake Long in free agency.
Follow me on Twitter: @corryjoel
Joel Corry is a former sports agent who helped found Premier Sports & Entertainment, a sports management firm that represents professional athletes and coaches. Prior to his tenure at Premier, Joel worked for Management Plus Enterprises, which represented Shaquille O'Neal, Hakeem Olajuwon and Ronnie Lott. You can email Joel at jccorry@gmail.com.