May 15, 2013 -
Erik Oehler
Top 5 DEs & DTs for the 2014 draft
Now that we've completed our initial rankings for the top offensive prospects scheduled to enter the 2014 NFL draft, let's turn our attention to the defensive side of the football by analyzing the DEs and DTs.
CLICK HERE for our QB and RB rankings.
CLICK HERE for our WR & TE rankings.
CLICK HERE for our offensive line rankings.
Note: Our preseason rankings include seniors only. Underclassmen will be added once they declare for the NFL draft.
Defensive Ends
1. Jackson Jeffcoat, Texas: Jeffcoat suffered a pectoral injury against Oklahoma last season and had to undergo season-ending surgery, so the defensive end decided to return for his senior year. Has the NFL bloodlines, as father Jim played for the Dallas Cowboys. Before the injury, many thought Jeffcoat would declare early and be selected during the first round of last April's draft.
2. Kareem Martin, North Carolina: Martin has great size at 6-6, 265 pounds and is a very good overall athlete. He is someone to keep an eye on this year, as he could push himself into the first round of the 2014 NFL draft.
3. Dominique Easley, Florida: Easley has played both defensive end and defensive tackle and might play tackle this year. He is a little shorter then NFL teams like, but has good movement skills.
4. Morgan Breslin, USC: Breslin was a junior college transfer last year who set the Pac-12 on fire with 19.5 tackles for loss and 13 sacks.
5. James Gayle, Virginia Tech: Gayle has NFL bloodlines as his uncle Shaun played for the Chicago Bears. He had a better sophomore season then he did as a junior, but has the size and athleticism teams are looking for in a starting defensive end.
Defensive Tackles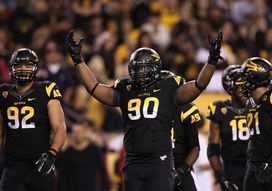 Sutton (90) recorded 13 sacks in 12 games with the Sun Devils last season.
1. Will Sutton, Arizona State: Many where surprised that Sutton returned for his senior season as he had a great junior year with 23.5 tackles for loss and 13 sacks. Doesn't have overwhelming size, but makes up for it with quickness.
2. Daniel McCullers, Tennessee: McCullers is a mountain of a man standing 6-6 and weighing over 370 pounds. He clearly has great size but needs to play with better leverage and get quicker to take full advantage of his physical gifts.
3. Ra'Shede Hageman, Minnesota: Hageman doesn't get the national attention because he plays for Minnesota, but he's a player most will be talking about next April. He is a great athlete who came to Minnesota as a top tight end prospect, but switched to the defensive line after his first year in college.
4. Ashton Dorsey, Texas: Dorsey has really come on with age and could have a breakout season this year for Texas.
5. Khyri Thornton, Southern Mississippi: Thornton has gotten better every year at Southern Miss and has all the physical tools you look for in a defensive tackle.
Follow Justin on Twitter: @jvanfulpen
If you would like to purchase Justin VanFulpen's 2014 NFL Draft Package please email him at jvanfulpen@gmail.com for details.
Justin VanFulpen has been covering the NFL Draft since 1997 for different media outlets. He represented NFL players as a NFLPA Certified Contract Advisor from 2004-2008. He is now the Director of Player Personal for the Texas vs. the Nation All-Star Game where he has worked since 2009. You can email Justin at jvanfulpen@gmail.com.