May 20, 2013 -
Erik Oehler
Top 5 OLBs & ILBs for the 2014 draft
The National Football Post shifts its 2014 draft preview analysis to the linebacker positions today, with a look at the top-5 prospects at the OLB and ILB positions.
CLICK HERE for our QB & RB rankings.
CLICK HERE for our WR & TE rankings.
CLICK HERE for our offensive line rankings.
CLICK HERE for our defensive line rankings.
Note: Our preseason rankings include seniors only. Underclassmen will be added once they declare for the NFL draft.
Outside Linebackers
1. Anthony Barr, UCLA: Barr played running back until last year when he made the switch to outside linebacker. He's got the size and speed you are looking for at the position and had a great year as a junior with 21.5 tackles for loss and 13.5 sacks.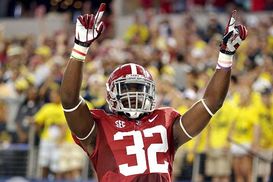 Mosley recorded 105 tackles, four sacks and two interceptions for the Crimson Tide last season.
2. Kyle Van Noy, Brigham Young: Van Noy is a playmaker on the defensive side of the ball and proved that last year with 22 tackles for loss, 13 sacks and two interceptions.

3. C.J. Mosley, Alabama: Mosley is a solid overall athlete, has good coverage ability and will be a 3-down linebacker in the NFL.
4. Trent Murphy, Stanford: Murphy is a big, physical outside linebacker who can rush the passer effectively, demonstrating that with 10 sacks last year.

5. Christian Jones, Florida State: Jones is an outstanding athlete with great speed and quickness, but needs to make more impact plays.
Inside Linebackers
1. Shayne Skov, Stanford: Skov came back last year from a 2011 knee injury and had a very productive season.

2. Max Bullough, Michigan State: Bullough is a big, physical linebacker who looks the part of an NFL MLB.
3. Andrew Jackson, Western Kentucky: Jackson can make plays sideline to sideline but is a bit shorter than what most scouts are looking for. However, his playmaking ability outweighs the minimal concerns regarding his height.
4. Dan Fox, Notre Dame: With Manti Te'o moving on to the NFL, look for Fox to pick up the slack on defense this year.
5. Avery Williamson, Kentucky: Williamson is a tackling machine, finishing second in the SEC with 135 tackles last season.
Follow Justin on Twitter: @jvanfulpen
If you would like to purchase Justin VanFulpen's 2014 NFL Draft Package please email him at jvanfulpen@gmail.com for details.
Justin VanFulpen has been covering the NFL Draft since 1997 for different media outlets. He represented NFL players as a NFLPA Certified Contract Advisor from 2004-2008. He is now the Director of Player Personal for the Texas vs. the Nation All-Star Game where he has worked since 2009. You can email Justin at jvanfulpen@gmail.com.