May 13, 2013 -
Erik Oehler
Top 5 OTs, OGs & Cs for the 2014 draft
After taking a look at the top quarterback, running back, wide receiver and tight end prospects for the 2014 NFL draft, we turn our attention today to the big boys along the offensive line.
CLICK HERE to check out our preseason QB & RB rankings.
CLICK HERE to check out our preseason WR and TE rankings.
Note: Our preseason rankings include seniors only. Underclassmen will be added once they declare for the NFL draft.
Offensive Tackles
1. Taylor Lewan, Michigan – Lewan could be next year's first overall draft selection and would have been a high pick this past April if he would have come out early. Has everything you want in a left tackle.
2. Jake Matthews, Texas A&M – Son of Hall of Famer Bruce Matthews, Jake will be moving from right tackle to left tackle and should be a first round pick in next year's draft.
3. James Hurst, North Carolina – Hurst competed with some talented players last year (three of them got drafted), so playing with some younger guys this season should really demonstrate his true value.
4. Zack Martin, Notre Dame – The biggest question surrounding Martin is whether he is going to play left tackle or right tackle in the NFL.
5. Morgan Moses, Virginia – Moses has good size and is a very solid run blocker. But does he have the feet to play left tackle in the NFL?
Offensive Guards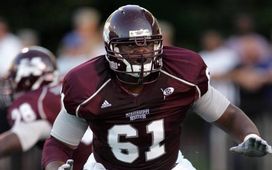 Jackson has appeared in 26 games for the Bulldogs over the last two seasons.
1. Gabe Jackson, Mississippi State – Some thought Jackson would come out this year and if he had, the Bulldog could have been a first round pick. Good strength and movement skills.
2. Cyril Richardson, Baylor – Richardson is an interesting prospect who played left tackle in 2011 and could possibly be a right tackle in the NFL.
3. Brandon Thomas, Clemson – Thomas will be playing left tackle this year for the Tigers but should play guard in the NFL due to his less than ideal height.
4. Zach Fulton, Tennessee – Fulton has great size and movement skills and could climb up draft boards as we get closer to next year's draft. His brother Xavier Fulton was a fifth round pick in 2009 by the Tampa Bay Buccaneers.
5. Spencer Long, Nebraska – Long is a tough, physical offensive lineman who excels in the run blocking game.
Centers
1. Travis Swanson, Arkansas – Swanson is a very athletic center who performs well in both the run game and pass game. A leader and an intelligent player with a high football IQ.
2. Gabe Ikard, Oklahoma – Ikard is a good athlete who played tight end in high school before transitioning to the offensive line at Oklahoma.
3. Jonotthan Harrison, Florida – Harrison has the ability to play both guard and center in the NFL. However, he'll need to get a little bigger and stronger for the next level.
4. Weston Richburg, Colorado State – Richburg is a strong, physical center who plays with good leverage.
5. Bryan Stork, Florida State – Stork is a tough football player who has the ability to pull and get outside in the run game.
Follow Justin on Twitter: @jvanfulpen
If you would like to purchase Justin VanFulpen's 2014 NFL Draft Package please email him at jvanfulpen@gmail.com for details.
Justin VanFulpen has been covering the NFL Draft since 1997 for different media outlets. He represented NFL players as a NFLPA Certified Contract Advisor from 2004-2008. He is now the Director of Player Personal for the Texas vs. the Nation All-Star Game where he has worked since 2009. You can email Justin at jvanfulpen@gmail.com.