May 06, 2013 -
Erik Oehler
Top 5 QBs & RBs for the 2014 draft
With the 2013 draft class now in preparations for their first campaign as professional football players, we turn our attention to what 2014 has to offer. Today we focus on the two positions that had little luck in April's first round: Quarterbacks and running backs.
QUARTERBACKS
1. David Fales, San Jose State – Fales was a junior college transfer and has all the tools you are looking for in a quarterback. He had a great junior season and could see himself get more national attention this year.
2. Aaron Murray, Georgia – Murray has started since his freshman year and has been a very productive quarterback in the SEC. The issue with the Georgia standout is that he is shorter than the NFL would like in a starting quarterback.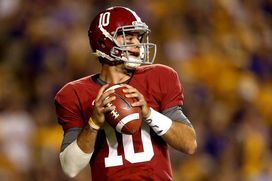 McCarron returns to Alabama where he will attempt to win a third National Championship.
3. Logan Thomas, Virginia Tech – Many people thought Thomas would have declared early for the NFL draft, but he decided to go back to school after a disappointing junior season. Thomas has the physical tools but needs to put it all together in his senior season.
4. A.J. McCarron, Alabama – McCarron is a winner with two national championships under his belt as Alabama's starting quarterback. He lacks an elite arm, but has all the other tools you are looking for in an NFL quarterback.
5. Derek Carr, Fresno State – Derek's brother David Carr was the number one overall pick in the 2002 NFL Draft and is currently a backup quarterback for the New York Giants. Derek has better physical tools then David but will have to overcome the stigma of the lack success his brother has had in the NFL.
RUNNING BACKS
1. Damien Williams, Oklahoma – Williams was a junior college transfer last year who has big-play ability. Williams is a running back with great size who also has the ability to catch the ball out of the back field.
2. LaDarius Perkins, Mississippi State – Perkins has been a productive running back in the SEC, but the question mark is going to be his size with NFL teams.
3. Silas Redd, USC – Redd was a transfer from Penn State who needs to stay health this season at USC to help his draft stock.
4. Carlos Hyde, Ohio State – Since Eddie George, there have been few Ohio State running backs who have had a lot of success in the NFL. Hyde could break that mold.
5. James White, Wisconsin – This season White will have the chance to be the lead back for the Badgers after sharing carries with Montee Ball the last few years.
Follow Justin on Twitter: @jvanfulpen
If you would like to purchase Justin VanFulpen's 2014 NFL Draft Package please email him at jvanfulpen@gmail.com for details.
Justin VanFulpen has been covering the NFL Draft since 1997 for different media outlets. He represented NFL players as a NFLPA Certified Contract Advisor from 2004-2008. He is now the Director of Player Personal for the Texas vs. the Nation All-Star Game where he has worked since 2009. You can email Justin at jvanfulpen@gmail.com.