October 07, 2013 -
Joel Corry
Was Schaub's contract extension a mistake?
Matt Schaub has received harsh criticism for his play during the Houston Texans' three- game losing streak. After throwing a pick-six in his fourth consecutive game, an NFL record, Texans fans are in favor of benching Schaub and questioning the decision to give him a four-year, $62 million contract extension (with $24.75 million guaranteed) at the start of the 2012 regular season. Despite replacing Schaub with backup quarterback T.J. Yates in the fourth quarter of Houston's 34-3 loss to the San Francisco 49ers, Texans head coach Gary Kubiak announced after the game that Schaub will remain the starting quarterback.
It's easy to criticize Schaub's extension in hindsight, but the circumstances at the time the contract was signed can't be ignored. Schaub's extension was reasonable given the quarterback salary landscape in 2012. When Schaub signed his new deal, Mark Sanchez's three-year, $40.475 million contract extension (including $19.5 million guaranteed and worth up to $50.475 million through salary escalators) with the New York Jets was one of the recent salary benchmarks. Since both quarterbacks are represented by the same agency, Athletes First, Sanchez's deal was likely used to leverage a better contract for Schaub.
Joe Flacco put his contract talks on hold around the same time Schaub signed his deal after rejecting a contract extension averaging slightly more than $16 million per year because he wanted to be paid like a top-five quarterback. Schaub and Flacco were considered in the same quarterback tier after the 2011 season, with Schaub being more consistent. Flacco hadn't topped 4,000 passing yards or 25 touchdown passes in a season while Schaub had reached those benchmarks and earned a Pro Bowl berth in 2009.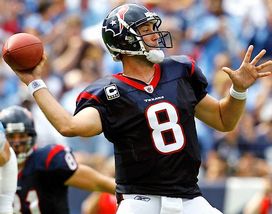 Schaub has thrown six interceptions during Houston's current three-game losing streak.
Quarterback salaries have exploded since Schaub signed his deal. Three quarterbacks (Flacco, Aaron Rodgers and Matt Ryan) joined Drew Brees in the $20 million per year club. Tony Romo signed a six-year, $108 million contract extension (including $55 million in guarantees) with the Dallas Cowboys. Matthew Stafford also received a three-year, $53 million contract extension (with $41.5 million in guarantees) from the Detroit Lions.
The Texans may have put a non-exclusive franchise tag, which is $14.896 million for quarterbacks this year, on Schaub if he had played out his contract even though he was disappointing down the stretch last season. It could have been a huge risk to let Schaub become an unrestricted free agent because a quarterback needy team with an abundance of salary cap room heading into the 2013 league year, such as the Cleveland Browns or Jacksonville Jaguars, may have been willing to make Schaub a priority in free agency.
It probably would have been more costly for the Texans to sign Schaub to a long-term deal this year given the changes in the quarterback market. Despite Schaub's late season shortcomings in 2012, he had a good campaign by conventional football metrics. Schaub was sixth in completion percentage (64.3%), ninth in passer rating (90.7) and topped the 4,000 passing yard mark for the third time his career. He was also named to his second Pro Bowl. Schaub's average yearly salary may have been comparable to Romo or Stafford's ($17-18 million per year) on a three or four year contract with more guarantees and better structure than his actual extension depending upon the timing of the deal. Romo is a year older than Schaub and has a 1-6 record in elimination games and a 1-3 record in the playoffs. Stafford received his deal despite a subpar 2012 season in which he regressed in nearly every major statistical category and the Lions had a 4-12 record.
The Texans are protected because Schaub's deal has a team friendly structure. The remaining three years in Schaub's extension totaling $40 million don't contain any guaranteed money and have per game active roster bonuses of $1 million ($62,500 per game) in each year. These roster bonuses were unprecedented in lucrative quarterback deals when Schaub received his extension, but provide the Texans with some financial relief if he sustains another injury. Schaub had missed 16 regular season games during his five seasons in Houston at his contract's signing, including a Lisfranc injury that ended his 2011 season after 10 games.
The Texans would gain $4 million of cap space by releasing Schaub in 2014. Schaub's 2014 cap number is $14.5 million, but his $10.5 million in dead money (cap charge for a player no longer on the roster) on Houston's 2014 cap would be from the $3.5 million of yearly signing bonus proration in his 2014 through 2016 contract years. $11 million of 2014 cap room could be created by giving Schaub a post-June 1 designation or releasing him after June 1. The only 2014 cap charge for the Texans would be $3.5 million in 2014 signing bonus proration.
The Texans would also have a $7 million cap charge in 2015 relating to Schaub with post-June 1 treatment. This route seems unlikely because Houston's cap situation would make it difficult to carry Schaub's $14.5 million cap number until June 2. The Texans have $118.6 million of 2014 salary cap obligations with 45 players under contract, while the top 51 cap numbers count towards the cap during the offseason. The Texans could have had more flexibility with Schaub if they hadn't given him an extension and he played this season under the $14.896 million quarterback franchise tag. A second franchise tag in 2014 at $17,875,200 wouldn't have been a consideration based on Schaub's performance this season. By letting Schaub test the market as an unrestricted free agent, the Texans would have entered the 2014 league year without him on their cap.
Surprisingly, Schaub is second in the NFL with 212 pass attempts. He shouldn't rank so high in this category when the Texans have two good running backs in Arian Foster and Ben Tate, and All-Pro linebacker Brian Cushing has bolstered the defense by returning to his pre-injury form. Although Schaub has Kubiak's support right now, his days as the starting quarterback could end soon if he doesn't break out of his slump and cut down on his untimely mistakes.
Follow me on Twitter: @corryjoel
Joel Corry is a former sports agent who helped found Premier Sports & Entertainment, a sports management firm that represents professional athletes and coaches. Prior to his tenure at Premier, Joel worked for Management Plus Enterprises, which represented Shaquille O'Neal, Hakeem Olajuwon and Ronnie Lott. You can email Joel at jccorry@gmail.com.