August 23, 2012 -
Dion Caputi
Week 1 in question for Urlacher?
It goes without saying that middle linebacker Brian Urlacher would stop at nothing to suit up in his team's regular season home-opener. Unfortunately, due to continued complications with his knee, there appears to be growing doubt within the organization over his availability for week one.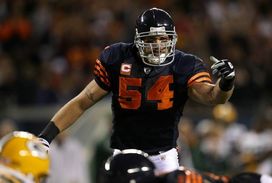 Will Urlacher be ready to go for the opener against Indianapolis?
According to Ian Rapoport of NFL.com, the Bears are "pessimistic" about Urlacher's chances of being ready for the team's Week 1 matchup against Andrew Luck and the Indianapolis Colts.
The organization is allowing its defensive stalwart to prepare as if he will play in the opener, but internally, are preparing as if he wont, writes Rapoport.
A Chicago Tribune report revealed the eight-time pro bowl defender traveled to Germany in order to seek alternative treatment from Dr. Peter Wehling -- alternative treatment not approved in the United States -- in an effort to aid in his recovery.
While wins are never guaranteed in the National Football League, you can certainly make the case that it'd best serve the Chicago Bears to hold arguably its most impactful defensive presence out for Week 1 in order to prepare for a showdown with divisional rival Green Bay at Lambeau Field the following week.
Follow me on Twitter: @NFLDraftUpdate