April 26, 2013 -
Joel Corry
What are the chances of another Revis holdout?
The Darrelle Revis saga came to a close last Sunday when the New York Jets traded the Pro Bowl cornerback to the Tampa Bay Buccaneers for their 2013 first round and 2014 fourth round picks (becomes a third round pick if Revis is on Tampa Bay's roster on the third day of the 2014 league year). Revis signed a six-year, $96 million contract as a part of the transaction.
Revis will make $16 million in each year of his contract. The $16 million consists of a $13 million base salary, $1.5 million workout bonus and $1.5 million roster bonus annually. The workout bonuses are based on participating in 90% of the scheduled workouts and organized team activity days in Tampa Bay's offseason workout program. Revis will receive this year's roster bonus on April 25, which is the only compensation in the deal that can be classified as guaranteed money. The other roster bonuses are earned on the third day of the league year in each specific contract year (i.e.; 2015 roster bonus is due on the third day of the 2015 league year).
Revis' deal makes him the highest paid defensive player, along with Mario Williams, at $16 million per year. The Williams contract contains $4 million in incentives which are not in Revis' deal. Williams receives $53 million over the first three years of his deal, with $50 million in guarantees, while Revis has an unguaranteed $48 million.
Revis' average yearly salary is 48.8% greater than the average year salary of the Denver Broncos' Champ Bailey, who is the NFL's second highest paid cornerback. Bailey signed a four-year deal with the Denver Broncos in 2011 averaging $10.75 million per year ($21 million in guarantees and worth up to $47 million through salary escalators). The disparity between the highest paid and second highest paid cornerback is the largest at any position.
Revis' contract can be characterized as a one-year deal with five separate team options where Tampa Bay must decide whether he is worth $16 million before the third day of each league year. If the Buccaneers feel Revis isn't worth the money, they can try to get him to take a pay cut or release him. From a practical standpoint, Revis is probably assured at least two years under the contract unless he is unable to recover from his torn anterior cruciate ligament or performs poorly during the 2013 season because he is essentially Tampa Bay's 2013 first round pick.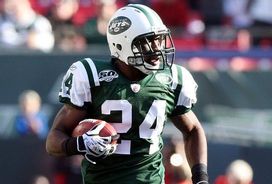 Should Revis have a big season in 2013, the cornerback could look for a more secure deal with the Buccaneers.
Revis having a contract without any guaranteed money could be problematic as soon as the 2013 season ends if he plays well after he recovers from his knee injury. Security will be more of an issue than money. It's unlikely that Revis will feel underpaid because there aren't a lot of defensive players that can realistically eclipse his deal within the next couple of years. J.J. Watt is the most logical candidate. 3-4 defensive ends usually don't lead the NFL in sacks, let alone challenge Michael Strahan's single season sack record. Even though Revis nearly tripled his 2013 salary by raising it from $6 million to $16 million while recovering from major knee surgery, other agents will use his contract's team-friendly structure against his agents on the recruiting trail.
The Buccaneers didn't get holdout protection in Revis' contract, like the Jets. Tampa Bay general manager Mark Dominik isn't concerned about a holdout because of Revis' large yearly salaries and his relationship with Revis' agents. Unlike the acrimonious history between Revis' agents and the Jets, Dominik developed a good working relationship with them when he was pursuing Vincent Jackson in free agency.
More importantly, Revis' contract contains a clause that gives the Buccaneers the right to convert a portion of Revis' base salaries into a roster bonus and also guarantee a portion of his base salaries and roster bonuses. The clause gives Tampa Bay salary cap flexibility because they can create cap room if necessary through a salary conversion. For example, if $12 million of Revis' 2014 base salary is added to his $1.5 million 2014 roster bonus with the entire $13.5 million becoming guaranteed for skill, the cap and injury, the roster bonus will be treated as a signing bonus under the cap where it is prorated over the life of the contract for a maximum of five years ($2.7 million yearly proration). With any other salary conversion, including roster bonuses guaranteed for just two of the three categories, Revis' cap numbers will not change.
It's likely that scenarios regarding the potential usage of this clause were discussed during the negotiations of Revis' contract. These discussions may have given Revis' agents a level of comfort in signing a deal that lacks guaranteed money. Revis also hinted there may be more than meets the eye with his contract.
Based on the average percentage of guaranteed money in the contracts for Tampa Bay's three biggest free agent acquisitions over the last two years (Dashon Goldson, Vincent Jackson and Carl Nicks), 54.74% of Revis' contract should have been guaranteed if he wasn't injured. Applying this guaranteed percentage to Revis' deal puts the contract guarantees he should have received, if healthy, at slightly over $52.5 million.
Dominik guaranteeing, either fully or conditionally, Revis' 2014 and 2015 base salaries after the 2013 season provided that Revis has consistently performed at a high level could be a wise move. Otherwise, it won't be a surprise if the good relationship between Dominik and Revis' agents becomes acrimonious where the Buccaneers ultimately inherit the contract drama that plagued the Jets during Revis' tenure in New York.
Follow me on Twitter: @corryjoel
Joel Corry is a former sports agent who helped found Premier Sports & Entertainment, a sports management firm that represents professional athletes and coaches. Prior to his tenure at Premier, Joel worked for Management Plus Enterprises, which represented Shaquille O'Neal, Hakeem Olajuwon and Ronnie Lott. You can email Joel at jccorry@gmail.com