April 12, 2014 -
Joel Corry
What could the Jags have done differently?
Transition player Alex Mack signed a five-year, $42 million offer sheet with the Jacksonville Jaguars, which the Cleveland Browns quickly matched even though Mack reportedly wanted out of town. A provision allowing Mack to void his contract after the 2015 season and a no trade clause were included in the offer sheet. Mack's new deal is at the top of the center market, which was necessary to make it worth his while to potentially make a commitment for an extended period of time.
The six-year, $49.116 million contract Ryan Kalil signed with the Carolina Panthers in 2011 as their franchise player has been the standard for center compensation. Kalil's deal contains $28 million in guarantees and has $30.75 million in the first three years. Mack has fully guaranteed $10 million and $8 million salaries in 2014 and 2015 for a total of $18 million in the first two years. His $18 million only trails Kalil's $20.75 million over two years and the $19.512 million Nick Mangold received during the first two years of the seven-year, $54.075 million contract extension he signed in 2010. Mack's $8 million 2016 salary is guaranteed only for injury at signing. It becomes fully guaranteed if he is still under contract on April 5, 2016, which will be moot if he exercises his right to void his deal after the 2015 season.
The 2011 collective bargaining agreement prohibiting poison pills with offer sheets limited Jacksonville's creativity in structuring a deal that would have made it virtually impossible for Cleveland to match. Poison pills were outlawed because of the Steve Hutchinson-Nate Burleson ordeal in 2006. The Minnesota Vikings signed Hutchison, who was the Seattle Seahawks' transition player, to a seven-year, $49 million offer sheet with a provision that guaranteed his entire contract if he wasn't the highest paid offensive lineman on the team at any point during his contract. Seattle didn't match the offer because left tackle Walter Jones had a higher salary. The Seahawks retaliated by signing Minnesota restricted free agent wide receiver Nate Burleson to a backloaded seven-year, $49 million offer sheet that became fully guaranteed if he played at least five games in the state of Minnesota in any season of the contract or his average salary was greater than that of the highest paid running back on the team.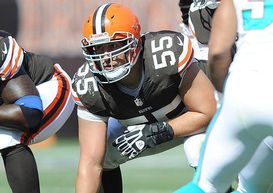 Mack has started 80 of a possible 80 regular season games since entering the NFL in 2009.
The Browns have $29.6 million of salary cap room while the Jaguars are $25.1 million under the cap. Since Mack's transition tag is already counting on Cleveland's cap, Jacksonville wasn't able to put together an offer sheet utilizing an abundance of 2014 cap room that couldn't be matched. In order to discourage the Browns from matching the offer sheet, Jacksonville should have considered guaranteeing all five years or portions of the last two years, 2017 and 2018, without offsets.
An offensive lineman deal with over $40 million in guarantees would have been unprecedented. Currently, Trent Williams' $36.75 million guaranteed in his six-year, $60 million rookie contract is the most guaranteed money ever for an offensive lineman. This would have required the Jaguars to trust Mack because offer sheets that aren't matched can be renegotiated before the end of the season in the first contract year as long as there isn't a salary reduction. Mack and the Jaguars could have re-worked the deal to eliminate his ability to void and any guarantees in later years so that it would have been more consistent with the marketplace.
If Mack was really looking to get out of Cleveland as soon as possible, the offer sheet should have contained a fully guaranteed 2014 salary equal to his $10.039 million transition tag that he could void at his discretion before the start of the 2015 league year. This would have ensured that Mack would have become an unrestricted free agent when free agency began next year. His actual voidable provision after the 2015 season operates in this manner. Another alternative for Mack would have been to get a clause that prohibited the Browns from using a franchise or transition designation on him in 2015 for signing his transition tag tender.
Outside of these concepts, there wasn't much Jacksonville could have done to make it difficult for Cleveland to keep Mack for the short term. Even though Jacksonville wasn't successful with Mack, the fan base will likely be pleased at the team's aggressive efforts to upgrade the roster.
Mack will have an interesting choice after the 2015 season because he would be forgoing $24 million over the remaining three years of his contract to become an unrestricted free agent. Miami Dolphins center Mike Pouncey will attempt to leverage Mack's pact into a better contract when negotiating his next deal. Outside of Pouncey, it's hard to envision any other player potentially advancing salaries for centers before Mack has to make his decision on voiding.
Follow me on Twitter: @corryjoel
Joel Corry is a former sports agent who helped found Premier Sports & Entertainment, a sports management firm that represents professional athletes and coaches. Prior to his tenure at Premier, Joel worked for Management Plus Enterprises, which represented Shaquille O'Neal, Hakeem Olajuwon and Ronnie Lott. You can email Joel at jccorry@gmail.com.