February 27, 2014 -
Jerry Angelo
What happens next?
Now that the 2014 NFL Scouting Combine has concluded, teams will begin to analyze the results of all the physical testing that they should receive by the end of the week. These reports—broken down by position—will show the top players at each activity, as well as the average performance at each drill.
It will take a few weeks for the physiological and Wonderlic tests to arrive, but the teams will have them in plenty of time before the draft to digest the information.
Once teams get a good look at all the workout numbers, they will begin to align their draft boards. Most teams currently have grades on players based on the work their scouts did during the college season. Area scouts have been studying and evaluating these players for six months. But until they have an official workout on a player, they can't solidify their grade.
Regardless of how well a player performed during the year, his Combine numbers must correlate with the game tape. If a scout indicated that the prospect played fast and graded him accordingly, but the player ran slow at the Combine, in all likelihood his grade will be lowered and vice versa.
The scout's grade is subjective in terms of speed and athleticism. If you're going to select a player in the first three rounds, you want him to have very good workout numbers. If teams make a mistake, they want to make what's called a "fast mistake" or an "athletic mistake." So there will be some jockeying going on next week when teams start constructing their draft boards.
The next step is for teams to formulate their post-Combine game plan. They will determine what players they want their position coaches to work out and what players they want to bring into their facility for one of their official 30 visits.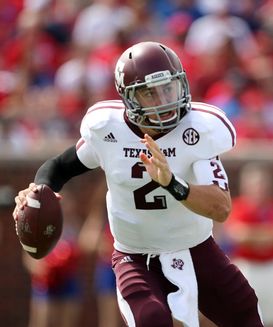 US PRESSWIRETeams in need of a quarterback will spend a lot of time over the next few weeks discussing the pros and cons of drafting Johnny Manziel.
The league allows each organization to bring in 30 players of their choice, primarily for medical reasons, but teams bring in whoever they feel they need more information on and/or to just get to the know the player a little better. The teams must inform the league of who these players will be and, again, no more than 30 can visit a team's facility before the draft.
All of this will take place during a four or five-week period before the draft. These workouts and visits are very important because they will clear up any discrepancies the teams may have on these players.
April is a busy time as well. By this point, teams have acquired all the information they need to go into their final meetings with coaches and scouts. Here they will determine which players they want and in what order.
The information at hand will mold their draft. This information will consist of several grades from the area scout, the crosscheck scout, the position coach and the director's report, as well as input from the general manager. Needless to say there are a lot of irons in the fire to deal with, but only one will be used. These meetings will flush out all the information and conclude a consensus grade that everyone agrees with or feels is acceptable.
At this point, two draft boards will be constructed. The first is a 'best-to-worst' regardless of position, while the second is a 'best-to-worst' at each position. The boards will also highlight the players the team has an express interest in acquiring. Most teams have what I call a 'short list' of players they want to select. These players are the ones teams designate and jockey (trade) to acquire during the draft.
As you can see, there are a lot of factors teams have to digest and consider. Backup plans, trades, calls from teams inquiring about their draft pick—all of this takes place in a small window, so the preparation before the draft is extremely critical. Because on draft day, you want to act, not react to situations that may occur.
Every team feels good coming out of a draft, but the winners are the teams that prepared the best by evaluating objectively and with a clear picture of the type of player they needed in order to upgrade their team.
They made sure that the player they took also had the personal fiber and favorable medical result they coveted. Teams may not have gotten the best prospects, but they got the players that they can win with.
That's good drafting.
Jerry Angelo was the General Manager of the Chicago Bears from 2001 to 2012. Prior to joining the Bears, Angelo spent 14 years overseeing the Tampa Bay Buccaneers' scouting department as their Director of Player Personnel. Angelo graduated from Miami University in 1971.