December 27, 2012 -
Joel Corry
What if Adrian Peterson had played out his contract?
Adrian Peterson's torn anterior cruciate and medial collateral ligaments in his left knee could have created a nightmare scenario if he had played out his contract. Fortunately for Peterson, he signed a six-year contract extension averaging $14,213,333 per year (with a 2017 base salary escalator worth up to $4 million) one day before the 2011 regular season started.
Peterson was scheduled to make $10.72 million in the final year of his rookie contract while carrying a $12.775 million salary cap number prior to signing his six-year, $85.28 million extension. Placing a franchise tag on a healthy Peterson would have been an expensive proposition at $15.33 million, which is 120% of his original 2011 cap figure, but would not have been a consideration after the injury.
I had conversations with several NFL team executives that negotiate player contracts and manage the salary cap to get their assessment of how Peterson's situation may have unfolded with an expiring contract while facing major reconstructive knee surgery.
Some executives thought Peterson would have generated interest in free agency despite the injury. One AFC team executive said, "Brees' shoulder injury didn't stop teams from pursuing him." His torn labrum and partially torn rotator cuff from the San Diego Chargers' 2005 regular-season finale were considered much more serious than Peterson's knee injury.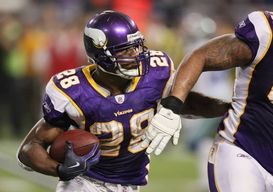 ICONAP currently leads the NFL with 1,898 rushing yards.
"Any deal would have protections for the team," said another AFC executive. "Brees had a one-year prove it deal with a team option." The six-year, $60 million contract Brees signed with the New Orleans Saints in 2006 was essentially a one-year $10 million deal if didn't play well or recover from his injury. The Saints had the option of releasing Brees instead of paying him a $12 million bonus by the end of the 2006 league year that triggered the remaining five years of the contract.
More recently, Peyton Manning's five-year, $96 million contract has some mechanisms that protect the Denver Broncos from his pre-existing neck injury. His 2013 and 2014 base salaries at $20 million in each year become fully guaranteed if he is still on Denver's roster on the last day of the 2012 league year (early March 2013). Manning's 2014 injury guarantee will void with another neck injury during the 2013 season.
The general consensus among the executives was that Peterson would not set the running back market on a long-term deal with the injury. They thought his deal would be in the next tier of running back contracts.
The best of these contracts is Steven Jackson's five-year, $43,097,500 contract extension (including $20.5 million fully guaranteed) with the St. Louis Rams. The escalators for 2012 and 2013, the final two years of the contract Jackson signed in 2008, would have increased his salary by $3 million per season with 4,800 rushing yards and 1,200 receiving yards during the 2008 through 2011 seasons. The contract also contains a clause that gave both sides the option to void the final two years in lieu of the escalator. Jackson's deal had the potential to become a three-year extension averaging $9,699,167 per year or a five-year extension averaging $9,819,500 per year.
The executives agreed that Peterson had clearly established himself as the best running back prior to his surgery where his salary transcended the position. They thought Peterson would have opted for a one-year contract over a long-term deal below his pre-injury market value. "His agent (Ben Dogra) would want a no franchise tag clause but probably wouldn't have the leverage to get one," an NFC executive told me. "His best bet would be staying with the Vikings for another year."
Opinions varied on the value of Peterson's one-year deal. Some suggested an incentive-laden deal while others thought it would be in the neighborhood of this year's $7.742 million running back franchise tag number.
The executives agreed on the Vikings opening negotiations on a long-term deal at some point during this season once they were comfortable with Peterson's post-injury performance. His 1,898 rushing yards and 6.0 yards per carry average are career bests. He is on pace to rush for 2,025 yards, which would be the fourth-highest total in NFL history. With 208 rushing yards against the Green Bay Packers in the season finale, Peterson will break Eric Dickerson's single season rushing record of 2,105 yards.
Peterson's comeback season is even more remarkable considering that he didn't see any live action until the regular season. In essence, the September games were his preseason. Conventional wisdom suggests that players return to their pre-injury form in the second season after ACL surgery. If this holds true for Peterson, he could have the greatest individual season in NFL history next year.
"Typical running back conventions would go out the window with the type of year he's having," said another NFC executive. "It would be a scary proposition [for the Vikings] if he became a free agent." Minnesota would never let Peterson hit the open market because they would use their franchise tag on him. Assuming an $8 million salary this season, Peterson's 2013 franchise number would be $9.6 million.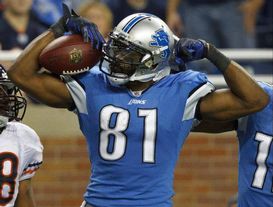 Megatron set the curve with over $53 million in guaranteed money.
"His guarantees would go up because of Calvin Johnson's deal," the executive also said. Johnson's seven-year, $113.45 million contract extension with the Detroit Lions sets the standard in guaranteed money for non-quarterbacks with $53.25 million in guarantees. He is also getting $51.75 million over the first three years of his deal.
The six-year, $96 million contract ($50 million in guarantees and $4 million in not likely to be earned incentives) Mario Williams signed with the Buffalo Bills is the non-quarterback yardstick for compensation in the first three years. Williams receives $53 million over the first three years of his deal.
Another noteworthy non-quarterback deal is the seven-year, $113 million contract extension Larry Fitzgerald signed with the Arizona Cardinals in 2011. He has $45 million in guarantees with $45.5 million of compensation over the first three years. By contrast, Peterson's deal contains $36 million in guarantees with $40 million in the first three years.
One NFC executive mentioned Shaun Alexander when cautioning against paying Peterson among the highest paid non-quarterbacks. Alexander signed an eight-year, $61,687,500 deal (including $13.5 million fully guaranteed) with the Seattle Seahawks after a 2005 MVP season in which he rushed for 1,880 yards and scored 28 touchdowns while leading his team to Super Bowl XL. He was released in 2008 after playing two lackluster seasons under the contract. Alexander didn't top the 1,000-yard mark in either year as a 29 and 30-year-old.
Alexander's 1,049 carries were the most in the NFL in the three seasons prior to his new contract. Peterson has not accumulated the same amount of mileage over the last three years. He currently ranks sixth in rushing attempts since the start of the 2010 season with 805 carries. Even though Peterson will be 28-years-old when next season begins, his age was not a big concern for a majority of the executives. They were swayed more by his amazing recovery from the injury and his phenomenal work ethic.
Peterson's knee injury would have delayed his big payday by a little over a year at a minimum and two full NFL seasons at the most. He would need to sign a five-year, $77.28 million contract after this season to break even with his actual deal, assuming an $8 million salary this year. With the top of the non-quarterback market becoming more solidified with Williams and Johnson's deals, Peterson could have been slightly better off financially than his current contract thanks to his increased guaranteed money and more favorable cash flow.
Follow me on Twitter: @corryjoel
Joel Corry is a former sports agent who helped found Premier Sports & Entertainment, a sports management firm that represents professional athletes and coaches. Prior to his tenure at Premier, Joel worked for Management Plus Enterprises, which represented Shaquille O'Neal, Hakeem Olajuwon and Ronnie Lott. You can email Joel at jccorry@gmail.com