October 15, 2012 -
Joel Corry
What if Peyton Manning had signed elsewhere?
Before signing a five-year, $96 million contract with the Denver Broncos, Peyton Manning seriously considered the Arizona Cardinals, San Francisco 49ers and Tennessee Titans. Here's a look at some of the potential ramifications if Manning had chosen to play for the other teams.
Denver Broncos: Tim Tebow goes into training camp as the starting quarterback after leading the Broncos to the playoffs last season. Executive Vice President of Football Operations John Elway brings in a veteran quarterback (possibly Matt Hasselbeck, if Manning had signed with the Tennessee Titans) to provide some competition for Tebow. Brock Osweiler is still taken in the second round with the 57th pick overall because Elway doesn't view Tebow as Denver's quarterback of the future.
At best, Tebow leads the Broncos to the same 2-3 record as Manning. Two of Denver's three losses are to the undefeated Atlanta Falcons and 5-1 Houston Texans, who were the AFC's last undefeated team. The Broncos can't score enough points to prevent Tebow's third straight loss to the New England Patriots. Most likely, Denver starts with a 1-4 record under Tebow because the Pittsburgh Steelers avenge last season's embarrassing playoff loss in the season opener after spending the offseason coming up with a better game plan to stop the former Heisman Trophy winner. The slow start gives head coach John Fox and Elway a convenient excuse to bench Tebow since he has a 2-8 record over his last ten starts, including the playoffs, and neither one of them was sold on him anyway.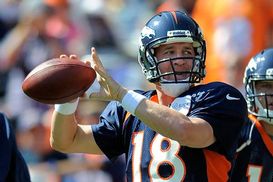 Would the Niners have defeated the Giants on Sunday had Manning been under center instead of Alex Smith?
San Francisco 49ers: The 49ers are considered as the clear preseason Super Bowl favorite after losing in the NFC Championship game last January. Manning and head coach Jim Harbaugh, two control freaks with Type A personalities, go through an adjustment period early in the season before finding a happy medium. Manning gives up some of the freedom he had with the Indianapolis Colts to run the offense his way while Harbaugh doesn't turn his new quarterback into a game manager like he did Alex Smith last year. Manning has one of the worst statistical seasons of his career (instead of being on his current pace for a career-high in passing yards and his second most touchdown passes in a season) because he's equipped with the strongest rushing attack he's had since Edgerrin James tore up his knee in 2001.
Smith quickly signs with the Miami Dolphins, his backup plan. His contract averages the same $8 million per year he got from the 49ers, except Miami makes more than a three-year commitment to him. The Dolphins don't draft Ryan Tannehill with the eighth pick overall because of Smith. Unless some team trades up to get Tannehill, he has a draft day slide, like Brady Quinn, until the Cleveland Browns take him with the 22nd pick overall.
Tennessee Titans: Titans owner Bud Adams changes the quarterback market by giving Manning a $25 million per year contract with more guaranteed money and better structure than his Broncos contract. The New Orleans Saints signing Drew Brees to a long-term deal becomes more difficult because Tom Condon, who represents both Brees and Manning, insists that a younger and healthier Brees should make more than Manning. Brees doesn't become the NFL's highest paid player, but Condon leverages Manning's deal into a better contract for him than the five-year, $100 million deal ($60.5 million in guarantees and $61 million in the first three years) he actually signed.
Expectations go through the roof for a team that won nine games and barely missed the playoffs with Hasselbeck at the helm. The Titans don't suffer four blowout losses by more than 20 points, but Manning is unable to change the 2-4 start because of their porous defense (28th in total defense and 32st in scoring defense) and anemic running game (32nd in rushing).
Jake Locker runs the risk of being a wasted first-round draft pick because he's in an Aaron Rodgers-type situation where he's waiting for a legend to retire. Hasselbeck immediately becomes expendable and is released. Miami outbids Cleveland president Mike Holmgren, who coached Hasselbeck when he was with the Seattle Seahawks and Green Bay Packers, for his services. Because of the competition from the Browns, the Dolphins pay him more than they would have given David Garrard (one year, $3.35 million contract with $1.5 million in not likely to be earned incentives), who isn't signed. Hasselbeck's experience in the West Coast offense and relationship with offensive coordinator Mike Sherman (Hasselbeck played for him in Green Bay) prevents Tannehill from becoming Miami's opening day starting quarterback.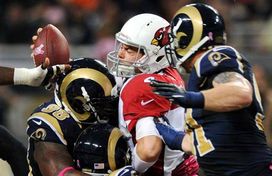 Kevin Kolb would likely be elsewhere right now had Manning opted to set up shop in Arizona.
Arizona Cardinals: The Cardinals don't pay Kevin Kolb's $7 million fifth day of the league year (March 17th) roster bonus. The Cardinals release him because no team is willing take on the remaining $50.108 million (over five years) of his contract in a trade. Having Kolb count $8 million in "dead money" on the salary cap is a small price to pay for upgrading at quarterback. Despite a disappointing 2011 season, Browns general manager Tom Heckert, who was the Philadelphia Eagles' general manager when they drafted Kolb, signs him to replace Colt McCoy as their starting quarterback. Since Kolb is almost a year younger than Brandon Weeden, he isn't selected 22nd overall by the Browns.
Manning becomes an early favorite for NFL MVP because the Cardinals are the NFL's biggest surprise with a 6-0 record. Arizona's poor pass protection and offensive line problems catch up with them as their schedule gets tougher. However, they don't become the fourth team to win their first six games and miss the playoffs since the AFL/NFL merger (1978 Washington Redskins, 2003 Minnesota Vikings, 2009 Denver Broncos).
Manning's offenses with the Indianapolis Colts were consistently ranked in the top ten in total offense and scoring, so the Cardinals dramatically improve from their current rankings of 31st in total offense and 26th in scoring. His offseason work developing chemistry with Larry Fitzgerald pays huge dividends. They become one of the NFL's top quarterback/wide receiver tandems where Fitzgerald puts up numbers that rival those produced by Marvin Harrison in his prime.
Follow me on Twitter: @corryjoel
Joel Corry is a former sports agent who helped found Premier Sports & Entertainment, a sports management firm that represents professional athletes and coaches. Prior to his tenure at Premier, Joel worked for Management Plus Enterprises, which represented Shaquille O'Neal, Hakeem Olajuwon and Ronnie Lott. You can email Joel at jccorry@gmail.com