January 24, 2014 -
Joel Corry
What if Peyton Manning had signed with the Titans?
Peyton Manning signing a five year, $96 million contract with the Denver Broncos in 2012 changed the balance of power in the NFL. Besides putting the Broncos on the cusp of the third Super Bowl victory in franchise history, Denver has secured home field advantage in the AFC playoffs each year and has a league-leading 26 wins over the last two seasons.
Manning reportedly spurned a $25 million per year offer from the Tennessee Titans to join the Broncos. Key details about the offer were never revealed. The presumption is that Peyton would have given the Titans similar protections relating to his pre-existing neck condition that the Broncos received. Manning's 2012 salary was fully guaranteed in his Broncos contract. His 2013 and 2014 salaries became fully guaranteed by being on Denver's roster on the last day of the 2012 League Year (last March 11). Manning's 2014 injury guarantee voids only with a neck injury during the 2013 season.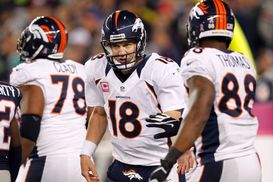 Since Manning landed in Denver, no team in the league has won more football games than the Broncos.
Tennessee's offer may have been somewhat backloaded, but Manning probably would have eclipsed the $70.2 million that was in the first three years of the contract he signed with the Indianapolis Colts in 2011. The first three years of compensation could have been the amount of guaranteed money in the deal, just like with Manning's Broncos contract. The standards for first three years of compensation and guaranteed money are currently $60.5 million by Drew Brees and $63 million by Matt Ryan.
I had conversations with a couple of NFL team executives who negotiate player contracts and manage the salary cap to get their assessment of how different the quarterback salary landscape would be if Manning had accepted $25 million per year from the Titans.
Drew Brees: Brees would have been the first player affected by Manning's blockbuster deal. The New Orleans Saints signing Brees to a long-term contract would have become more difficult. His actual negotiations with the Saints were protracted. Brees needed to win a grievance, which ruled that the Saints' first franchise tag use on him was actually his second franchise tag under the Collective Bargaining Agreement, because Brees was previously franchised when he played for the San Diego Chargers in order to force their hand.
Creative Artist Agency's Tom Condon, who represents both Brees and Manning, insists that a younger and healthier Brees should make more than Manning. Brees doesn't become the NFL's highest paid player, but Condon uses Manning's deal to get him a better contract than the five year, $100 million deal ($60.5 million in guarantees and $61 million in the first three years) he actually signed. The executives were comfortable with the idea of Brees signing a deal averaging in the $22 million-$23 million per year range with guaranteed money and compensation in the first three years in excess of $65 million.
Joe Flacco: Flacco isn't able to leverage his outstanding playoff run into becoming the NFL's highest paid player. He does slightly better than the six-year, $120.6 million deal he signed with the Baltimore Ravens in March, but doesn't top Brees' contract. Flacco gets better structure in his deal with more than the $51 million in guarantees and $62 million in the first three years of his actual contract.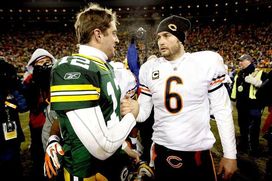 Aaron Rodgers and Jay Cutler would have experienced the ripple effects of Manning signing with the Titans.
Aaron Rodgers: Rodgers is the NFL's highest paid player with a five-year contract extension averaging $22 million per year. There wasn't strong support for my contention that he would still be the NFL's highest paid player with over $75 million in guaranteed money. One NFC team executive said, "It's plausible, but Rodgers would probably come in a little under Manning's deal. The Packers may have given him the best three-year payout or the most guaranteed money as a trade-off for not being the highest paid player."
"The deal [Manning's] might be viewed as an outlier, kind of like Calvin Johnson's deal with wide receivers," said another NFC executive. "It's easier to fit into the existing salary structure than set the market."
Matt Ryan: Condon leverages the deal he negotiated for Brees almost a year earlier into a slightly better contract for Ryan with the Atlanta Falcons so he is third in the quarterback salary hierarchy. Instead of the five-year, $103.75 million contract Ryan actually signed, he gets a five-year deal in the $115 million neighborhood. CAA did the same thing in 2007 with Condon client Marc Bulger's six-year, $65.5 million (with $23.55 million guaranteed) contract extension that was signed a couple months before Tony Romo, also a CAA client, received his six-year, $67.5 million (with $28.5 million guaranteed) contract extension.
Other Quarterbacks: There is a ripple effect for some of the other lucrative quarterback deals signed over the last two years with Romo's contract being the key deal. His six-year, $108 million contract extension (includes $55 million in guarantees) with the Dallas Cowboys appears to have been an important data point for the Detroit Lions' Matthew Stafford ($17,666,667 average/three year extension) and the seven-year, $126 million deal Jay Cutler recently signed with the Chicago Bears.
"The other quarterbacks would do better," an AFC executive said. "I'm not sure if Romo would get to $20 million per year."
Follow me on Twitter: @corryjoel
Joel Corry is a former sports agent who helped found Premier Sports & Entertainment, a sports management firm that represents professional athletes and coaches. Prior to his tenure at Premier, Joel worked for Management Plus Enterprises, which represented Shaquille O'Neal, Hakeem Olajuwon and Ronnie Lott. You can email Joel at jccorry@gmail.com.