August 20, 2013 -
Joel Corry
What if the rookie wage scale didn't exist?
The consensus opinion was that the system for compensating rookies was in need of modification before the 2011 Collective Bargaining Agreement implemented a rookie wage scale. Although the old system limited the amount of money teams could spend on draft picks and undrafted rookies, it didn't place an absolute ceiling on rookie contracts or provide specific financial guidelines for each draft pick.
Early first round picks exploited the system primarily with salary escalators and not likely to be earned incentives, which created lucrative base values for their deals. Additional money could also be earned with extraordinary achievements (All-Pro/Pro Bowl selections, leading the NFL in a particular statistical category, Super Bowl MVPs, etc.) but the maximum value was rarely reached because of the difficulty of these thresholds. The salaries of top picks skyrocketed because of these loopholes. Unproven commodities were paid like Pro Bowlers without playing an NFL game. 2008 first overall pick Jake Long became the NFL's highest paid offensive lineman when he signed a five-year contract worth a maximum of $57.75 million with $30 million guaranteed. 2007 first overall pick JaMarcus Russell, who is widely considered as one of the biggest draft mistakes in NFL history, became the poster boy for the flawed system. Russell made $39.365 million during three disappointing years with the Oakland Raiders. He hasn't played in the NFL since Oakland released him in 2010.
Here are projections of the deals for this year's top three picks without the current rookie wage scale. The projections are based on relevant market conditions, some of which existed prior to when the 2011 CBA drastically reduced the compensation for these deals. In order to arrive at the projections, the likely deals for each of the picks since the 2010 NFL draft were determined.
2013 First Pick
Eric Fisher (OT)-Kansas City Chiefs
Actual Deal: $22,190,498/4 Years-Fully Guaranteed
Projected Deal: $70.5 Million/5 Years-Base Value; $77.5 Million/5 Years-Maximum
The rate of growth with the first pick's compensation, especially the guarantees, was unsustainable. Sam Bradford's six-year contract in 2010 worth a maximum of $86 million set an NFL record with $50 million guaranteed. He got a 19.9% increase over the $41.7 million of guaranteed money Matthew Stafford received in 2009.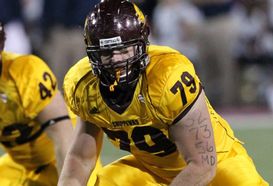 US PRESSWIREFisher landed $22.19 million guaranteed instead of a deal that would have topped out at $77.5 million.
The 2011 salary cap being set at a lower level than before the uncapped year in 2010 helps curb the growth with Cam Newton's deal. Newton has $52.5 million guaranteed, which represents a 5% increase from Bradford's deal. Instead of the 8.3% increase Bradford received over the base value of Stafford's deal and the 10.3% increase over Stafford's maximum, Newton gets 5.1% and 4.7% increases in these metrics. Newton's six-year deal has a base value of $82 million with a maximum of $90 million. The percentage of guaranteed money in Newton's deal (64% of the base value and 58.3% of the maximum) remains consistent with Bradford's deal.
Andrew Luck is impacted by the nominal increase in the cap from $120.375 million in 2011 to $120.6 million in 2012. Luck's six-year deal has a base value of $86 million, which equals the maximum of Bradford's deal. By contrast, Bradford's base value equaled Stafford's maximum when he was drafted the following year. Luck's maximum is $95 million with $55 million of his deal guaranteed. His guarantee percentages are consistent with the first pick deals in the previous two years.
Eric Fisher signs a five-year deal like Jake Long did in 2008 when he was the first pick in the draft. Since quarterbacks towards the top of draft usually received favorable treatment in rookie contracts and six-year deals, Fisher gets a decrease from Luck's deal. This occurred in 2009 with third overall pick Tyson Jackson. The guaranteed money and average per year of his base value and maximum were less than Matt Ryan's in 2008. The base value of Fisher's deal is $70.5 million and the maximum is $77.5 million. Fisher gets $52.75 million guaranteed, which is slightly more Newton received in 2011.
2013 Second Pick
Luke Joeckel (OT)-Jacksonville Jaguars
Actual Deal: $21,201,598/4 Years-Fully Guaranteed
Projected Deal: $68.75 Million/5 Years-Base Value; $75 Million/5 Years-Maximum
The system of slotting with draft picks doesn't consider positional contract values. Von Miller becomes the NFL's second highest paid linebacker in 2011. His deal contains the most guaranteed money for a linebacker. Miller gets $42 million guaranteed, which is 80% of Newton's guaranteed money. It's consistent with differences in guarantees with Bradford and 2010 second pick Ndamukong Suh. The base value of Miller's five-year deal is $63 million and the maximum is $70 million.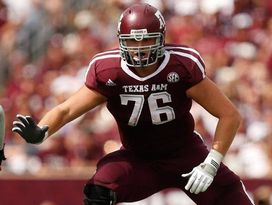 Luke Joeckel's deal would have carried a maximum value of $75 million.
2012 is the first time quarterbacks are taken with the first two picks in the draft since Tim Couch and Donovan McNabb went first and second in 1999. The difference between the deals of the first two picks isn't as dramatic when both picks are quarterbacks. Robert Griffin III gets a significant increase over Miller's deal because of the quarterback premium. His six-year deal has a base value of $84 million and $92 million as a maximum. Griffin has $52.5 million of his deal guaranteed.
There's also a small difference with the contracts of the first two picks when they are both two non-quarterbacks. In 2008, which was the last time it happened, second pick Chris Long only received $1 million less in guaranteed money than Jake Long. His five-year deal had the same base value as Long's and there was a $2 million difference in their maximums. Joeckel gets $50 million guaranteed. His five-year deal's base value is $68.75 million with a $75 million maximum.
2013 Third Pick
Dion Jordan (DE)-Miami Dolphins
Actual Deal: $20,572,298/4 Years-Fully Guaranteed
Projected Deal: $63 Million/5 Years-Base Value; $71.25 Million/5 Years-Maximum
Marcell Dareus joins Suh, Haloti Ngata and Gerald McCoy in 2011 as the only interior defensive linemen with deals averaging over $10 million per year. Ngata has the lone veteran contract among the group. Dareus' five-year contract contains $37 million guaranteed where the base value is $57.5 million. His deal has a maximum value of $65 million.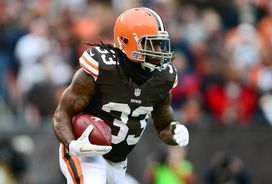 US PRESSWIREWithout taking a single snap, Trent Richardson would have become the third highest paid running back in the league in 2012.
Trent Richardson is the first running back taken in the top three picks of the draft since Reggie Bush was the second selection in 2006. Running backs have become devalued early in the draft because of the emphasis on the passing game and more teams splitting carries between two or three players at the position. The base value of Richardson's deal is $60 million and $68 million is the maximum. He has $38.5 million guaranteed, which tops Adrian Peterson's guarantees by $2.5 million. Richardson's deal makes him the NFL's third highest paid running back behind Peterson and Chris Johnson.
The Raiders traded the third pick to the Miami Dolphins for the 12th pick and a second round pick during this year's draft. The trade may not have happened without the rookie wage scale in place. Teams weren't eager to move towards the top of the draft because of the financial costs associated with the picks. The only trade for a top three pick in the last 10 years was in 2004. It revolved around the New York Giants acquiring first pick Eli Manning from the San Diego Chargers for fourth pick Philip Rivers because of Manning's refusal to play for the Chargers.
Raiders general manager Reggie McKenzie insists that D.J. Hayden, who was selected with the 12th pick, was still going to be their pick if he hadn't made the trade. Whether the Raiders or Dolphins picked third wouldn't have made much of a difference with the third pick's deal. The five-year contract has a base value of $63 million and $71.25 million as a maximum. $41 million is guaranteed.
Follow me on Twitter: @corryjoel
Joel Corry is a former sports agent who helped found Premier Sports & Entertainment, a sports management firm that represents professional athletes and coaches. Prior to his tenure at Premier, Joel worked for Management Plus Enterprises, which represented Shaquille O'Neal, Hakeem Olajuwon and Ronnie Lott. You can email Joel at jccorry@gmail.com.