October 31, 2013 -
Joel Corry
What should have been
The various trade rumors before the NFL trading deadline produced minimal player movement, which is usually the case. Only one deal was made: The Philadelphia Eagles traded defensive lineman Isaac Sopoaga and a 2014 sixth round pick to the New England Patriots for a 2014 fifth round pick. Here are three trades that should have been made before the deadline.
Josh Gordon to the Detroit Lions for a 2014 second round pick and a conditional 2015 fourth round pick
The Lions got a glimpse of how much Calvin Johnson means to the offense when he missed Detroit's Week 5 contest against the Green Bay Packers with a knee injury. The wide receivers only caught nine passes for 93 yards without Johnson commanding the opposing defense's attention.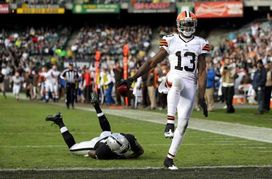 Gordon could have provided a big boost to an already explosive Detroit offense.
Gordon would have been a great complement to Johnson. He has 32 receptions for 582 yards and three touchdowns in six games since serving a two-game suspension for violating the NFL's substance abuse policy. The Lions got a first hand look at Gordon when he had seven catches for 126 yards against them in Week 6. A Gordon-Johnson combination would have instantly entered discussions of the NFL's best wide receiver tandem. Although Gordon is a character risk who will serve a one-year suspension for his next drug policy violation, running back Willis McGahee thinks Gordon would benefit greatly from a veteran receiver as a mentor. Johnson and Nate Burleson could have served in that capacity.
Gordon is in the second year of a four-year deal that pays him $558,335 this year, $875,604 in 2014 and $1,118,406 in 2015. The 2012 second round pick could have easily fit under the salary cap since the Lions have $1.7 million of cap room.
With 11 picks in the 2014 draft after the trade, including two first round picks and two second round picks, the Cleveland Browns would have had plenty of ammunition to land a franchise quarterback, a wide receiver to offset the loss of Gordon and a couple of other impact players. They would only get the 2015 fourth round pick provided that Gordon wasn't suspended again before the end of the 2014 season. (i.e.; was continuously on the roster, injured reserve, physically unable to perform list, etc. through the 2014 season).
Jairus Byrd to the Washington Redskins for a 2014 third round pick
A second day draft pick may have been more beneficial to the Buffalo Bills despite their preference of a young player for Byrd. Although draft choices are at a premium for the Redskins because the St. Louis Rams own their 2014 first round pick, Byrd would have addressed one of Washington's biggest weaknesses. The play of the safeties has been a long standing issue for the Redskins.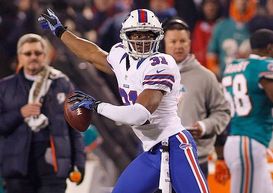 Byrd has appeared in just three games for the Bills this season, notching zero interceptions.
Byrd's relationship with the Bills became acrimonious because of his $6.916 million franchise tag and the team's refusal to sign him to a multi-year contract in line with the top of the safety market. Dashon Goldson's five-year, $41.25 million contract ($22 million guaranteed and $26 million over the first three years) with the Tampa Bay Buccaneers is the most recent salary benchmark. There has been some speculation that Byrd may have played through the Plantar fasciitis in his feet that caused him to miss Buffalo's first five games if he had been given a long term deal.
The salary cap would have been an obstacle to overcome in order to make the trade possible. It would have been necessary for the Redskins to restructure contracts to accommodate Byrd's $3,661,141 salary for the remainder of the season since they are $1.7 million under the cap. The Redskins couldn't have lowered his cap number through a long term deal. Byrd can't sign a multi-year deal until the regular season ends (December 29) because franchise player rules prohibit such signings after July 15. Signing Byrd to the type of contract he has been seeking would not have been an issue for the Redskins in 2014. They should have over $15 million in cap room next year.
Fred Davis to the Green Bay Packers for a 2014 seventh round pick
Davis has dropped behind rookie Jordan Reed and Logan Paulsen on the Washington Redskins depth chart. He has been inactive for the last two games. There's a good chance Davis will remain inactive for the foreseeable future since he doesn't play special teams.
Davis was regarded as one of the NFL's better pass catching tight ends when he tore his left Achilles tendon in the seventh game of the 2012 season. His 59 catches and 796 receiving yards in 12 games during a 2011 season cut short by a four-game suspension for violating the NFL's substance abuse policy prompted the Redskins to use their 2012 franchise tag on him. Davis signed a one-year deal worth $3 million (including a $1.5 million signing bonus) to return to the Redskins this year.
Even though it is uncharacteristic for Packers general manager Ted Thompson to give up draft choices for veteran players, Davis could have helped fill the void Green Bay has at tight end with Jermichael Finley out indefinitely due to a bruised spinal cord. Davis might have been willing to waive his $500,000 bonus for 12 games on the 46-man active roster in order to facilitate the change in scenery.
Follow me on Twitter: @corryjoel
Joel Corry is a former sports agent who helped found Premier Sports & Entertainment, a sports management firm that represents professional athletes and coaches. Prior to his tenure at Premier, Joel worked for Management Plus Enterprises, which represented Shaquille O'Neal, Hakeem Olajuwon and Ronnie Lott. You can email Joel at jccorry@gmail.com.