March 22, 2012 -
Joel Corry
What's Drew Brees worth?
With Peyton Manning finding a new home in Denver, Drew Brees' agent, Tom Condon, can focus more of his attention on a new contract for the Saints quarterback. The sides are reportedly $4 million to $5 million per year apart on his deal. Brees is looking for an average of $23 million in the first three years of his contract, but the Saints' last offer to him averaged $18 million to $18.5 million per year.
Manning's five-year, $96 million contract with the Broncos and Roger Goodell's stiff penalties against key figures of the New Orleans Saints organization for their bounty program should give Brees more leverage in his negotiations. Condon will remind the Saints that Manning could have exploited Tennessee Titans owner Bud Adams' proclamation of doing whatever it takes to sign the former Colt into a larger contract with better structure, but chose to concentrate on the football situations of his suitors instead of the financial aspects of his contract.
Manning's deal is structured differently than the typical NFL contract. It contains protections for the Broncos relating to his pre-existing neck condition. At 33-years-old, Brees is almost three years younger than Manning and much healthier. He also hasn't had any significant injuries since joining the Saints in 2006. Given this backdrop, what's Brees worth?
I have examined NFL salary trends for the most lucrative NFL contracts over the last five years while utilizing a couple of different methodologies to arrive at contract parameters that could help end their stalemate.
Average Yearly Salary
I have employed three different methods to determine a range for the average yearly salary of Brees' contract. The first method looks at the financial relationship between the highest paid quarterback and the highest paid non-quarterback. The second one explores the difference in the quarterback franchise numbers and largest franchise number at the other positions. The third approach examines the disparity in the salary of the highest paid quarterback and the second highest paid quarterback.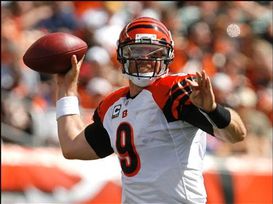 Carson Palmer made bank with the Bengals back in 2007.
In 2007, Carson Palmer was the NFL's highest paid player with his seven-year Cincinnati Bengals contract extension averaging $16,166,167 per year while defensive end Dwight Freeney's six-year, $72 million deal with the Indianapolis Colts set the standard for non-quarterbacks. By 2011, Larry Fitzgerald's seven-year contract extension with the Arizona Cardinals averaging $16,142,857 had closed the gap between the highest paid non-quarterback and the highest paid quarterback (Tom Brady and Manning at $18 million per year). During these five years, the highest paid quarterback's salary was 22.7% greater than the highest non-quarterback. Calvin Johnson's new seven-year contract extension with the Detroit Lions at $16,207,143 per year is the current benchmark in non-quarterback salaries. Applying Johnson's average salary to the discrepancy in quarterback and non-quarterback compensation puts Brees' deal at approximately $19.9 million per year.
Until non-exclusive franchise tag calculations were changed in the latest Collective Bargaining Agreement, they were based off the salaries of the five highest paid players at a position (usually defined by salary cap numbers) in the previous season. This produced a lot of variance with them.
For example, the quarterback franchise number went from $12.615 million in 2007 to $10.73 million in 2008, then jumped to $14.651 million in 2009. Since these franchise tags are now calculated over a five year period that's tied to a percentage of the overall cap, there shouldn't be such fluctuations in the future. The largest non-quarterback franchise number was split between two positions, cornerback (2008-2009) and defensive end (2010-2012). The quarterback franchise number has been 30.2% larger than the top non-quarterback franchise one during the span. When this percentage difference is applied to Calvin Johnson's deal, it yields approximately a $21.1 million average per year for Brees.
The difference between the highest paid quarterback and the second highest paid quarterback isn't as pronounced as the difference in quarterback's salaries relative to other positions. There was less than $100,000 difference in the average per year of these two quarterbacks in 2009. The New York Giants' Eli Manning was at $16.25 million per year while Palmer was at $16,166,667. Last season, Brady and Peyton Manning were in a tie atop the NFL's salary hierarchy. The highest paid quarterback's deal has only averaged 7% more than the quarterback salary runner up.
$20.5 million per year seems reasonable for Brees when Manning's $19.2 million per year average is used in conjunction with this 7% difference.
First Three Years Compensation
In determining the appropriate range for the compensation in the first three years of Brees' contract, the franchise analysis wasn't applicable but the other two methodologies were.
Prior to Peyton Manning signing his contract with the Colts last July, there hadn't been much of an increase with the most compensation in the first three years for quarterbacks. It had gone from Palmer's $45.75 million in 2006 to Eli Manning's $49 million in 2009. It took a dramatic jump with Peyton Manning getting $70.2 million in the first three years of his Colts contract and dwarfed the first three years compensation leader for non-quarterbacks, which was Fitzgerald with $45.5 million.
Mario Williams' six-year, $96 million contract with the Buffalo Bills is now the yardstick with $53 million in his first three years. Since the top quarterback has gotten 26.9% more money in the first three years of his deal than the top non-quarterback, Brees gets approximately $67.275 million in his first three years if it is utilized with Williams' $53 million.
Peyton Manning's contract also skews the numbers between the top two quarterbacks. The difference between them had been minimal from 2007 to 2010 with the largest separation coming in 2009 when Eli Manning had $3.25 million more in his first three years than Palmer. That difference was more than six times greater than it was in 2009 after Peyton Manning got his deal in 2011.
Overall, there was an 11.4% discrepancy with the top two quarterbacks over the five years. Peyton Manning still leads the way at $58 million over the first three years with his Broncos contract. Applying the 11.4% to the three-year compensation in his new contract gets Brees to approximately $64.625 million.
Guaranteed Money
When examining guaranteed money, the focus is limited to the quarterback/non-quarterback salary relationship since $53.25 million of Calvin Johnson's deal was fully guaranteed at its signing. This set a record for fully guaranteed money in NFL contracts. The final two years of his contract are voidable, but the Lions can buy them back by guaranteeing an additional $3.5 million in each of those years.
ICONBrees could be looking at over $60 million in guaranteed money.
Tom Brady has $58 million of guarantees in the contract he signed in 2010, but $39.7 million of them are conditional, which require him to be on the roster at a certain date for the guarantee to vest, or injury guarantees. Partially thanks to Brady's deal, the quarterback leader has gotten 18.1% more in guarantees than the non-quarterback leader in the past five years. Approximately, $62.875 million of Brees' contract should be fully guaranteed when applying this standard to Johnson's full guarantees.
<strong>The Result
Objectively, a five-year contract averaging $20 million to $21 million seems appropriate for Brees. Reaching such a deal will require some compromising by both sides.
Brees must be willing to be flexible on his desired $69 million over three years. The Saints will need to stop looking at how much it would cost them if they went yearly by franchising him, which is in the neighborhood of $60 million with three years of franchise tags. Brees' exclusive franchise number will be set after the restricted free agent signing period ends on April 20th and appears to be coming in lower than initially anticipated at $15.261 million because several quarterbacks (Ben Roethlisberger, Matthew Stafford, Tom Brady, etc) with high cap numbers restructured their 2012 contracts to create cap room for their clubs.
Franchising Brees for a second time next year would cost the Saints $18.313 million, which is 120% of his 2012 franchise amount. They could franchise him for a third time at 144% of his 2013 franchise number, which would be $26.37 million.
If both parties are serious about compromising, Brees should receive $64 million to $67.5 million in his first three years. With Johnson getting $53.25 million of his contract fully guaranteed at signing, most, if not all of Brees' first three years should be fully guaranteed.
The Saints could use some good news in light of Roger Goodell's sanctions for their bounty program. If coming a lot closer to Brees' demands than they anticipated is a consequence, it could well be worth it to the Saints under the circumstances.
Follow me on Twitter: @corryjoel
Joel Corry is a former sports agent who helped found Premier Sports & Entertainment, a sports management firm that represents professional athletes and coaches. Prior to his tenure at Premier, Joel worked for Management Plus Enterprises, which represented Shaquille O'Neal, Hakeem Olajuwon and Ronnie Lott. You can email Joel at jccorry@gmail.com