August 10, 2012 -
Joel Corry
What's Dwayne Bowe's hold up?
With Detroit Lions defensive end Cliff Avril signing his $10.605 million franchise tender on Sunday, Kansas City Chiefs wide receiver Dwayne Bowe remains as the only unsigned franchise player. Bowe reportedly plans to return to the Chiefs before their first regular season game on September 9th. His missing training camp has been portrayed as a protest for not getting a long-term deal as a franchise player in which he's taking advantage of the Chiefs' inability to fine him $30,000 for each day he's not there since Bowe isn't under contract.
However, there could more to Bowe's absence. Contrary to popular belief and what is being widely reported, Bowe is not restricted to playing for just his $9.515 million franchise tender with the Chiefs this season. He can only play for the Chiefs on a one-year deal since the deadline for franchise players signing long-term contracts has passed, but Bowe is still allowed to negotiate his one-year salary and other conditions relating to his franchise player status.
Bowe should be attempting to negotiate with the Chiefs a larger salary than his franchise tender or a clause which prevents them from making him a franchise or transition player after this season (i.e.; a prohibition clause). If the Chiefs were willing to give Bowe additional compensation without a prohibition clause, his increased compensation would make it financially more difficult for them to franchise him next year.
For example, assuming the Chiefs paid Bowe a $12.272 million salary this season—which is what Bowe's franchise number would have been if the new Collective Bargaining Agreement had not changed how non-exclusive franchise numbers are calculated—he would still effectively have a prohibition clause. Since his franchise tender would be $14.726 million next year, he would probably hit the free agent market, like Vincent Jackson did this year when the San Diego Chargers didn't franchise him for a second time at $13.709 million.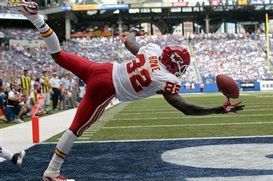 Dwayne Bowe has yet to report to Chiefs training camp.
The Chiefs' salary cap situation won't prevent them from paying Bowe more than his franchise tender because they have close to $15 million of cap room, but they may not want to set such a precedent around the NFL. Bowe playing under his actual franchise tender this season may not have the same effect as him getting additional compensation because his $11.418 million tender next year is less than the $11.424 million tender Jackson played under as the Chargers' franchise player in 2011.
It shouldn't be as difficult for Bowe to get a prohibition clause because the same issues of precedent don't exist with them. The Seattle Seahawks gave Pro Bowl running back Shaun Alexander one when he was their franchise player in 2005. Jeff Backus and Nate Clements got prohibition clauses in 2006 when they were respectively franchised by the Detroit Lions and Buffalo Bills.
The Chiefs haven't given a prohibition clause to a franchise player, but Scott Pioli, their general manager, is very familiar them. As a front office executive with the New England Patriots in 2007, Pioli gave franchise player Asante Samuel a prohibition clause that was triggered by him having at least 60% playtime on defense or the Patriots winning at least 12 games. Lance Briggs and Albert Haynesworth also had clauses similar to Samuel's when they were franchised in 2007 and 2008 by the Chicago Bears and Tennessee Titans, respectively.
If Pioli gave Bowe a prohibition clause, it might contain the same playtime requirement as Samuel's because top cornerbacks and wide receivers usually have equivalent playtime. Nine wins or making the playoffs would be a more appropriate alternative threshold for Bowe's clause since the Chiefs don't appear to be a Super Bowl caliber club like the 2007 Patriots were.
Getting either one of these concessions from the Chiefs could be the difference between Bowe playing under another franchise tag and having the opportunity to get a long-term deal at his true market value next year. In the open market, he could command a deal similar to the five-year, $55,555,555 contract ($26 million guaranteed and $36 million in the first three years) Jackson signed with the Tampa Bay Buccaneers once free agency began. It's never happened before, but it would be interesting to know whether any franchise player places enough value on having a prohibition clause that he would take a one-year salary that's less than his franchise tender in order to get one.
If Bowe's absence from the Chiefs isn't related to a negotiating purpose, then he should probably sign his franchise tender as soon as possible. The Chiefs have a different offensive philosophy under new offensive coordinator Brian Daboll, so the more time Bowe has to get acclimated to the new scheme, the better it is for him and the Chiefs.
Follow me on Twitter: @corryjoel
Joel Corry is a former sports agent who helped found Premier Sports & Entertainment, a sports management firm that represents professional athletes and coaches. Prior to his tenure at Premier, Joel worked for Management Plus Enterprises, which represented Shaquille O'Neal, Hakeem Olajuwon and Ronnie Lott. You can email Joel at jccorry@gmail.com