September 17, 2013 -
Joel Corry
What's in store for Mark Sanchez?
New York Jets quarterback Mark Sanchez has decided to continue rehabbing the partially torn labrum in his right shoulder after seeing Dr. James Andrews on Wednesday for a second opinion. If Sanchez's shoulder doesn't respond to treatment, surgery will be necessary. The recovery time from surgery is four to six months.
The Jets placed Sanchez on injured reserve with a designation to return on Saturday. Sanchez must miss a minimum of six weeks of practice and eight weeks with this designation before he can return to the active roster. The earliest Sanchez will be available to play is during Week 11 against the Buffalo Bills on November 17, since the Jets' bye week is Week 10.
The Jets have refused to name Geno Smith as their permanent starting quarterback despite Sanchez's injury. His absence gives the Jets several games to help determine whether Smith is the long term solution at quarterback in what is expected to be a rebuilding year. The Jets could have a quarterback controversy, which is the type of distraction they should be trying to avoid, if Smith struggles and Sanchez is able to return because Sanchez believes he won the preseason competition for the starting quarterback job and expects to play when he's activated. Head coach Rex Ryan may be tempted to bench a faltering Smith for Sanchez since he is already on the hot seat.
Regardless of what happens for the remainder of this season, Sanchez's days with the Jets appear to be numbered. Sanchez is scheduled to make $11.5 million in 2014 with a $13.1 million salary cap number. $2 million of Sanchez's 2014 salary is a 15th day of the league year (March 25) roster bonus. The Jets will release Sanchez before the roster bonus is payable.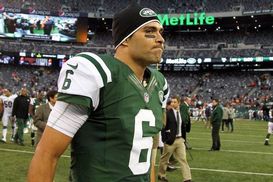 Sanchez is 33-29 during his career as the starting quarterback of the New York Jets.
It's unlikely that there will be a trade market for Sanchez prior to the March 25 roster bonus payment date. Any team interested in acquiring Sanchez will want him to take a paycut. Sanchez has three years left on his contract for $37.75 million (with an additional $7 million in base salary escalators).
The Jets will gain $8.3 million of 2014 cap room by releasing or trading Sanchez. They will have a $4.8 million 2014 cap charge from the 2014 through 2016 proration of the $8 million signing bonus the quarterback received with his 2012 contract extension.
It would be a surprise if any team was willing to make Sanchez their starting quarterback when he becomes a free agent in 2014. He should also have a difficult time finding a situation where he can compete for a starting job. The Tampa Bay Buccaneers could be intriguing to Sanchez since Josh Freeman, who is in a contract year, appears to be wearing out his welcome and this year's third round pick in Mike Glennon is Tampa Bay's most viable quarterback alternative.
Sanchez is likely to follow in the footsteps of other ineffective starting quarterbacks by becoming one of the NFL's higher paid backup quarterbacks. The Miami Dolphins' Matt Moore set the backup quarterback market during the offseason by signing a two-year, $8 million deal (with $4 million guaranteed and worth up to a maximum of $11.75 million with escalators and incentives). Matt Cassel and Ryan Fitzpatrick signed two-year deals averaging $3.7 million per year (with an additional $500,000 per year in incentives) and $3.25 million per year (including an additional $1.6 million in incentives each year) with the Minnesota Vikings and Tennessee Titans, respectively.
Sanchez might be a good fit for the St. Louis Rams as Sam Bradford's backup. He would be an upgrade over Kellen Clemens and has familiarity with Brian Schottenheimer's offense. Schottenheimer was Sanchez's offensive coordinator with the Jets during the first three years of his NFL career.
It remains to be seen whether Sanchez, who will be 27-years-old in 2014, can eventually resurrect his career so he can get another crack at being a starting quarterback or if he is destined to be a backup for the remainder of his NFL career.
Follow me on Twitter: @corryjoel
Joel Corry is a former sports agent who helped found Premier Sports & Entertainment, a sports management firm that represents professional athletes and coaches. Prior to his tenure at Premier, Joel worked for Management Plus Enterprises, which represented Shaquille O'Neal, Hakeem Olajuwon and Ronnie Lott. You can email Joel at jccorry@gmail.com.