July 03, 2014 -
Joel Corry
What's next for Jimmy Graham?
Jimmy Graham lost his grievance to be classified as a wide receiver with the franchise tag designation he received from New Orleans Saints. Arbitrator Stephen Burbank ruled that Graham was a tight end when lined up in the slot within four yards of an offensive lineman, which he did on more than 50 percent of his plays in 2013. Graham will remain on the Saints' salary cap at the $7.053 million tight end franchise tag number.
The National Football League Players Association, who has been representing Graham in the grievance, said in a statement, "We will advise Graham of his options and carefully determine next steps in this matter." Graham can appeal Burbank's decision within ten days to a three-person appeals panel. Unless granted an expedited appeal, there wouldn't be a resolution with the appeals process before the July 15 deadline for franchise players to sign multi-year deals with their teams.
The Saints gain leverage in negotiations because of the decision. Graham will need to abandon his quest to be paid like a top wide receiver (presumably $11-$13 million per year with $25-$30 million in guarantees) in order for an agreement to be reached. The Saints shouldn't have a problem making Graham the NFL's highest paid tight end considering he leads tight ends in receptions (270), receiving yards (3,507) and touchdowns (36) over the last three years. The New England Patriots' Rob Gronkowski is currently the highest paid tight end with the six-year, $54 million contract extension (includes $18.17 million in guarantees) he signed in 2012 that has a team friendly structure. Vernon Davis sets the standard for tight ends in guarantees with $23 million.
The July 15 deadline doesn't appear to apply to offer sheets. The NFL Collective Bargaining Agreement (CBA) has a July 22 deadline for transition players signing a contract with another club but is silent on the issue with franchise players. Seemingly, Graham would have until the Tuesday after the 10th week of the regular season (November 11) to sign an offer sheet, which the Saints would have five days to match. If the offer wasn't matched, the Saints would receive two first round picks (2015 and 2016) as compensation from the signing team.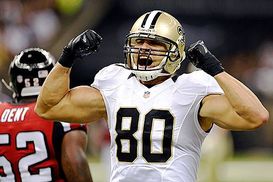 The most likely outcome is that Graham and the Saints reach an agreement on a long-term deal sometime in the near future.
Although unlikely because teams are reluctant to give up two first round picks to sign a franchise player, the Saints' salary cap situation makes them vulnerable to an offer sheet. They currently have only $1.7 million of cap space.
An offer sheet would probably need to be extremely front loaded with at the least the first two years fully guaranteed using a "pay as you go" structure while paying Graham more like a top wide receiver than top tight end in order to discourage the Saints from matching. A player's cash and salary cap numbers are the same in each contract year where he is receiving salary guarantees instead of a signing bonus under the "pay as you go" model. For example, an offer sheet containing a fully guaranteed $15 million salary in 2014 would require the Saints to create almost $6.25 million of cap room by releasing players or restructuring contracts to retain Graham. The Saints also wouldn't be able to restructure Graham's deal to lower his 2014 cap number with a matched offer sheet.
The necessity of a high 2014 cap number drastically limits the number of teams that could realistically pose a threat to the Saints. The Cleveland Browns, Jacksonville Jaguars and New York Jets each have over $20 million of cap room, but may not be appealing to Graham because they aren't playoff-caliber teams and don't have Pro Bowl-caliber quarterbacks.
A relatively new trend with franchise players who don't sign long term deals is missing a portion of training camp to minimize the risk of injury during the pre-season. Since franchise players aren't under contract, they can't be fined up to $30,000 for each day of camp missed. Cliff Avril, Dwayne Bowe and Jairus Byrd have done this during the past two years before reporting to their respective teams in August.
Franchise players are still allowed to negotiate their salary and other conditions relating to their franchise player status with their own teams after the July 15 deadline. Curiously, none of the three players seriously pursued a clause that would have prohibited their respective teams from using a franchise or transition designation on them for a second time in the following year (i.e.; a prohibition clause) or a larger one-year salary than their franchise tender. In Graham's case, a second franchise tag in 2015 would most likely be $8,463,600, a 120 percent increase of his 2014 franchise tag.
Obtaining a prohibition clause would be difficult for Graham. A franchise player hasn't gotten this type of provision since 2008 when the Tennessee Titans gave Albert Haynesworth a conditional prohibition clause. It was triggered by Haynesworth making the Pro Bowl, having at least 60 percent defensive playtime or 53 percent defensive playtime and the Titans winning at least 10 games or ranking in the top-five in total defense. Jeff Backus and Nate Clements received the last unconditional prohibition clauses in 2006 with the Detroit Lions and Buffalo Bills, respectively.
Graham missing any part of the regular season because of a contract dispute would seem remote. It hasn't happened with a franchise player since the 2006 CBA implemented the July multi-year deal deadline. Dunta Robinson came closest when he signed his franchise tender four days before the Houston Texans' 2009 regular season opener.
A long term deal as the July 15 deadline approaches, just like with Drew Brees in 2012 when he was franchised, is the expected outcome provided the Saints don't play hardball in negotiations. Graham could still become the NFL's first $10 million-per-year tight end and set a new benchmark in guarantees for the position despite the arbitrator's ruling. A long term deal would give the Saints some much needed breathing room with the cap by containing a lower 2014 cap number than Graham's current $7.053 million tight end franchise tag.
Follow Joel on Twitter: @corryjoel
Joel Corry is a former sports agent who helped found Premier Sports & Entertainment, a sports management firm that represents professional athletes and coaches. Prior to his tenure at Premier, Joel worked for Management Plus Enterprises, which represented Shaquille O'Neal, Hakeem Olajuwon and Ronnie Lott. You can email Joel at jccorry@gmail.com.