October 11, 2012 -
Joel Corry
What's next for Steven Jackson?
Steven Jackson's days in St. Louis could be numbered. After Jackson and the Rams failed to reach an agreement on a contract extension, they inserted a clause into his current contract which allows the running back to void the 2013 year—his final contract year—if he notifies the team by next February 8th.
Jackson, who is scheduled to make $7 million in base salary next year, is one of the most underappreciated running backs in NFL history. Last season he joined Eric Dickerson, Curtis Martin, Barry Sanders, Emmitt Smith, Thurman Thomas and LaDainian Tomlinson as the only running backs to have at least seven consecutive 1,000-yard rushing seasons. His feat is particularly impressive considering that he has been consistently surrounded by subpar offensive talent and faces more eight-man defensive fronts than most other running backs in the NFL.
Believe it or not, Jackson hasn't had a Pro Bowl teammate since Torry Holt in 2007.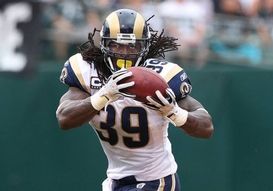 ICONWould Jackson be better off taking less money to play for a Super Bowl contender?
Jackson had one of the NFL's most underrated running back seasons in 2006. The three-time Pro Bowler led the league with 2,334 yards from scrimmage—which is the NFL's sixth-best single season total—and scored 16 touchdowns. He also became the only running back, besides Tomlinson, to rush for at least 1,500 yards (1,528 yards) and catch at least 90 passes in the same season.
Although Jackson has been slowed by a groin injury this season, he's still on pace for his worst statistical campaign since his rookie year in 2004 when he was Marshall Faulk's backup. Jackson is projected to rush for 867 yards with a career-low average of 3.5 yards per carry.
Jackson, who will turn 30-years-old before the start of next season, will be part of a mediocre running back class if he opts for free agency. Reggie Bush and Rashard Mendenhall should be highly coveted. Underachievers Felix Jones and Shonn Greene might attract some attention from teams in the first wave of free agency. Chris Johnson could also be a free agent since he has a $12 million salary cap number next year, but only counts $6 million in "dead money" on the Tennessee Titans' cap if they release him.
However, Jackson's age and mileage will be working against him. He is one of thirteen NFL running backs to have more than 2,500 touches in the first eight seasons of a career. Jackson, who is the Rams' all-time leading rusher with 9,364 yards, should be approaching 2,800 career touches and 2,400 career rushing attempts by the end of the season, which will put him in the top-25 all-time in career rushing attempts, barring an injury or a change in his role.
It is unusual for running backs to maintain or improve production levels once they reach their thirties. Tiki Barber's best two seasons came after he turned thirty. He led the NFL with 2,390 yards from scrimmage and rushed for 1,890 yards—both career highs—as a 30-year-old in 2005. Barber followed up that season with 1,662 rushing yards in 2006, his final NFL campaign. Curtis Martin had a career year in 2004 when he won his only NFL rushing title as a 31-year-old with 1,697 rushing yards. 2004 was also Corey Dillon's best season. He rushed for 1,635 yards at 30 years of age after he was traded to the New England Patriots. These types of performances are the exception, not the rule with older running backs.
22 running backs have rushed for more than 1,000 yards at 30 years of age or older. Only six of the 22 players had more career rushing attempts than Jackson has now. As the age of the players increases, the number of 1,000-yard running backs declines sharply. Eleven players have hit the 1,000-yard rushing mark at 31-years-old, while only six players have done it as 32-year-olds.
Teams don't invest heavily in running backs who are in their thirties or approaching thirty. Thomas Jones was coming off the most productive season of his career in 2009 with 1,402 rushing yards and 14 touchdowns as a 31-year-old when the New York Jets released him instead of paying him $5.9 million for the 2010 season. He signed a two-year deal with the Kansas City Chiefs averaging $2.5 million per year as a free agent. The Jets replaced Jones with Tomlinson, who was one year younger but had significantly more mileage with 3,410 career touches. He signed a two-year deal averaging $2.575 million per year. Tomlinson accepted a pay cut in 2011 by lowering his salary from $2.625 million to $1.325 million because his role in the Jets' offense was being reduced.
When the Baltimore Ravens released Willis McGahee in 2011 because his $6 million base salary was too much for a backup running back, he signed a four-year deal with the Denver Broncos averaging $2.375 million per year as a 30-year-old. He had a career resurgence in 2011 by rushing for 1,199 yards, which was his first 1,000-yard season since 2007.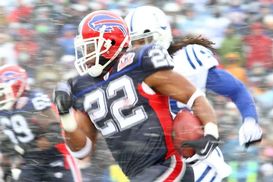 ICONFred Jackson has produced solid numbers in his thirties, but he's got far less wear on his tires.
Fred Jackson is the highest paid running back that signed a contract in his thirties. The 31-year-old signed a two-year extension with the Buffalo Bills during the offseason averaging $4.35 million per year. His contract contains $1.1 million in not likely to be earned incentives primarily based on individual statistical achievement (rushing yards, receiving yards, playtime, Pro Bowl) that can make the deal worth up to $10.9 million over the two years. Jackson, who was leading the NFL in rushing when he broke his leg in Buffalo's tenth game last year, has relatively low mileage (1,024 career touches) because he was a 26-year-old rookie.
It wouldn't be surprising if Jackson entered free agency so he could finally play for a Super Bowl contender like the Green Bay Packers. Even though the Rams have a 40-93 record since Jackson was drafted and haven't been to the playoffs since his rookie season in 2004, he has been the consummate professional. Surprisingly, he hasn't complained about St. Louis management, their head coaching instability or demanded a trade.
Jackson could be in for a rude awakening in free agency if he doesn't come to grips with the harsh realities of older running back compensation. He could initially price himself out of a potentially soft market. Jackson should also be ready to accept that his days as a workhorse running back are likely over, which will be reflected in his salary.
As long as the Rams continue to build upon their 3-2 record, which puts them above .500 for the first time since 2006, Jackson's best move may be signing a contract extension before his opt out date. His value may be greater to the Rams than any other NFL team, especially if they aren't comfortable handing the reins to rookies Isaiah Pead and Daryl Richardson in 2013 because of their playoff aspirations.
The Rams might be willing to sign him to a two or three-year contract extension where his total 2013 compensation (signing bonus, base salary, roster bonus, etc.) equals his scheduled $7 million 2013 base salary. His remaining contract years would be at much lower salaries than he's used to, but could provide significant compensation through escalators or incentives if he is one of those rare running backs that defie s the odds by performing at a high level after turning 30-years-old.
Follow me on Twitter: @corryjoel
Joel Corry is a former sports agent who helped found Premier Sports & Entertainment, a sports management firm that represents professional athletes and coaches. Prior to his tenure at Premier, Joel worked for Management Plus Enterprises, which represented Shaquille O'Neal, Hakeem Olajuwon and Ronnie Lott. You can email Joel at jccorry@gmail.com