January 10, 2014 -
Joel Corry
What's next for Terrell Suggs?
Baltimore Ravens general manager Ozzie Newsome sent a message to Terrell Suggs during Wednesday's annual after-the-season "State of the Ravens" address. He was noncommittal on Suggs remaining in Baltimore because the 2011 Defensive Player of the Year's $12.4 million 2014 salary cap number needs to be addressed. Suggs' future will be a topic of discussion when the Ravens' brain trust meets next week at owner Steve Biscotti's Florida home.
In all likelihood, the Ravens will attempt to work out a contract extension with Suggs which gives them some 2014 cap relief. Suggs is entering the final year of a six-year, $62.5 million contract (with $37.1 million guaranteed) after posting 10 sacks and 80 tackles in a Pro Bowl season. The 31-year-old was an early Defensive Player of the Year candidate because of a strong start, but disappeared during the second half of the season. Suggs only had one sack and 20 tackles in the last eight games.
Newsome demonstrated last year that he is willing to part ways with key older players if it doesn't make sense financially to keep them. 33-year-old Anquan Boldin was traded to the San Francisco 49ers for a 2013 sixth-round pick after he refused to take a $2 million paycut off of his $6 million salary. The Ravens also didn't make much of an effort to re-sign 35-year-old Ed Reed, a nine-time Pro Bowler, during free agency.
Suggs must recognize that a new extension will average less that his current deal ($10,416,667 per year) because he is on the wrong side of 30. Julius Peppers is the only pass rusher making over $10 million per year on a contract signed after reaching the age of 30. Robert Mathis (Indianapolis Colts) and Chris Clemons (Seattle Seahawks) are next with deals averaging $9 million per year.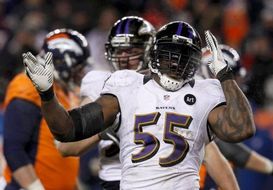 Suggs has notched 37 sacks over his last 56 games.
It was a soft market for older pass rushers in free agency last winter. Dwight Freeney's two-year, $8.75 million contract (worth a maximum of $13.35 million through escalators and incentives) from the San Diego Chargers and the two-year, $8.5 million contract (with an additional $3.75 million in escalators) Osi Umenyiora received from the Atlanta Falcons paced this market. John Abraham's $5 million per year price tag and demand of extensive playtime turned off several teams. The 35-year-old signed a two-year, $4.6 million deal (plus a $750,000 base salary escalator) with the Arizona Cardinals when training camp started.
The best situation for both sides may be an extension for Suggs averaging slightly more than the deal Elvis Dumervil signed with the Ravens after the paperwork snafu on his renegotiated Denver Broncos contract led to his release. Dumervil signed a five-year, $26 million deal (includes $11 million in guarantees) with an $8.5 million 2013 salary. The contract is worth up to $35 million because it contains $7 million in base salary escalators and $2 million in incentives primarily based on consistently reaching 12 sacks in a season.
The Ravens shouldn't have a problem with Suggs' $7.8 million 2014 salary remaining the same or increasing slightly given Dumervil's first year salary. For example, the Ravens could create $5.05 million of much needed 2014 cap room on a three-year, $18 million extension where Suggs receives a $7 million signing bonus with a $1 million 2014 base salary. The Ravens are approximately $7 million under the projected $126.3 million 2014 salary cap once tenders for exclusive rights players and restricted free agents are factored into the equation. Suggs would get $200,000 more than he is scheduled to make in 2014 with a $7.35 million cap number. $6 million in base salary escalators and incentives with the same 12 sacks threshold as Dumervil could be included so that Suggs could earn a maximum of $24 million in new money during the deal.
Suggs needs to be comfortable with the dynamics of the older pass rusher market if he rejects a reasonable offer from the Ravens. If not, he could initially price himself out of the market when he finds out that the grass isn't always greener on the other side.
Follow me on Twitter: @corryjoel
Joel Corry is a former sports agent who helped found Premier Sports & Entertainment, a sports management firm that represents professional athletes and coaches. Prior to his tenure at Premier, Joel worked for Management Plus Enterprises, which represented Shaquille O'Neal, Hakeem Olajuwon and Ronnie Lott. You can email Joel at jccorry@gmail.com.