February 07, 2014 -
Joel Corry
What's next for the Denver Broncos?
While the Seattle Seahawks bask in the glow of their decisive Super Bowl XLVIII victory, here's a preview of things to come for the other team that took the field last Sunday, the Denver Broncos.
Salary Cap
Denver has a little more than $10.25 million of salary cap room once tenders for restricted free agents (which includes cornerback Chris Harris) and exclusive rights players with expiring contracts are factored in, in addition to the cap space gained from the voiding of cornerback Dominique Rodgers-Cromartie and running back Knowshon Moreno's 2014 contract years.
A decision must be made regarding cornerback Champ Bailey, since he wants to play a 16th NFL season. The 35-year-old will be entering the last year of a four-year, $43 million contract (worth a maximum of $46.75 million through base salary escalators) after a season in which he was limited to five regular season games because of a left foot sprain that occurred in a pre-season matchup against the Seattle Seahawks and didn't have an interception, a career first. Bailey is slated to make $10 million next season and will carry a $10 million salary cap number. $1 million of Bailey's salary is a roster bonus payable on the fifth day of the 2014 league year (March 15). His cap number (and total salary) will increase to $10.5 million with satisfactory participation in Denver's off-season workout program. The Broncos will gain $10 million of cap space if they part ways with Bailey.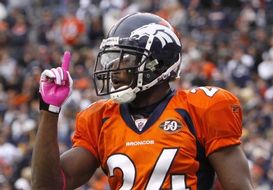 Champ Bailey's cap number may be too much for the Broncos to carry in 2014.
Assuming the Broncos want Bailey to return next season, a significant pay cut could be in order because his 2014 salary doesn't reflect the market for older defensive backs. Ronde Barber's last two contracts with the Tampa Bay Buccaneers, both one-year deals in 2011 and 2012 when he was 36 and 37-years-old, were worth $3 million (with an additional $1 million for making the Pro Bowl) and $4 million apiece. Charles Woodson signed a one-year, $1.8 million deal (plus an additional $2.5 million in incentives) with the Oakland Raiders for this season as a 36-year-old. Woodson earned $1.5 million of his incentive package to bring his total compensation to $3.3 million.
The Broncos have also established a salary range for one-year deals with cornerbacks that are expected to make significant contributions. Tracy Porter signed a fully guaranteed one-year, $4 million deal in 2012 to start opposite Bailey. Rodgers-Cromartie has replaced Porter this season with his fully guaranteed one-year, $5 million contract.
Tight end Joel Dreessen could be a cap casualty, as he was inactive for Denver's playoff games. Dreessen has a $3,166,668 2014 cap number and releasing him will create $2.5 million of cap room. Guard Chris Kuper ($5,195,166 2014 cap number) took a massive pay cut in 2013 as he attempted to battle back from injury. If he isn't given that option again, $4,084,830 of cap room can be created by letting him go.
Free Agency
The Broncos have 17 unrestricted free agents, including Rodgers-Cromartie, Moreno, wide receiver Eric Decker, guard Zane Beadles, defensive end/linebacker Shaun Phillips and linebacker Wesley Woodyard.
According to NFL Media's Ian Rapoport, Denver is comfortable letting Decker test the open market because he is viewed as a number two wide receiver by the team. Although Decker has been one of the NFL's most productive wide receivers over the last two seasons with 172 receptions (11th in the NFL), 2,352 receiving yards (ninth in the NFL) and 24 touchdowns (tied for third in the NFL), there's a sentiment that he is the beneficiary of playing with Peyton Manning and a talented receiving corps. He should be the top wide receiver in free agency despite the perception.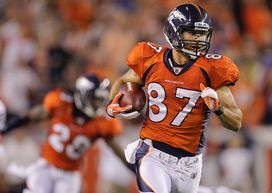 Decker could find out the grass is greener on the other side during free agency.
The top deals for wide receivers that have switched teams in free agency over the last two years range from $8.5 million per year with $20.5 million in guarantees (Pierre Garcon-Washington Redskins) to $12 million per year and $30 million in guarantees (Mike Wallace-Miami Dolphins). If a team is willing to pay Decker in this range, his days in Denver are probably over.
Rodgers-Cromartie has put himself in position to reap the benefits of his one-year deal. Surprisingly, he hinted at retirement early during Super Bowl week, but wisely did some damage control at Media Day. The free agent cornerback market was soft last year. Things could be different this time around because better cornerbacks will be available (Brent Grimes, Aqib Talib, Alterraun Verner, etc.). It wouldn't be a surprise if a majority of the best free agent cornerbacks topped the five-year deal averaging $7.5 million per year (with $15 million in guarantees) Eric Wright received from the Tampa Bay Buccaneers in 2012 as a free agent.
Moreno had a career year as he went over the 1,000-yard rushing mark for the first time, was fifth in the NFL in yards from scrimmage (1,586 yards) and had 13 touchdowns. Since 2013 second round pick Montee Ball appears ready to become Denver's featured running back, Moreno isn't expected back. Moreno is younger and more productive than Reggie Bush and Steven Jackson, who got the best deals at $4 million per year in last year's free agent running back market.
Phillips helped the Broncos overcome the loss of defensive end Elvis Dumervil, who was released because of a paperwork snafu on his renegotiated contract that reduced his 2013 salary from $12 million to $8 million. Phillips posted 10 sacks in the regular season after signing a one-year, $1 million contract with an additional $2 million in incentives based on sacks. A deal similar to Dwight Freeney's two-year, $8.75 million contract (worth a maximum of $13.35 million through escalators and incentives) from the San Diego Chargers or the two-year, $8.5 million contract (with an additional $3.75 million in escalators) Osi Umenyiora received from the Atlanta Falcons shouldn't be out of the question for the 32-year-old to return to the fold.
All-Pro linebacker Von Miller's four-year rookie contract expires after the 2014 season. The Broncos have an option for a fifth contract year with him, which must be exercised by May 3, because he was a first round pick (second overall in 2011). The fifth year is guaranteed for injury upon exercise. It becomes fully guaranteed if Miller is on the team's roster at the start of the 2015 league year. Miller's option year salary will be the transition tag number (average of the ten highest salaries) at linebacker this year, which is expected to be around $9.3 million. The Broncos may take a wait and see approach before making a long term commitment to Miller because of the six game suspension he served to start the season for violating the NFL's substance abuse policy and the ACL tear he suffered late in the season.
2010 first round pick Demaryius Thomas is entering his contract year. He has been more productive than Decker over the last two seasons with 186 receptions (sixth in the NFL), 2,864 receiving yards (third in the NFL) and 24 touchdowns (tied for third in the NFL). As one of the NFL's top young wid e receivers, Thomas' next contract should exceed Mike Wallace's deal. His contract leverage will increase significantly if Decker leaves.
Team Needs
The secondary could use an upgrade regardless of what happens with Rodgers-Cromartie. Bailey is in the twilight of his career if he returns and Chris Harris may not be ready for the season opener after tearing an ACL against the San Diego Chargers in the AFC divisional playoff round.
The Broncos had a hard time generating a consistent pass rush despite Phillips' efforts. Having Miller for more than nine games will be beneficial, but another player (linebacker or defensive end) that can pressure the quarterback is necessary.
The receiving corps will also need to be retooled without Decker. Fourth wide receiver Andre Caldwell is also a free agent. The offensive line will get a big boost from All-Pro left tackle Ryan Clady's return. Clady was lost for the season after two games with a Lisfranc foot injury.
Outlook
As long as Manning continues to play at a high level, the Broncos should be Super Bowl contenders. Manning's contract expires after the 2016 season. However, history doesn't favor the Broncos in their Super Bowl quest during the 2014 season. A team hasn't won the Super Bowl after losing it the year before since the 1972 Miami Dolphins. The 1993 Buffalo Bills are the last losing team to return to the Super Bowl after being in the game during the previous season. The last five Super Bowl losers have made the playoffs the following season, but the 2012 New England Patriots and 2013 San Francisco 49ers are the only teams to go back to the conference championship game following a Super Bowl loss since the 1993 Bills. The Broncos will have a hard time matching 2013's 13-3 record because the teams in the NFL's toughest division, the NFC West, along with the Patriots, Cincinnati Bengals and Indianapolis Colts are on the schedule.
Follow Joel on Twitter: @corryjoel
Joel Corry is a former sports agent who helped found Premier Sports & Entertainment, a sports management firm that represents professional athletes and coaches. Prior to his tenure at Premier, Joel worked for Management Plus Enterprises, which represented Shaquille O'Neal, Hakeem Olajuwon and Ronnie Lott. You can email Joel at jccorry@gmail.com.