May 28, 2012 -
Joel Corry
What's the right price for Ray Rice?
There were conflicting reports last week on whether the Baltimore Ravens and Todd France, Ray Rice's agent, have been making progress on the running back's new contract. Most notably, ESPN's Sal Paolantonio reported on NFL Live that Rice, who has been absent from the Ravens' organized team activities, is looking for Adrian Peterson or Chris Johnson money.
Peterson and Johnson's 2011 deals raised the bar for running back salaries. Johnson signed a four-year contract extension averaging $13,493,750 per year (with $30 million in guarantees) after a lengthy preseason holdout. Peterson received a six-year contract extension averaging $14,213,333 per year (with $36 million in guarantees). He is getting $40 million in the first three years of his deal while Johnson has $31 million over his first three years.
According to Paolantonio, a Ravens official indicated that the team was unwilling to pay Rice like A.P. and CJ2K. It is understandable why teams would be reluctant to do so after the seasons both players had.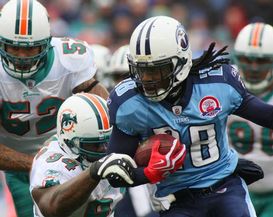 ICONRay Rice has outproduced Chris Johnson (above), but is still unlikely to receive a similar deal.
Johnson had the worst year of his career when his holdout ended. He set career lows in rushing yards, yards per carry and rushing touchdowns. Peterson tore the anterior cruciate and medial collateral ligaments in his left knee late last season and isn't expected to be fully recovered for the start of the 2012 campaign. It remains to be seen whether he will be able to return to his pre-injury form.
Rice, who was given a $7.742 million tender as the Ravens franchise player, can make a case that he deserves to be paid like Johnson and Peterson. He has been the NFL's most productive running back since becoming a full-time starter in 2009.
Rice leads the NFL with 5,855 yards from scrimmage and is third in rushing yards (3,923) over the last three seasons. Johnson's best three-year total is 5,606 yards while Peterson's is 5,383 yards. Rice has also established himself as arguably the NFL's premier receiving threat out of the backfield by topping running backs with 217 receptions and 1,962 receiving yards during this span.
In 2011, Rice had a career year by leading the NFL with 2,068 yards from scrimmage and setting career bests with 1,364 rushing yards (second in the NFL) and 12 rushing touchdowns (third in the NFL). Additionally, Rice is the driving force behind the Baltimore offense. The Ravens are 6-11 during the regular season since 2009 (0-2 in playoff games) when the former Rutgers star gets 15 or fewer carries in a game.
The Ravens probably view the 25-year-old Rice as comparable to Arian Foster and LeSean McCoy, the other young running backs that recently signed second contracts, and would probably like to pay him accordingly. McCoy, who was entering the final season of his four-year rookie deal, signed a five-year contract extension averaging $9 million per year (with $20.765 million guaranteed) less than two weeks ago that made him the NFL's third-highest paid running back (by average yearly salary). Foster signed a five-year, $43.5 million deal (with $20.75 million guaranteed and $30 million in the first three years) in early March.
Since the Houston Texans could have retained Foster as a restricted free agent by giving him a first round tender—which is $2.742 million—France has probably positioned Foster's contract as a four-year deal averaging $10,189,500 per year in his discussions with the Ravens. That's the value of Foster's four unrestricted free agent years after subtracting the restricted free agent tender Foster would have gotten from the Texans.
The Ravens won't have any problem with the July 16 deadline for franchised players signing long-term deals passing, especially if Rice remains adamant about receiving Peterson or Johnson money. The Ravens have franchised three other players over the last ten years and Pro Bowl defensive tackle Haloti Ngata is the only one who didn't play a season under his franchise tender. Pro Bowlers Terrell Suggs and Chris McAlister were given franchise tags twice, but signed multi-year contracts before playing under the franchise tag for a second time.
The Ravens should not have an issue in making Rice the NFL's third-highest paid running back because they have a long history of paying their best players near the top of their respective markets (by average yearly salary). For example, they made Michael McCrary the second-highest paid defensive end in 1999 behind Michael Strahan. In 2002, Ray Lewis became the NFL's highest paid linebacker while Peter Boulware joined him as one of the best paid linebackers. Jonathan Ogden set the standard for offensive lineman compensation with his 2004 contract. He remained the highest paid offensive lineman for the remainder of his career.
During that same year, Champ Bailey was the only cornerback that made more than McAlister after he signed his new contract. It was three years before another cornerback topped McAlister's deal when the San Francisco 49ers signed Nate Clements in free agency. After Todd Heap signed his contract extension in 2005, Tony Gonzalez was the only tight end making more than him. Ed Reed raised the bar for safety salaries in 2006 with his six-year contract extension (Troy Polamalu bettered his contract the next year). The Ravens made Suggs the NFL's highest paid 3-4 linebacker in 2009 until DeMarcus Ware's contract eclipsed his deal a couple of months later.
Additionally, the contract Ngata signed last year puts him behind only Richard Seymour in interior defensive lineman salary. Ngata's deal is also the most front loaded five-year contract in the NFL, with 72.1% of the overall compensation in the first three years.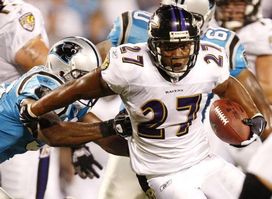 What's more likely to happen is that Rice will receiver a deal similar to the ones signed by Arian Foster and LeSean McCoy.
The stalemate between the Ravens and Rice's camp could be broken if they abandon their quest for a Peterson/Johnson deal. A more justifiable position to take is proposing a new contract consistent with the average of the top five running back deals, especially since the top five concept is already being used to determine franchise numbers. In addition to the four running back deals already mentioned, Steven Jackson's five-year contract extension averaging $8,619,500 per year (with $20.5 million guaranteed) signed in 2008 rounds out the top five deals. Using this methodology results in a five-year contract averaging $10,834,100 with $25.603 million in guarantees.
The Ravens must also acknowledge that Rice's franchise number isn't really reflective of the market place for upper echelon running backs because the new CBA changed how non-exclusive franchise numbers are calculated. Instead of being based on the prior year's salary cap numbers, franchise numbers are now calculated over a five-year period that's tied to a percentage of the overall cap. The net effect of this change is essentially a two-year rollback in franchise numbers (the running back franchise number was $8.156 million in 2010), which increased the Ravens' leverage.
Under the old method of calculation, Rice's franchise number would be $9.512 million (almost 23% more than it actually is) and $11. 414 million if franchised a second time in 2013. Rice would make almost $4 million more playing under these franchise tags than the $17.032 million he is scheduled to receive by actually playing as a franchise player for two straight seasons. By contrast, Foster is getting $23.75 million in the first two years of his five-year contract.
A deal can be made if both sides are willing to find some middle ground between top of the running back pay scale (Peterson and Johnson) and the contracts of the next tier of running backs (McCoy, Foster, Jackson, etc.). A five-year contract averaging somewhere between $9.5 million per year (approximately what Rice's franchise number would have been under the old calculations) and $10.85 million per year (roughly the average of the top five running back deals) seems fair for both sides given how the Ravens have historically paid their best players. Rice receiving approximately 70% of his compensation in his first three years seems reasonable considering that Foster is getting 68.9% of his compensation over his first three years and in light of how Ngata's contract is structured.
Under these parameters, Rice should get at least $33 million over his first three contract years. $21 million to $26 million in guaranteed money also seems appropriate for Rice.
The Ravens should feel comfortable paying Rice at the higher end of the range if they are confident that he will produce in a similar fashion to his first three years as starter over the next three years. With 5,650 yards from scrimmage, Rice would have the fourth-best yards from scrimmage total in NFL history for a running back in his fifth through seventh NFL seasons (Marshall Faulk-6,845 yards, Priest Holmes-6,566 yards and LaDainian Tomlinson- 6,104 yards are the top three). As an additional and more recent reference point, Jackson gained 4,783 yards from scrimmage with the Rams during his fifth through seventh seasons (2008-10) while earning two Pro Bowl selections in the process.
With a long-term contract for Rice, the Ravens could lock up their best offensive player through his twenties. They also wouldn't have to worry about choosing between franchising him or quarterback Joe Flacco, who is in a contract year in 2013.
Follow me on Twitter: @corryjoel
Joel Corry is a former sports agent who helped found Premier Sports & Entertainment, a sports management firm that represents professional athletes and coaches. Prior to his tenure at Premier, Joel worked for Management Plus Enterprises, which represented Shaquille O'Neal, Hakeem Olajuwon and Ronnie Lott. You can email Joel at jccorry@gmail.com