December 20, 2012 -
Joel Corry
Which teams devote the most cap room to their starters?
NFL teams do not follow a specific formula in allocating resources under the salary cap. Some teams have been successful by putting an emphasis on certain positions, usually quarterback, defensive end, cornerback and blindside offensive tackle. Other teams have found success by rewarding their top players regardless of position. There are playoffs teams that place more cap importance on a particular side of the ball. Teams also make the playoffs with a more even cap distribution among offensive and defensive players.
Here's a look at the five teams that are devoting the most cap room to their starters. Players that had season-ending injuries after training camp opened, like Brent Grimes, or received a majority of the playing time at a position before an injury (i.e.; Michael Vick) are considered as starters. Although the salary cap is at $120.6 million, almost all NFL teams have a higher ceiling or adjusted salary cap because of unused cap room that was carried over from the 2011 season.
New York Jets: $96,398,822
The Jets are built for the present with little consideration of the future. They have too many players that are near the top of the market for their respective positions (by average yearly salary). Darrelle Revis ($11.5 million per year, four years, $31.5 million in guarantees) and Nick Mangold ($7.725 million per year, seven-year extension, $22 million in guarantees) are the NFL's second-highest paid cornerback and center. D'Brickashaw Ferguson ($10 million per year, six-year extension, and $32.4425 million in guarantees) is the third-highest paid offensive tackle. David Harris ($9 million per year, four years, and $29.4 million in guarantees) is the sixth-highest paid inside linebacker.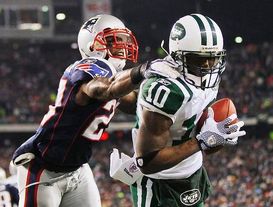 Santonio Holmes ranks seventh at the wide receiver position when it comes to salary cap numbers.
The cap numbers also reflect this approach. Harris' $12,004,960 cap number is the highest on the team and the NFL's fourth-highest linebacker cap number. The combined cap numbers for Revis ($11,528,508) and Antonio Cromartie ($8,254,960) are the most of any cornerback tandem in the NFL. Individually, Revis, who tore his ACL in New York's third game, has the league's largest cornerback cap number while Cromartie's is ninth. Mangold ($5,695,060) has the biggest cap number among centers. Santonio Holmes ($9,254,960), who suffered a season-ending foot injury in the fourth game, has the seventh-highest wide receiver cap number. The Jets are also making a substantial investment in their linebackers. Harris, Calvin Pace ($7,353,293) and Bart Scott ($5,954,960) take up $25.31 million of cap room collectively.
The Jets are devoting significantly more cap room to their defense. The defense accounts for $56.876 million of cap room, which is second among NFL teams. The offense counts $39.52 million towards the cap.
Tampa Bay Buccaneers: $95,837,359
Tampa Bay made a splash when the 2012 free agency signing period opened. During the first 48 hours of free agency, the Buccaneers signed wide receiver Vincent Jackson to a five-year, $55,555,555 contract ($26 million guaranteed) and made Carl Nicks the highest paid guard in NFL history ($47.5 million, five years, $31 million in guarantees). They also addressed their secondary needs by signing cornerback Eric Wright to a five-year deal averaging $7.5 million per year ($15 million guaranteed).
The Buccaneers are taking a "pay as you go" approach with these contracts. They are relying heavily on base salary guarantees in the initial contract years instead of giving big signing bonuses. This approach creates large cap numbers, but Tampa Bay won't have any dead money from signing bonus proration if a player is released.
Tampa Bay has a league-high $60,042,911 of the cap devoted to their offensive starters. Jackson ($13,004,805) has the second-largest wide receiver cap number and Nicks ($12,503,255) has the third-largest offensive lineman cap number. $22.008 million is invested in their offensive guards, Davin Joseph and Nicks. Joseph ($9,504,960) has the third-largest cap number at the position. The Buccaneers haven't gotten the expected return on their investment because Joseph has missed the entire season with a torn patella tendon in his right knee and Nicks went on injured reserve at the end of October with a toe injury after playing in only seven games. Doug Martin's 1,250 rushing yards are particularly impressive considering that he's been running behind a patchwork offensive line.
The defense accounts for $35.79 million of cap room. Gerald McCoy's $9,447,150 cap figure is the second-largest at defensive tackle. The defense hasn't escaped the injury bug either. Linebacker Quincy Black ($5,754,960) played in nine games before suffering a season-ending neck injury. In total, Tampa Bay's three starters on injured reserve are responsible for $27.76 million of cap space.
San Francisco 49ers: $92,510,137
At $137,402,222, the 49ers are using the second-most cap room in the NFL on their roster. This is possible due to carrying over $16.5 million of cap room from last year.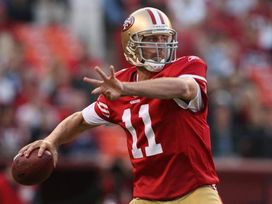 Thanks to the solid play of Colin Kaepernick, Alex Smith is a backup with a big cap number.
San Francisco's cap room allocation reflects their performance on the field. The 49ers have a league-leading $58,078,466 invested in a defense that ranks in the top-three of most major statistical categories. 30.3% is devoted to one player, Patrick Willis. His $17,620,654 cap number is the fourth-largest in the NFL.
The offense only accounts for $34.43 million after Alex Smith lost his starting job to Colin Kaepernick. Smith ($9,254,960) has the NFL's largest cap number for a backup quarterback while Kapernick ($1,169,573) has the second-lowest starting quarterback cap figure. The starters were over $100 million before the quarterback change.
The 49ers have been one of the most proactive teams in signing core players (Willis, Vernon Davis, Joe Staley, NaVorro Bowman, etc.) to contract extensions before their contract year begins. Signing Aldon Smith to an extension would have been an offseason priority before the new Collective Bargaining Agreement prohibited draft picks from renegotiating contracts until the end of the regular season in their third year. Smith isn't eligible to sign a new deal until the 2013 regular season is over.
Detroit Lions: $89,311,140
The Lions are victims of having the first or second pick in the NFL draft three times in a four-year span when high draft pick rookie contracts contained lucrative, easily achievable salary escalators. Calvin Johnson—the No. 2 pick in the 2007 draft—was scheduled to have the NFL's largest cap number at $21,081,946. He capitalized on Detroit's need to lower his cap number by signing a seven-year, $113.45 million contract extension (with $53.25 million in guarantees), which is the richest deal for a non-quarterback. The deal gave the Lions $9.54 million in cap relief by dropping Johnson's cap number to $11,537,286. He still has the NFL's third-largest wide receiver cap number.
The first selection of the 2009 draft, Matthew Stafford's six-year rookie contract (worth up to $78 million with $41.7 million fully guaranteed) and 2010 No. 2 overall Ndamukong Suh's five-year rookie deal (worth up to $68 million with $40 million fully gu aranteed) were restructured to create cap room. Stafford lowered his $17,098,750 cap number to $8,939,960. In addition, the Lions received approximately $7.3 million of cap room from Suh decreasing his cap number to $6,566,220. The Lions will pay the price for the restructurings in the offseason because Stafford and Suh's 2013 cap numbers are $20.32 million and $17.1725 million, respectively.
Even with the restructurings, the Lions have the fourth-most cap room tied up in their starters. They have a fairly even distribution between the offense and defense. The offense accounts for $47.069 million while the defense is responsible for $42.24 million. Dominic Raiola has the second-largest center cap number at $5,417,460. The largest defensive cap number belongs to defensive end Cliff Avril, who received a $10.605 million franchise tag. He has the sixth-largest defensive end cap number. Detroit's entire secondary takes up less than $8 million of cap room, which helps explain why the Lions currently rank 28th in scoring defense.
Kansas City Chiefs: $88,693,729
The Chiefs have the NFL's third-highest adjusted cap at $148,429,437 because of the $24.01 million of cap room that was carried over from last season. Kansas City has a big discrepancy between offensive and defensive cap room. The defense is at $56,382,029, which is the third-largest amount of cap room devoted to a defense, while the offense only accounts for $32.31 million of cap room.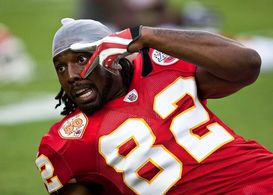 Dwayne Bowe could make for a decent investment...if he had a quarterback who could get him the football.
Dwayne Bowe, who was franchised at $9.515 million, has the largest offensive cap number. His cap number is also fifth among NFL wide receivers. With Matt Cassel ($7,579,960) getting benched, no other offensive starter has a cap number over $5 million.
The Chiefs have five defensive players with cap numbers that rank in the top-ten at their positions. Most teams try to avoid having that many players with such cap numbers. Outside linebacker Tamba Hali leads the way at $13,843,195. He has the NFL's 12th-largest cap number. Defensive ends Tyson Jackson ($9,504,960) and Glenn Dorsey ($8,772,650) have the eighth and tenth highest cap numbers at the position. Eric Berry's $8,050,460 is fifth for safeties, while Brandon Flowers ($8,004,650) has the tenth-largest cornerback cap number.
To add insult to injury, cornerback Stanford Routt, who signed a three-year, $18 million deal in the offseason, is counting $5,152,941 on the cap after getting released eight games into the season.
Follow me on Twitter: @corryjoel
Joel Corry is a former sports agent who helped found Premier Sports & Entertainment, a sports management firm that represents professional athletes and coaches. Prior to his tenure at Premier, Joel worked for Management Plus Enterprises, which represented Shaquille O'Neal, Hakeem Olajuwon and Ronnie Lott. You can email Joel at jccorry@gmail.com