July 17, 2012 -
Joel Corry
Who is going to top Drew Brees?
Drew Brees became the NFL's first $20 million per year player by signing a five-year, $100 million contract last week. His deal contains an NFL record $60.5 million in guarantees, including a $37 million signing bonus.
Since Brees' $37 million signing bonus is prorated over the five years of his contract for salary cap purposes ($7.4 million on the cap each year), his new contract immediately creates $5.971 million of cap room for the Saints by lowering his 2012 cap number from his $16.371 million franchise tender to $10.4 million (includes $3 million 2012 guaranteed base salary).
Brees' $9.75 million 2013 base salary and $10.75 million 2014 base salary are injury guaranteed, but his entire 2013 base salary and $5.25 million of his 2014 base salary become fully guaranteed without offsets (Saints can't recoup money from Brees' contract with a new team if they release him) if he is still on the Saints' roster three days after the 2013 waiver period begins. It starts the day after the Super Bowl. Another $5.5 million of Brees' 2014 base salary becomes fully guaranteed with the same no offset provision as in 2013, unless New Orleans releases him during the first three days of the 2014 waiver period.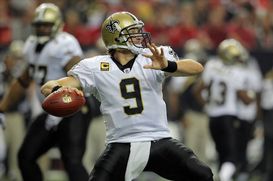 ICONHow long will it take before another player tops Brees' monster contract?
Brees is getting $61 million in the first three years of his contract, which has only been topped by the $70.2 million in the first three years of the contract Peyton Manning signed with the Indianapolis Colts last July. Unlike Manning, Brees should play at least these years under his new contract because of how it is structured. From a practical standpoint, the Saints won't release Brees after this season because they would have essentially given him a one-year deal at $40 million. Releasing him after the 2013 season is also extremely unlikely because he would count $27.45 million on the cap ($5.25 million guaranteed base salary and $22.2 million in signing bonus proration) in 2014 instead of having an $18.4 million 2014 cap number if he's on the team.
With $26.4 million and $27.4 million cap numbers in 2015 and 2016, respectively, because Brees makes $19 million and $20 million in those years, he will probably need to continue to perform at a high level to earn the last two years of his contract.
It's generally accepted that the top contracts are negotiated to be surpassed, so Brees' reign as the NFL's highest paid player (by average yearly salary) will be short lived, especially if recent salary trends hold true. For example, when Eli Manning became the highest paid player in 2009 by signing a six-year contract extension with the New York Giants averaging $16.25 million per year (with $35 million guaranteed), his contract average was exceeded by Tom Brady's 13 months later once he signed a four-year contract extension with the New England Patriots averaging $18 million per year. After tying Brady as the NFL's salary king, Peyton Manning's five-year, $96 million contract with the Denver Broncos became the new salary benchmark in March for approximately four months.
Here's a look at the most likely candidates to top Brees' deal (either in overall compensation or average yearly salary).
Tom Brady: Brady will be 37-years-old when his contract expires after the 2014 season. However, he was stated that he plans to play until he is 40-years-old. With Brady's March contract restructuring giving the Patriots cap relief this season, his 2013 and 2014 cap numbers each increased to $21.8 million. Previously, the Patriots have extended his contract when he was either heading into a contract year or had two years left on his deal, so they may be willing to address his situation after this season with another typical Tom Brady year.
Eli Manning: If the Giants cap situation this year and next year are any indication of how it will be in the years beyond, New York may not have the luxury of waiting until Manning is entering his contract year (2015) like they did the last time they extended the quarterback's contract in 2009. The Giants have $129,245,361 in salary committed to next year's cap when it is expected to remain flat (approximately $121 million). Manning—who is represented by Tom Condon (Brees' and Peyton Manning's agent)—increased his 2013 cap number to $20.85 million in March by lowering his cap number this year by $6.75 million, so the Giants could get under the cap before the start of the 2012 league year.
Since Eli's 2013 cap number is more than the next two highest cap numbers on the team combined ($19.095 million for Corey Webster and Antrel Rolle), Manning is the most logical candidate to help them get under the cap next year with another contract restructuring. It would likely increase his 2014 and 2015 cap numbers, which are currently $20.4 million and $19.75 million, to in excess of $22 million each. Consequently, Manning could be in line for a new contract prior to the start of 2014 season when he is a 33-years-old. Given that they made him the NFL's highest paid player when was coming off his first Pro Bowl season, Manning will expect them to do the same now that he's more accomplished.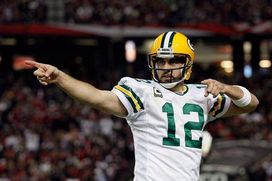 At 28-years-old, it's only a matter of time before Rodgers becomes the game's highest paid player.
Aaron Rodgers: As arguably the NFL's best quarterback and almost five years younger than Brees, it's just a matter of how much more than Brees does Rodgers get on his next contract. Rodgers has three relatively cap friendly years remaining on his current deal in which he makes $8.5 million this year, $9.75 million next year and $11 million in 2014. In his first year as a starter in 2008, the Green Bay Packers gave him a five-year contract extension averaging $12.704 million per year (with $20 million guaranteed) during the middle of the season when he had one and half years left on his rookie deal. It would be surprising if Rodgers entered the 2014 season, his contract year, without a new deal considering that he has already outperformed his current contract.
Matthew Stafford: Once Calvin Johnson signed his seven-year contract extension with the Detroit Lions in March averaging $16,207,143 per year, he set the floor for Stafford's next deal. Stafford, who is also represented by Condon, will be 26-years-old when his contract expires after the 2014 season. The Lions may be facing a similar predicament with him that they faced with Johnson this year. Stafford's 2013 cap number is $20.32 million, thanks to him restructuring his contract in each of the last two years and hitting a majority of the salary escalators in it, while the Lions have $120,901,805 counting towards next year's cap. Provided that Stafford's injury plagued first two years are behind him and he follows up his breakout 2011 season—where he threw for 5,038 yards and 41 touchdown passes—with another Pro Bowl caliber season, he may not have to wait until his contract year to get a blockbuster deal.
Follow me on twitter: @corryjoel
Joel Corry is a former sports agent who helped found Premier Sports & Entertainment, a sports management firm that represents professional athletes and coaches. Prior to his tenure at Premier, Joel worked for Management Plus Enterprises, which represented Shaquille O'Neal, Hakeem Olajuwon and Ronnie Lott. You can email Joel at jccorry@gmail.com