December 04, 2014 -
Dion Caputi
Who is Latavius Murray?
The Oakland Raiders entered Week 12's divisional showdown against the Kansas City Chiefs carrying a futile 0-10 record and little reason to be excited heading down the stretch of the 2014 campaign. However, the team exited victorious, and with one very significant bright spot to look forward to in the remaining games of the 2014 season. Latavius Murray, a little known second-year running back, became the first player in NFL history to rush for 110+ yards on less than five carries. The historic mark was set prior to an early concussion, which in today's NFL means Murray was sidelined for the rest of the game. As is now known, the Raiders would go on to win the matchup, with Murray's brief, but impactful performance being the most palpable catalyst. The potency of Murray's succinct appearance on Thursday Night Football left a wide margin of NFL fans collectively uttering the same question: "Who is Latavius Murray?" Amidst interim-coach Tony Sparano saying Murray's return is "close," it might just be time to find out. Coming out of high school, the Nedrow, New York native was regarded as a semi-mediocre linebacker/running back recruit despite playing both positions at a high level. Ultimately, he chose the University of Central Florida, where he became a highly productive offensive threat. Over the course of his collegiate career, the all-purpose back posted three particularly impressive seasons between his sophomore and senior campaigns – with the latter being his most productive. Murray left the Knights program having rushed for 2,424 yards on 453 carries (5.4 YPC) and 37 touchdowns, adding 524 yards and six scores on 50 receptions.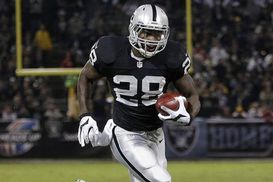 Murray currently ranks second on the team in rushing yards despite carrying the ball just 14 times this season.
Although Murray left Orlando as a 2012 first-team All-CUSA selection with multiple years of consistent production, he was somewhat surprisingly not extended an invitation to the NFL Combine. Evidently, the slight only helped motivate him, as his performance at the UCF pro day generated intrigue from pundits and evaluators alike. At 6'2" 230 pounds, Murray recorded a staggering 4.38 40-time, 36" vertical leap, 10'4" broad jump and 4.36 shuttle time. Comparatively to quintessential all-world athlete Adrian Peterson in 2007 (4.4, 38.5", 10'7" and 4.4), Murray's pro day numbers helped to justify his own immense athleticism for the position. All told, I carried a fourth-round grade on Murray at the time, given he remained productive throughout his college career as both a runner and short-yardage receiver, along with possessing a good frame and foundation to grow as a pass protector. His special teams/returning skills only helped solidify my grade. Still, despite his 40-time, there wasn't much evidence that Murray was a top-end burner in pre-draft study – leaving some to question his game speed. The perception became that he was just a perfectly decent all-purpose back, with some skill, who performed well in a lesser conference. Additionally, a rather deep overall rushing class was expected to harm Murray's cause. In the 2013 NFL Draft, the Oakland Raiders selected Latavius Murray in the sixth round with the 181st pick, making the UCF-standout the 15th running back selected overall. It was hardly smooth sailing from then on, as an ankle injury landed Murray on injured reserve in August of 2013 before his rookie season even began. The 2014 offseason saw veteran Maurice Jones-Drew join Darren McFadden and Murray on the Oakland depth chart, leaving less room for the now second-year rusher. It wasn't until Week 11 against the division rival Chargers that he was given a reasonable opportunity to earn further touches. After rushing for 43 yards on four carries with 16 yards on three receptions in San Diego, Murray was finally given full reign against the Kansas City Chiefs in Week 12. He rewarded the faith by rushing for 112 yards and two touchdowns on only four carries before being ruled out due to his concussion. At 24-years-old, the rest of Murray's story is still very much in the process of being written, but there has been an interesting thread of instances that have led up to what we saw on Thursday night of Week 12. To this point, we know who Latavius Murray is, but the inquiry being bandied amongst NFL faithful has changed. Now we eagerly await the answer to our next question: "What will Latavius Murray become?" <p>
Follow Dion on Twitter:
@
nfldraftupdate