December 29, 2012 -
Jeff Fedotin
Why Andrew Luck is even better than you think
Colts rookie QB Andrew Luck called it a "tsunami."
During an empty-back drill in June, the Colts defense besieged Luck, who had missed OTAs (per NFL rules) to finish his Stanford classes, with several different blitzes.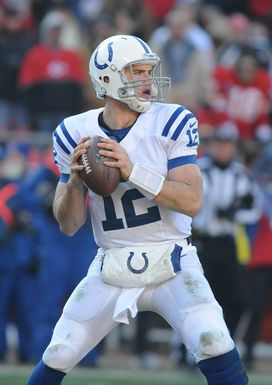 US PRESSWIRERookie Andrew Luck has the Colts locked into the AFC playoffs.
Then, Luck and offensive coordinator Bruce Arians studied the film of that triage.
The Colts ran the same drill during practice a few days later, and Luck deftly changed his protections to handle the exotic blitz looks. He completed 12-of-14 passes.
"(He) just lit 'em up," Arians said. "When a guy can take it and translate it that quickly, you know you've got something special."
Although much is made of Luck's smarts — the high school valedictorian earned a 3.48 GPA as an architectural design major at Stanford while learning Jim Harbaugh's pro-style scheme — he also has great speed, power and agility.
His numbers at the NFL Scouting Combine mirrored those of Panthers QB Cam Newton. Both ran the 40-yard dash in 4.59 seconds, and Luck jumped two inches higher (36) on the vertical leap and two inches shorter (124) on the broad jump.
"He's a tremendous athlete," Arians said.
Luck uses that athleticism to dodge pass rushers and extend plays. By never giving up on a play, he will sometimes take a sack, but more often that not, he will give his receivers time to get open and create a positive result.
"Just like Ben Roethlisberger, they make a heck of a lot of plays that way," Arians said. "And you don't want to change the way they play the game because that's really who they are."
Arians has experience with precocious rookie quarterbacks. The Steelers WR coach from 2004 to 2006 (and later Pittsburgh's offensive coordinator) and Colts QB coach from 1998 to 2000, he guided both Roethlisberger and Peyton Manning as rookies.
Arians said that a stout Steelers defense and veteran RBs Jerome Bettis and Willie Parker buttressed Roethlisberger. So, Big Ben was often reduced to completing play-action and third-down passes.
Luck, however, joined a more challenging situation and had to take on more responsibility. The Colts finished 2-14 last year, and the current squad has eight other rookies and five players in their second year.
During his rookie year with the Colts, Manning would have two or three plays sent to him from the sideline, and he'd choose one. But Manning did not yet extensively direct the no-huddle offense that he would become his calling card.
Luck already orchestrates that hurry-up attack.
"We're actually asking Andrew to do a lot more than we asked Peyton his first year," Arians said. "(It's) more like what (Peyton) did his second."
Manning completed 56.7 percent of his passes for 3,739 yards, 26 touchdowns and 28 interceptions as a rookie. Luck has thrown for more yards (an NFL rookie record of 4, 183) and less interceptions (18) while leading the Colts to the playoffs, which Manning did not do until Year Two.
Perhaps most impressively, Luck has shown his ability in the clutch with seven fourth quarter comebacks, another rookie record.
"Guys just lock in and focus and don't get too strung out by the moment," Luck said. "(Arians) puts us in some great practice situations that mirror a lot of times what's happening in the games."
Although Luck modestly deflected credit throughout the interview, Arians knows he has a franchise quarterback who excels with the game on the line.
"That's the one thing that sets the great ones apart," Arians said. "They have a grit about them that they're going to will themselves upon their teammates to win the game."
Luck, though, is far from a finished product. Despite displaying a strong and accurate arm, he knows he needs to improve his 54.3 completion percentage and limit his interception total.
"Windows open and close much, much faster in the passing game," Luck said. "Guys are faster. The game is faster … You've got fast, athletic defensive guys out there that will make you pay for your mistakes."
When Luck makes a mistake — like the three interceptions he threw versus New England — Arians deals with him in a nurturing manner, often tapping his quarterback on the helmet in an encouraging way.
"When he's playing and he's telling me what he's seeing, and I'm telling what I'm seeing, there has to be a level of communication and trust," Arians said. "Sometimes I tap him a little harder than others."
Mostly, though, Luck deserves a pat on the back for launching an NFL career, which seems poised for greatness.
Jeff Fedotin has written for Packers.com, Pro Football Weekly, ESPN The Magazine, the Lawrence (Kan.) Journal-World and Rivals.com. After graduating from Northwestern University, he interned for the Buffalo Bills.