February 06, 2014 -
Jeff Fedotin
Why Andrew Luck is the most untradeable player in the NFL
He's six years younger than Aaron Rodgers, as athletic as Cam Newton, much bigger than Russell Wilson and as clutch as they come.
If you had to select one player to build your team around at the most important position, you would choose Andrew Luck.
"He has the stuff that makes legends," said Colts linebacker Robert Mathis.
Luck is poised to leave his legacy on the game because he has all of the qualities, which would make him the No. 1 selection in this quarterback-driven league if NFL general managers held a draft. (For what it's worth, Deion Sanders took Luck first in the 2014 Pro Bowl Draft.)
Smarts
The high school valedictorian earned a 3.48 GPA as an architectural design major at Stanford, but his intelligence transcends book smarts and extends to his mastery of football concepts.
Former Colts offensive coordinator/interim coach Bruce Arians — who was on the Colts and Steelers offensive staffs, respectively, when Peyton Manning and Ben Roethlisberger were rookies — told me that Luck had more offensive responsibilities than either did during their rookie years.
A stout Steelers defense and veteran running backs Jerome Bettis and Willie Parker buttressed Roethlisberger. So Big Ben was often reduced to completing play-action and third-down passes as a rookie.
During his first year with the Colts, Manning would have two or three plays sent to him from the sideline and he'd choose one. But Manning did not yet extensively direct the no-huddle offense that would become his calling card.
By his rookie year, Luck was already orchestrating that hurry-up attack — something Manning did not do until Year No. 2.
Athleticism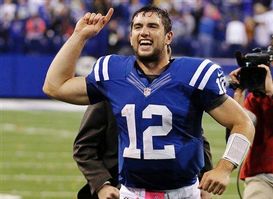 Luck has already engineered eight fourth quarter comebacks in only 35 career starts.
Though Luck is a classic dropback passer, his NFL Scouting Combine numbers mirrored those of Newton, considered one of the game's most multi-dimensional athletes. Both ran the 40-yard dash in 4.59 seconds, and Luck jumped two inches higher (36) on the vertical leap and two inches shorter (124) on the broad jump.
The versatile Luck can tuck the ball and run, having amassed 632 rushing yards and nine rushing touchdowns in his two years.
"If the team needs a first down, and guys are covered," said Luck modestly; his demeanor and media-friendly nature are other positive attributes, "I'll do my best."
Arm
Luck's arm is both strong and accurate as exemplified by the biggest play of his young career — the game-winning throw to wide receiver T.Y. Hilton, which traveled more than 50 yards on a rope and hit Hilton in stride during the Colts' 45-44 playoff victory against the Chiefs.
"That's just Andrew being Andrew," Hilton said. "He makes big-time plays in big-time games."
Clutchness
Whether or not you believe clutchness is an intangible factor or a series of statistical anomalies, Luck seems to have an "it" factor and an ability to lead his team back regardless of the circumstance.
In just 35 career games, Luck has recorded a staggering eight fourth-quarter comebacks and 11 game-winning drives. He has seven wins after the Colts trailed by double-digits in a game.
This season he led the Colts to victory when they were down by 3 in the fourth quarter to the Raiders, 5 in the fourth to the Seahawks and 12 in the fourth to the Texans.
And, of course, the most impressive of them all was the playoff win against the Chiefs after Indianapolis trailed 38-10 in the third quarter, making it the second largest comeback in NFL postseason history.
"I saw the fire in his eye. He wanted to win this game no matter what the scoreboard was," said Colts wide receiver LaVon Brazill, following the playoff contest. "And he came out here and won this game for us."
Making Others Around Him Better
Elevating the play of their teammates is an attribute of the best quarterbacks, and — as Brazill alluded to — Luck certainly possesses that. During his rookie year, he took a Colts team, which went 2-14 the year before, and improved it to an 11-5 playoff team.
In his next year, he led the Colts to the AFC South title, even though he was without his best target, wide receiver Reggie Wayne, who tore his ACL in Week 7.
Fifteen teams had more Pro Bowlers named to the 2014 game than the Colts, and Indianapolis' tally included long snapper Matt Overton. (Wilson and Colin Kaepernick's teams combined to have 12 more Pro Bowlers than Luck's squad.)
Durability
At a linebacker-like 6-4 and 239 pounds, Luck has the size to endure a pounding.
It's why when things break down he can become a running threat, taking on defensive backs and even linebackers.
His sturdy frame is part of the reason he has not missed a start during his two years, even though he has yet to play behind a strong pass-protection unit. During Luck's rookie year, his offensive line allowed the ninth most sacks in the NFL.
Youth
Luck is only 24, meaning he has likely 12 to 14 years left where he can play at a high level and making him more valuable than the four best quarterbacks in the NFL — Manning (age 37), Tom Brady (36), Drew Brees (35) and Rodgers (30).
Luck has not reached that tier yet, but he continues to improve. From 2012 to 2013, he increased his completion percentage by more than six points and reduced his interceptions by nine.
Luck's long career is not only just getting started, but the best of it also lies ahead.
Follow Jeff on Twitter: @JFedotin
Jeff Fedotin has written for Packers.com, Pro Football Weekly, ESPN The Magazine, the Lawrence (Kan.) Journal-World and Rivals.com. After graduating from Northwestern University, he interned for the Buffalo Bills. During his football playing days at Pembroke Hill (Mo.) School, Fedotin was known for his bad knees and even worse blocking.