March 17, 2014 -
Jeff Fedotin
Why Devin Hester would fit in K.C.
With his eyes watering and a White Sox cap resting over his head, Devin Hester stood in front of his locker after the Week 17 loss to the Packers.
His emotion was not only a result of the Bears losing to their rival in heartbreaking fashion — a TD pass with 38 seconds left, costing them a playoff berth — but also because he knew his future in Chicago remained in doubt.
"I want to retire as a Bear," Hester told NFP. "But at the same time, this is a business … I know how this business works."
On March 6 the Bears announced they would not re-sign the franchise's all-time leader in total return touchdowns, punt return touchdowns, punt return yards and kickoff return yards.
Although Hester made it clear that he wanted to stay with the Bears, he said if that was not possible he "most definitely" would consider joining one of his two former coaches, Buccaneers head coach Lovie Smith, Hester's head coach from 2006 to 2012, or Chiefs special teams coordinator Dave Toub, his special teams coach from 2006 to 2012.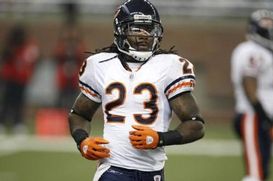 Hester is the NFL's all-time leader in punt return touchdowns, with 13.
Flush with salary cap space, Smith's Buccaneers have been aggressive in free agency, signing, among others, defensive lineman Michael Johnson, cornerback Alterraun Verner, defensive lineman Clinton McDonald and former Bears quarterback Josh McCown.
Though Toub's Chiefs started the offseason with only about $9.62 million in cap space, they would make the most sense for Hester.
Kansas City lost its primary punt and kickoff returner from last year.
The Titans signed away Dexter McCluster, who had an NFL-best 686 punt return yards last season, to a three-year deal that could be worth $12 million, and the Giants signed Quintin Demps, who returned 33 kickoffs for 992 yards, which ranked third in the NFL in 2013.
Moreover, Toub holds Hester in extremely high regard. Throughout the Chiefs' turnaround, 11-5 season, which was spurred partly by strong special teams play, he would go out of his way to refer to Hester in reverential terms.
Upon answering a question regarding a McCluster punt return for a touchdown, Toub said in October: "The punt return ability that (McCluster) has is the same thing I had with Devin Hester. You don't coach it. You tell your blockers where to set it up, where it possibly could hit and then the returner has to have a lot of natural instincts. There is always somebody you will have to make miss. No matter how well you block, you can't block them all."
A difference, however, is that McCluster was a jack of all trades and Demps started six games at safety while Hester is a one-trick pony.
Though I thought McCluster was too small (listed at 5-8, 170) and fumble prone, Chiefs coaches lauded his character and willingness to help the Chiefs in a multitude of areas. Kansas City used him in various ways on special teams, as a slot receiver and as a running back.
Hester has proven ineffective as receiver, defensive back and rusher and would have to be used exclusively as a punt and kick returner.
In addition the Chiefs may feel they can use anyone as a returner under Toub, perhaps the NFL's best special teams coach, and see positive results.
Showing Toub's deft touch, McCluster exceeded any of his previous yearly punt return totals by 484 yards in his lone year under Toub.
The Chiefs have signed Joe McKnight, once considered Reggie Bush lite at USC because of his similar size and moves, and CFL star Weston Dressler to potentially man the return roles. They also have second-year running back Knile Davis, who returned 10 kicks last year.
But none of those candidates has the resume of Hester, arguably the best returner in NFL history.
Hester is the NFL's all-time leader in punt return touchdowns (13) and total kick return touchdowns (18). Including his 108-yard missed field goal return touchdown, Hester's 19 overall return touchdowns are tied with Deion Sanders for the most in regular season history.
Whether the Chiefs sign Hester may come down to dollars and sense. Hester's last contract was a four-year deal worth almost $22 million, reportedly, including a $1.9 million base salary and a signing bonus of $833, 333 for 2013.
The 31-year-old Hester, who said he wants to play three or four more years, likely won't come close to receiving the kind of money or length of his former contract. Considering Hester's very specified role, Kansas City may not have interest in tendering him much beyond a basement salary.
But although Hester seems to have lost a step, he set career highs in kick returns (52) and kick return yards (1,436) this past year. Both marks led the NFL in 2013.
And the three-time Pro Bowler showed he still had some juice left during his last contest when he had six returns for a total of 170 yards.
"I never know where I might land next year," Hester said after that Week 17 performance. "So I just wanted to make sure that this game — whatever I had in the tank — I left it all on the line."
Follow Jeff on Twitter: @JFedotin
Jeff Fedotin has written for Packers.com, Pro Football Weekly, ESPN The Magazine, the Lawrence (Kan.) Journal-World and Rivals.com. After graduating from Northwestern University, he interned for the Buffalo Bills. During his football playing days at Pembroke Hill (Mo.) School, Fedotin was known for his bad knees and even worse blocking.