August 09, 2013 -
Joel Corry
Why Jairus Byrd is still unsigned
Buffalo Bills president Russ Brandon told the Associated Press on Monday that he couldn't predict when safety Jairus Byrd, who didn't report for the start of training camp on July 27, would join the team. Byrd is the only one of the eight players designated as a franchise player this year that remains unsigned. Since Byrd isn't under contract, the Bills can't fine him up to $30,000 for each day of camp he misses.
Brandon said the Bills are still interested in signing Byrd to a long-term contract. Byrd can't sign a multi-year deal until the regular season ends (December 29) because franchise player rules prohibit such signings after July 15. The parties were reportedly $2 million per year apart in contract talks at the deadline. Byrd was looking for a deal that would place him near the top of safety market. Troy Polamalu is the NFL's highest paid safety with the three-year, $29.6 million ($9,866,667 average per year) contract extension he signed in 2011. The average of the top five veteran safety deals is approximately $8 million per year. Brandon also indicated that lines of communication were open between senior vice president of football administration Jim Overdorf, Buffalo's chief contract negotiator, and Eugene Parker, Byrd's agent.
Byrd is not restricted to just playing for his $6.916 million franchise tender with the Bills this season because the deadline has passed. He can only play for the Bills on a one-year deal, but is still allowed to negotiate his one-year salary and other conditions relating to his franchise player status.
The two-time All-Pro could be insisting on a clause that would prohibit the Bills from using a franchise or transition designation on him in 2014 (i.e.; a prohibition clause) or a larger one-year salary than his franchise tender in order to end the contract dispute. Minimizing risk of injury during the preseason, especially in light of the rash of serious injuries that have occurred since camps opened, may be enough justification to Byrd for his absence aside from any legitimate negotiating purpose.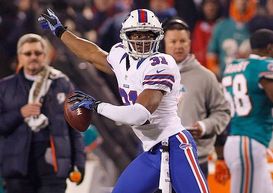 Byrd has racked up 18 interceptions during his four seasons in Buffalo.
Additional compensation without the prohibition clause would make it more difficult for Buffalo to franchise Byrd next year. For example, assuming the Bills paid Byrd a $9.124 million salary this season, which is what his franchise number would have been if the 2011 Collective Bargaining Agreement had not changed how non-exclusive franchise numbers are calculated, he could effectively have a prohibition clause. Byrd's 2014 franchise tender would be $10,948,800, a 20% increase over his 2013 salary. Buffalo's salary cap situation won't prevent them from paying Byrd more than his franchise tender because they have slightly under $22 million of salary cap room, but may not want to set the precedent around the NFL.
Prohibition clauses aren't easy to get but precedent shouldn't be an issue for Byrd. Nate Clements received such a clause in 2006 as Buffalo's franchise player. Although Doug Whaley is in his first year as Buffalo's general manager, Overdorf gave the clause to Clements. Albert Haynesworth was the last franchise player to receive a prohibition clause when the Tennessee Titans franchised him in 2008. Unlike Clements, Haynesworth's clause had conditions. It was triggered by Haynesworth making the Pro Bowl, having at least 60% defensive playtime, or 53% defensive playtime and the Titans winning at least 10 games or ranking in the top five in total defense.
Getting either one of these concessions from the Bills could be the difference between Byrd playing under a second franchise tag and having the opportunity to get a long-term deal at his true market value next year. In the open market, he could command a deal similar to the five-year, $41.25 million contract ($22 million guaranteed and $26 million in the first three years) Dashon Goldson signed with the Tampa Bay Buccaneers once free agency began. It's never happened before, but it would be interesting to know whether any franchise player places enough value on having a prohibition clause that he would take a one year salary that's less than his franchise tender in order to get one.
A franchise player has never missed regular season games because of a contract dispute since the 2006 Collective Bargaining Agreement implemented the July multi-year deal deadline. Dunta Robinson came closest when he signed his tender four days before the Houston Texans' 2009 regular season opener. The Bills have a different defensive system under new defensive coordinator Mike Pettine, so the more time Byrd has to get acclimated to the new defensive philosophy, the better it is for him and the Bills. Byrd must sign by the Tuesday following Week 10's games (November 12) in order to play this season.
Follow me on Twitter: @corryjoel
Joel Corry is a former sports agent who helped found Premier Sports & Entertainment, a sports management firm that represents professional athletes and coaches. Prior to his tenure at Premier, Joel worked for Management Plus Enterprises, which represented Shaquille O'Neal, Hakeem Olajuwon and Ronnie Lott. You can email Joel at jccorry@gmail.com.