March 20, 2012 -
Dion Caputi
Why Matt Flynn chose Seattle
Despite quarterbacking the LSU Tigers to a national title in 2008, Matt Flynn wasn't regarded highly as a prospect entering the NFL draft. Evaluated as a passer with good short-range accuracy but little athleticism and lacking overall arm strength, Flynn fell into the lap of the Green Bay Packers organization, who selected him in the seventh round -- 209th overall -- of the 2008 draft.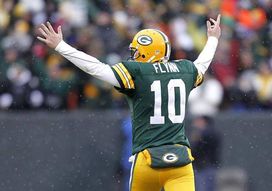 Flynn opted against joining Philbin in Miami and instead picked the Seahawks.
Fast forward to March of 2012 and Flynn was the second most coveted free agent quarterback option behind only Peyton Manning, a future first-ballot Hall of Famer.
Although conventional wisdom had Flynn perhaps joining his old offensive coordinator Joe Philbin in Miami, things did not shake out as such. He instead opted to sign a three-year contract with the Seattle Seahawks, worth $26 million, including $10 million guaranteed. Notably, Flynn also had ties to Seattle's general manager John Schneider -- who held the position of Green Bay's director of football operations at the time of Flynn's selection in 2008.
While speaking on 710 ESPN Seattle, Flynn addressed the situation and explained why he bypassed the Miami sunshine in order to join Pete Carroll and the Seahawks.
"I just felt like it was a better situation for me," said the 26-year old. "I felt it's a program that's really on the rise, doing the right thing, is being led by the right type of people."
Regarding former coach Joe Philbin, Flynn was very complimentary.
"I am close with Joe," he said. "I think a lot of him. I think he's gonna do a great job in Miami."
Although it may subtly beg the question as to whether there may be a need for change down in Miami, it also speaks to the growing expectations coming out of Seattle. Former Southern California head coach Pete Carroll has indeed changed the culture of the organization for the better, and they hope to move forward with another young piece to build around for the future.
Follow me on Twitter: @NFLDraftUpdate